Post by biged on Aug 25, 2007 6:22:12 GMT -5
I reproduced a Mk3 Hand cart to aid in moving gear, supplies, weapons around in the field.
Since the real carts a rare and expensive I needed something to help transport equipment so I made a cart.
I wanted to reproduce a M3a4 cart but the tires 12 x 4.00 tires and rims are difficult to come by. Even the 26" tires are really motorcycle tires. I found some that are a similar style and really inexpensive.
An original Mk3 Hand cart:
handcartz.smugmug.com/gallery/2528228#132829963
The above link is Craig Johnson's cart website if you have time browse through the rest of his site. His photo gallery is absolutely amazing!
handcartz.smugmug.com/CARTS
After spending 10+ hours scaling photos I located all the materials at a scrap pile I have at work.
I purchased the 26" tires from Northern tool $70 for the pair. They have a 250lbs load rating each. So the cart can carry 500lbs. Took about 3 weeks to fab up. An hour each day after work.
The tire spindles and tongue have pull pins so the cart can be easily dis-assembled for easy transport.
A coat of red oxide primer and Six cans of Krylon OD later.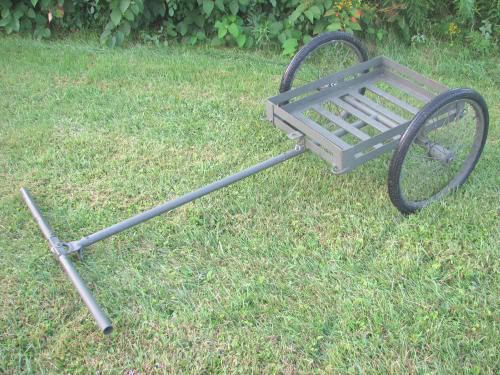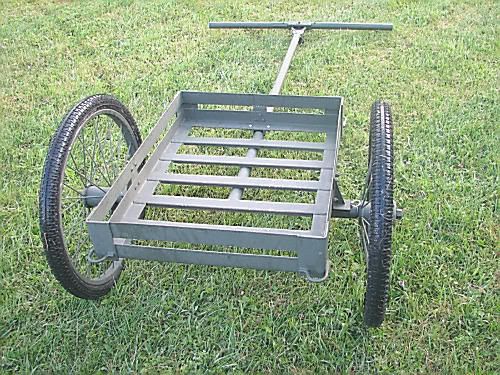 I even helped the Germans transport weapons.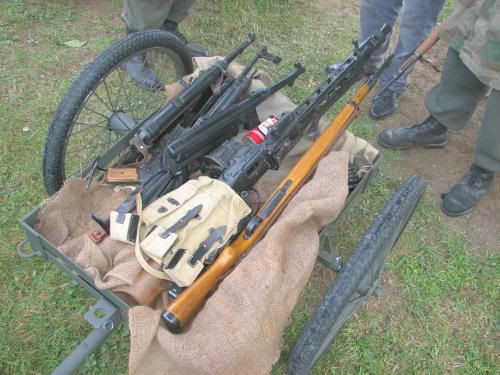 More photos and detailed dimensions here:
www.tau-hq.com/viewtopic.php?p=1831#1831
I'm in the process of fabbing up brackets for my 1919a4, M2 .50 cal, and M2 60mm mortar.
///ed///