Post by 2nd Bat on Dec 3, 2008 1:49:20 GMT -5
I have been planning to do this for a couple years now but finally got around to it. I laid out my collection of actual WW2 footgear and while it doesn't include all the foot wear worn by the US GI, it does represent the most common items and can serve as a decent reference.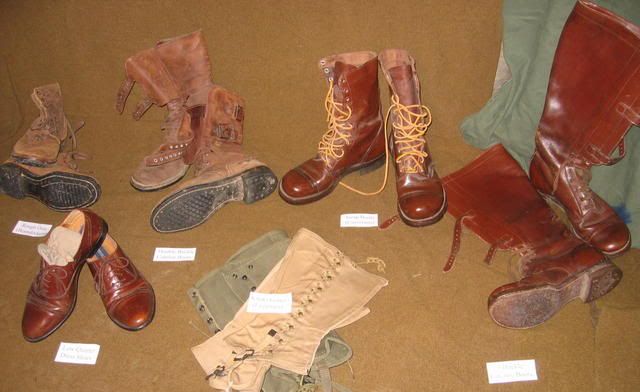 The foot wear in clockwise order from the upper left is:
1. Boondockers or ROUGHOUTs (3/4 high leather boots worn by GIs and Marines.) The two are slightly different although interestingly this pair features one of each and came from a GIs
estate sale. They were typically worn with leggings. 2. Double Buckle Boots. These are original but as was common have been treated and apppear darker than when initially issued. These do provide the field appearance for a newly issued pair once treated with oil. 3. Corcoran Jump Boots. These were produced by companies other than Corcoran but the "Corcoran" was the initial manufacturer. Airborne troops wore them with the dress trousers blouced as a distinctive status symbol. They also often used leather laces. The boots were issued and worn by others much to the Airborne troopers discust. 4. "3 Buckle" Calvalry Capped toed boots. There was an assorted of varied styles both issued and private purchased. These were 1941 Issued boots. 5. Leggings. The ones on top are the most common Khaki shade and the ones below are OD. The OD replaced the Khaki as part of the M1943 transition to OD but by this time many soldiers were wearing double buckle boots or the brown "jump boot." Interestingly I occassionally wore OD leggings in Vietnam. 6. Low quarter russet dress shoes.
I hope this serves as a good resource. I will do a tutorial on the proper wearing of the leggings as they are commonly seen installed incorrectly.