Post by hairy apple on Mar 30, 2010 12:46:55 GMT -5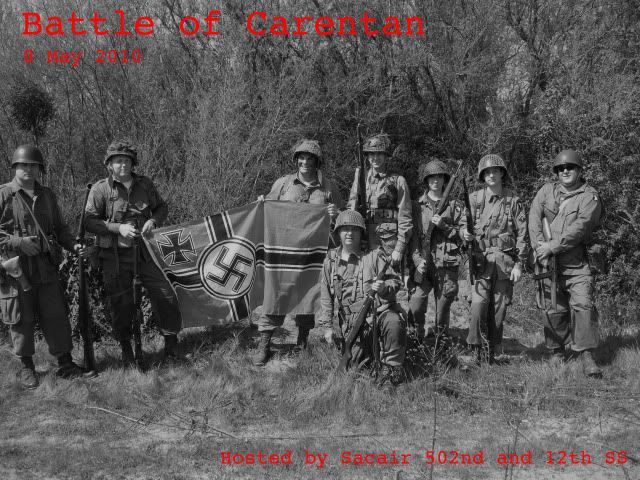 Sacairsoft.com's 101st Airborne and 12th SS groups are hosting the battle of Carentan event May 8th 2010.
Following the successful capture of Carentan by the 101st Airborne, the battered remnants of the 502nd PIR have been placed on Division reserve while the 506th PIR has been ordered to hold against the pending counter attack by German Forces.
However the 502nd PIR is not yet out of danger. Army Intelligence reports French loyal to the Germans have been organizing a possible resistance to the Allied presence. News from inteligence reports contact with a French partisan acting as a forward observer for German Artillery. The estimated strength of the growing partisan support for the Germans is believed to be at several dozen.
While in reserve the 502nd has been ordered to maintain their defensive positions around Carentan to protect against the numerous German patrols still penetrating the front lines around the 506th. In addition the regiment will be responsible for conducting proactive patrols throughout the surrounding region.
Order of Battle:
101st Airborne
12th SS
Partisans, both allied and axis
The event is free of charge. For more information please contact me here through this thread, or though PM's. You may also email me at hairy_apple@yahoo.com. Any ETO or partisan impression will be allowed for this event, period airsoft guns using low cap magazines will be required for this event. Details will be sent out by email to those who sign up.
There will be a number of trenches, pillboxes, and other built up areas as well as large areas of fields and woodlands.
Photos of the location and last event: