Post by Ersatzjack on Jul 22, 2013 22:22:59 GMT -5
Fort McCoy 16-18 August 2013
"Clash of Armor 2" - (the sequel) Where MOA showcases its armor in simulated WWII combat - not for the timid.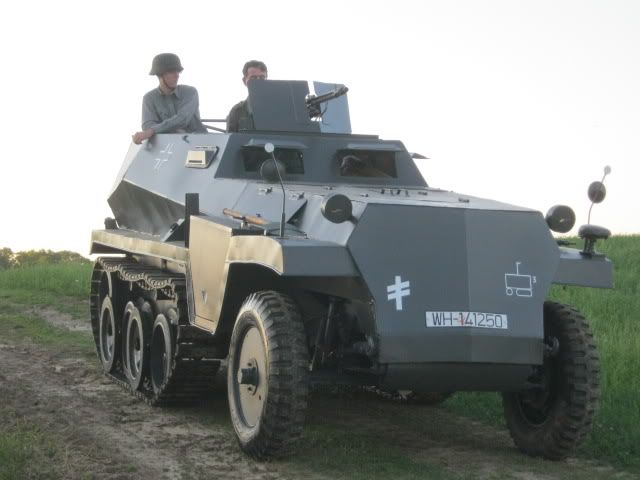 Where: B13 training site at Fort McCoy (directions below)
When: Camp setup on 16 August 2013 (Friday). Arrival anytime after 1500 hours should be okay. Friday night will be for camping and setting up scenarios. A period camp and modern camp will be available and should not be too close to one another. I don't want to ruin pictures of the period camp. On Saturday, 17 August, starting in the morning we will have safety briefing and inspection. Then run scenarios. On 18 August, Sunday morning, we will run scenarios until 1130. I need people for radio watch so if you can camp, we would like that. Besides, it is fun.
This is a BIO BB event. I will be checking. I will have BB's for sale at cost. But don't get caught using plastic. Forewarned is forearmed.
This is a free event but donations are appreciated. Waivers will be needed to be signed at event.
I was going to use Eventbrite to run this event but have changed my mind. I don't think it will help. Plus... I don't have time to figure it out. Please PM me with your intentions of coming or shout them out on this board. Negative replies not needed or appreciated. I don't care about why something else is more important to you. That's not to say Steve and I won't miss you but I just don't want a bunch of buzz-kill posts (excepting this paragraph). Having an idea about participation helps us figure out scenarios though so I'd appreciate having some response and please, if you say you're coming then stick to your word.
Important - Directions to B-13
First, Google Maps "Sparta, WI"
NE of Sparta you will see the La Crosse River State fishery area shown on the map and South of that is Ft. McCoy/Sparta Airport.
Look for Hwy 21 which is the main State Hwy that goes E/W in front of Ft. McCoy and find Ginger Road (you'll have to zoom down).
Going South on Ginger you will right away cross a set of railroad tracks and then look for the first gravel/dirt road on your right and turn in there. That's B-13. We'll be camped somewhere along that road or right off the road as you drive down it. If you are interested and see Middle Ave (unimproved dirt path) then you know where B-13 is. It is the area surrounded by all the other roads seen.
Getting to Sparta and Ginger Road I will leave to you people.
This year the sequence of events will be slightly different than last. I am scraping the supply service scenario and will come up with one on Friday. I have to scout the terrain and some have asked for some new territory to play on which I will be accommodating. We'll call the replacement scenario "The Outback." I'll brief commanders at the event. Other than that, we will be reversing the objectives of the last one to give the other side a chance at doing better than their predecessors.
The schedule for Saturday:
Saturday morning -
0700 - Wake up and Breakfast
0800 - Chrono, safety briefing and going over the rules and prep.
0900 to 1100 1st Skirmish - Armored Attack (Russians have armor)
1100 to 1110 Quick Break
1110 to 1310 2nd Skirmish - Rifle heavy Infantry only battle (reverse sides)
1310 to 1400 Lunch
1400 to 1530 3rd Skirmish - Armor Clash (teams start on opposite sides as last year)
1530 to 1600 Break
1600 to 1800 4th Skirmish - The Outback (surprise conditions)
Sunday - Players can provide any sensible ideas to me on Saturday night for Sunday morning's battle. Last year, Sunday morning was the best action. I see no reason why it won't be the same this time around as by Sunday, we have become acclimated to the play area. Sunday's battle starts 0830 after wake-up and food.
I anticipate a building with showers and beds again this year but its use is limited to those who suffer heat conditions or need to recuperate (as it is hard for me to be convoying people there and still remaining in charge at the field.) We can use it though if needed. Come with charged batteries and water and food and toilet paper. Also an e-tool for dealing with your waste in case they do not provide a porta-potty. I have asked for them but we are only batting 500 in that department and its better to be prepared. If push comes to shove (pun intended) there is a gas station not far from the field headed back to Sparta on Highway 21.
Weapons - period weapons need to be used. I will make exceptions for M-14's and VSR bolt actions covered in burlap.
Impressions - If you have a WWII impression or a decent civilian impression of the period you are welcome. People should not show up in modern attire as they will not be allowed to play. I want to see improvement if you were there last year in a marginal impression. This event is going to encourage higher standards even if that curtails numbers. If you have questions in this area PM me.
Detailed explanation of the scenarios
1st skirmish - Dual Armor
For this game there are three objectives. The attackers must take them in order and are battling against time. Attackers have fifteen minute vehicle respawns and ten minute unlimited personnel respawns. Each vehicle has one respawn per objective. Both the armored car and the halftrack are assigned to the attacking team. Defenders will have two handheld rocket AT weapons and the Pak38 and lesser weaponry available to their own side. There is a ten minute break between each objective. Attackers must take all three points in sequence and must attack them in order. Attackers successfully control a victory objective by touching it and keeping the other side from retouching it for five minutes. The vehicle drivers will fight for the attackers. The Russian infantry moves with the armor this year. Since last year there was some heartburn about respawn of Russian infantry taking too long the respawn rules remain the same for the German defenders. You only respawn when you start defending the next objective.
2nd skirmish - Rifle Heavy Battle (revised - thanks Matt and Ryan, though not in equal measure
)
This battle encourages hunting and rifle marksmanship. Each team will try to field as many rifle armed troops for this battle as they can. They are also allowed a SMG leader and a heavy MG. That's it. If you have no rifles and cannot be the SMG or MG player, then you are stuck with pistol and grenades. Owners of Semi-auto capable rifles such as Stg44's will be allowed to use them and will have to fire on semi-auto only. In addition when you fire this way you will have to remove your finger from the trigger and place your firing hand on top of the rifle, count to three and then you can fire another shot. This will simulate bolt-action fire. Any semi-auto gun can be used like this. This is an honor game and so if you're firing in this fashion stick to the rules.
There will be a central objective that is easily identified when close enough to it and at this objective there will be clickers for both teams. Respawns will be set back from this objective. Each side has unlimited respawns. You click the clicker of your team if you reach the objective and then you return to your respawn to attempt to run the course again. If you are killed, you return to respawn and mark yourself dead on paper there. Clicker points and respawn points all matter. I will not lead this for the German team but will disclose the weight of the points at the end of the scenario. They just might not be worth the same.

If you have reached the clickers and are returning to your respawn alive you need not tally yourself at respawn but only need to return to the game. This will definitely require team play. The objective will be placed in a middle ground area that will require scouting. As I said, I will not direct the discovery of the objective for the German team in any way. Big advantage obviously to the first side that locates it but having everyone looking in the same place might reduce your hopes of finding it quickly. I just don't want the opening moments to be a horse race to the objective. We will likely explore some new ground for this scenario.
Here is a map of a portion of our play area. Ignore the dots. Those are for different scenario and I don't photoshop so I'm stuck with them. The map is FYI for those who wish to print it. We do plan to add a skirmish outside this map as we have additional area as yet untested. This is a great area. If you hit blacktop or improved gravel road turn around and you'll stay on our land.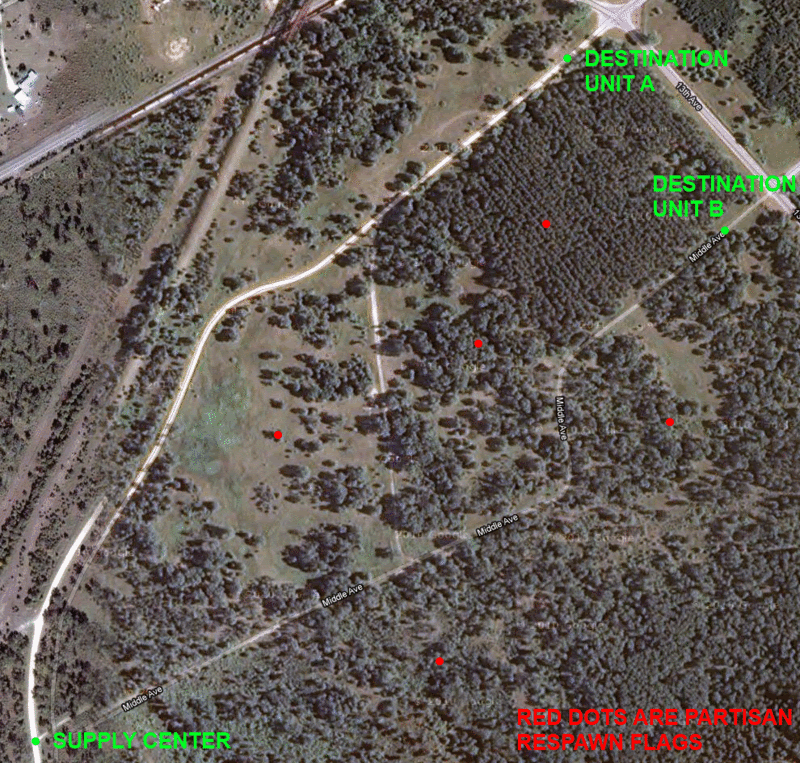 3rd skirmish - Clash of Armor
For this battle each side starts on opposite ends of the play area and the object is to kill the other teams armor and take and hold an objective in the middle. Respawn points will be set back from the objective. Each side has three armor lives. The side who holds the objective without losing it's armor is the winner at the end of the scenario. If you hold the objective and have lost your armor and the other side has lost theirs you win as well. The idea here is whether to safeguard your armor or use it to capture and hold the objective. A dilemma. Each team can field other owned anti-tank weapons as approved by me prior to the scenario. I will not want too many on the field but some will be allowed.
The following option for vehicle respawn for the halftrack and armored car at Ft McCoy will be in effect. Hit vehicles can elect to withdraw from the main action area and take a 20-minute respawn time in lieu of returning to marked respawn area and taking 15-minute respawn. A prominent red flag needs to be displayed and respawning personnel in the vehicle should not gather Intel. We want to try this to reduce the amount of needless driving on the tracked vehicle and the armored car should have the same option.
4th Scenario - The Outback - Will explain this on Friday night to commanders. Commander's bring radios if you have them.
Our rules for combat are posted here:
www.ostfrontairsoft.com/rules.shtml
Read them. I want to add that we will be allowing the first hit to the helmet to be ignored as a helmet wearing bonus. We are not using medics during this day and so any hit other than the first helmet hit to your body is lethal. I did notice that the web needs updating as the 250/1 is not indicated on the vehicle listing. Pay special attention to the vehicle safety rules.
I will be posting this elsewhere at other sites and hope to bring some new players to this event. If the face is new, be friendly please and help them adapt to the field and conditions.
Please bring your own food and water. Water is important and hydrating ahead of the event also important. Weather in August can really sap us but maybe we'll get lucky again like last year.
Just post questions or comments below as normal. I look forward to seeing you all for one of my favorite events. I'll update any information here in this first page post so check it before you head out on Friday.

For anyone reading this but who cannot PM me please go here,
www.ostfrontairsoft.com/3rd.shtml
and email me at the "contact" email address with your planned impression and questions. Thanks!