Post by Ersatzjack on Jul 7, 2014 22:40:14 GMT -5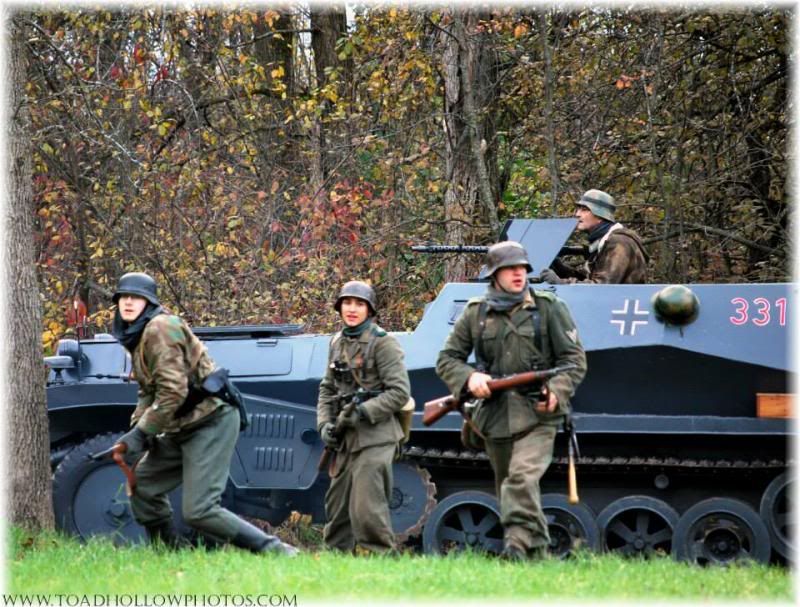 "FURY" - OSTFRONT STYLE

We'll be posting scenario ideas the week of August 10th before the event kicks off so stay tuned for that information. For those that have never gone to an MOA event just check the rules by reviewing last years announcement here:
www.ostfrontairsoft.com/cgi-bin/ikonboard/ikonboard.cgi?act=ST&f=6&t=160&st=#entry1
The link above also gives directions, and other useful information.
Reading that will give you a great idea of how it will run again this year. We will further explore B13 and I plan on returning to the battle area of last year's Sunday action which boasts oak savannah the likes of which are very cool to play in. This area is still big enough to keep throwing new terrain at us every year.
IMPORTANT - Bio BBs only. This is a free event for participants but you need to have a sealed bag of bio-bbs for game day. There will be an in-ranks inspection. I don't want plastic at this event. You have plenty of time to prepare but for those that still don't have them, I will have a limited number for sale. Donations are like in previous years accepted for a contribution to a fort charity. AGE RESTRICTIONS - 18 and above okay. 16-18 with a parent along or playing, under 16 not allowed.
Arrival is encouraged for Friday night so that essential work can be done to the field to set up for weekend action. Remember this is not a private parcel and we have to prepare it on Friday. I will also need folks for radio check which is a realistic guard duty condition offered. So please consider the camping option. Modern tentage is allowed.
Please keep the PM's coming if you plan on attending. Folks on these boards can PM me here. Let me know which side you plan on playing. If you are civilian or US you will be used to balance forces.

Registration will be ending by 21 July midnight. After that, I won't want to add you unless you plead. People should know by then if they are coming or not. I will also decide by that date if this event is proceeding.
Russian armor is not coming this year but the German armor will do double duty fighting for both teams in the scenarios so don't let this stop you from attending.
I'll need confirmations ASAP and no-shows are not invited back unless justified. I do this because I might not proceed with the additional requirements placed on me if numbers don't call for it. So commit please.
I'm shooting for 14 players that I consider reliable as a minimum.
Calling Ulrich and 6th SS as well as other Midwest airsofters. You'll need a WWII weapon and an attempt at a decent impression.
Axis Team
Franz (Axis Commander)
Otto
Wolfgang
Garrick
Jeff E.
Curtis C.
Sgt. Shaw
Alban
Elena
Chris A. (3rd PzGr Missouri)
Bradley (Missouri group)
Dave (Missouri group)
Soviet Team
Gryphon (Soviet Commander)
Maddie (Squirrel)
Iron Will
Iron's dad
Elliot
Cyrus
Alina (Nightwitch)
Andre
Donn
Duncan
American players
Cpl Mills