Post by Jerry-ADK on Jan 18, 2016 9:55:20 GMT -5
*Important Information*

Please pre-register before the event. Registration fee is $30 paid to timetraveler32@gmail.com on PayPal(add your name in message section so I know who sent the funds).

Registration fee will cover field rental, BB's and one meal on Saturday night.

Please email registration info to jhpclifford@yahoo.com and include:
Name
Age (if under 18 must have a parent guardian participating or staying in the area. Read section about age requirements below under general guidlines)
Impression
Street address
Email address
Phone number
Any loaner gear you may need (we will respond on a first come first serve for all loaner gear so please register early so we can get you squared away)
*if the event is cancelled by the organizers you will receive a full refund via PayPal.*



General event guidelines


This will be the first of a new style of Airsoft tactical that will have many new features that have not been tried before here in the North East. There will be no pre-planned objectives or engagements like Allies must take and hold area for said amount of time or in 15 minutes Axis forces will attack your position. Commanders will not know what is coming next and will be following orders as they are radioed in. The idea is to create a "fog of war" feeling. We want to create a rich experience that combines role playing, reenacting and airsoft into a type of experience you don't get at a typical scripted WW2 blank fire reenactment or casual airsoft game.


This event will be a full emersion airsoft tactical with arrival time beginning at 17:00 on Friday. The actual tactical will commence at 08:00 on Saturday morning and end at 15:00 on Sunday afternoon. All participants should try to show up Friday night to be there for orientation, safety briefing and waiver signing Saturday morning at 07:00. That's why it is important to plan to arrive Friday night to get settled in and ready for the game first thing Saturday morning. If you absolutely can't make it by 08:00 Saturday please contact us so we know you will be arriving late and we can have someone meet you at the registration area. Otherwise we may be not easy to find as it is a large site and you will not be able to play if you have not been checked in by the event organizers. Once you have been checked in you will not be allowed to leave the event unless it is a medical emergency. Participants must commit to participate fully for the duration of the tactical. If you must leave because of an emergency that is understandable. If you decide to leave halfway through the event without telling us prior to the event, you may face consequences which could include not be allowed to attend future events. We are doing this to keep the distractions at a minimum and keep the event flowing. No staying off the event grounds. If you must sleep in a bed and cannot sleep in the field or camp with us, this event is not for you.


This event will be a non-stop hardcore tactical and period reenactment requiring correct authentic uniforms and equipment. This will take place in a rugged wilderness environment early springtime conditions and will require a fair amount of physical stamina and knowledge of camping in such conditions. All participants are expected to be able to bivouac in their positions with authentic gear. This means no leaving the area of operations unless it is a medical emergency so as to not break up the immersive atmosphere we are trying to create. This event will be as much a WW2 reenactment as it will be an airsoft tactical and as such, participants will be expected and required to have the proper period gear and clothing to stay warm outside at temperatures that may go below freezing. If you are not equipped for this or are unsure if you can be comfortable in a foxhole at night in the cold, please do not attend. The point of this event is to create a realistic feeling of "being there" and living how they would of on the front line. For those of you who can take part in this it will be an event not to miss out on. Authenticity guidelines and equipment requirements will be explained in the lists below. This event will have high authenticity standards that all players are expected to meet. If you have any shortcomings in your impression, let us know-- we're here to help. If you show up to this event not meeting the minimum requirements for authenticity and safety without telling us, we will do our best to help you rectify the shortcomings, but you may be asked to leave without refund of your pre-pay registration. Again, if there is an item you are lacking please contact me ahead of time as we have some loaner gear, but it is first come first serve.


The site that we are using is a pristine 19th century farm in upstate New York with over 100 acres of fields and woodland. The land owner requires us to use only biodegradable BB's. I will be purchasing a bulk order of BBs that I will issue out to designated ammo carriers for each side throughout the event. Your registration fee will cover your BBs for this event. Do not bring your own BBs to this event, we won't let you use them. We are going to make ammunition limits a factor in the tactical anyway, this will be explained along with the other rules before the event. We will have both .20 and .25 sized BBs available. If you require a highly specialized BB, please contact us and we will work with you to ensure that you field an appropriate biodegradable version.


Your registration fee also covers one hot meal on Saturday night, which will be brought to you in your positions. All other food for the event must be brought to the event by participants and be proper period-correct field rations or food items that could be foraged in the German countryside and kept in period correct wrapping and carried throughout the event in a period knapsack. No modern packaged food or drink items. Campfires will be allowed for cooking and warmth, but please observe all standard fire safety rules.


This event is a WW2 reenactment as such it will have a military chain of command with pre-designated commanders and squad leaders. This feature is very important to the scenario play style we will be using at this event. We expect every participant to conduct themselves in a military and martial manner while participating in this event. That means saluting superior ranks and standing at attention when told to. You should familiarize yourself with the rifle drill and marching and commands of your respective army as you will be expected to march and be able to do basic rifle drill and deploy like soldiers of WW2. There are plenty of websites and YouTube videos out there that can help you with this. If a reenacting unit attends that already has ranks for their members that unit may follow its own rank structure, but this sub-unit will be subordinate to the official event command structure. If you show up as an individual you will be the rank of private and assigned to a squad. Please do not show up in an officer's uniform or as a NCO, as you will get an instant field demotion to private if we have loaner gear for you, or be asked to leave or put on "staff duty" at the farmhouse if we do not.
We will not tolerate rogue participants who do not follow orders or go off on their own Rambo style. If you do that, you may be asked to leave the property and not be allowed to attend our event again. We will also not tolerate insulting behavior by or toward any participant at this event. Players must act responsibly and play honorably. Players must be honest and call their hits. We will discuss what we consider a hit during the event briefing.


Participants who "go rogue" and fail to follow orders or observe chain of command will be asked to leave and may be barred from future events at the discretion of the event organizers. The only exception would be in cases where a players health or safety could be in jeopardy, in which case the player should inform their superior about the potential hazard.


We will also not tolerate insulting behavior by or toward any participant at this event. Players must act responsibly and play honorably. Fair calling of hits is vital to the success of this game, so players will be expected to do so with the absolute highest standard of honesty and honor. If a player is observed by event organizers to be egregiously not calling hits, such behavior may result in penalties for the player or the team.


Safety is vital and trumps authenticity in all cases, but nowhere more than in eye protection. Full seal ballistic or mesh screen goggles are recommended. We will be including the web address for period looking eye wear below. ANSI rated clear safety glasses with transparent frames are also allowed and create the least distraction to authenticity, but are worn at the discretion of the player. No sporty mirrored, tinted, amber or flashy colored goggles or glasses allowed.


***Participants must be 18 or older to attend without a guardian***
. If you are under 18 and wish to attend you must be accompanied by an Adult guardian who will take responsibility for you. No one under the age of 16 can attend. We have some loaner gear so parents can take part if they like but you must make arrangements for this ahead of time as we only have sufficient loaner kits and weapons. We may also have some space in the farmhouse where a few parents can stay, please have your parent call me at (518)962-2686 and make arrangements.


Please keep in mind that the requirements stated above may sound tough, but they are to keep the immersive feel of the event. We are not trying to be elitist or exclusive and will happily work with players who lack weapons or kit to help them be part of this, but we are trying to "up our game" a bit and create a vividly authenitc environment with realistic tactical situations where both serious WWII airsofters and blankfire re-enactors will both feel at home, while challenging themselves to embrace the most immersive aspects of the others' game.


Please be considerate of your fellow reenactors and keep STRICTLY in character for the duration of the event. No cell phone pictures will be allowed in the field, and in the event you need to take or make a call, you must ask your commander for permission to leave the field to do so. We will try to provide time for a photo shoot near the end of the event, and hope to have a designated photographer in the field. If you have a period camera that shoots film, or have a way of disguising your modern camera within a period one, that is fine, but you will be expected to take any snapshots from "within" the event (i.e. no running around snapping pics with a red rag on your head).


There will not be any times during the event where fraternizing with the enemy forces will be accepted except at the very beginning of the event during safety briefing and at the end of formal game play. The only contact that opposing forces will have during the event will be hostile, either attacking or defending. You may be attacked at any time during this event even while eating or sleeping. Sentry duty and being on your guard is going to play an important role in this event. Night operations will be a feature in this event and fighting should be expected at any time, day or night.
Cold Weather Camping gear requirements:


Early April can be very winter like in the Adirondacks of New York. A Snowstorm is not unheard of at this time of the year. So participants should be well dressed and equipped with proper period-correct winter clothing for your intended nationality and be ready to sleep out in below freezing temperatures. No modern camping items allowed, that means no modern sleeping bags, tents or stoves.

You must have these basic items:


wool greatcoat(or parka set if German, field jacket if U.S.) Wool sweater, wool trousers, wool shirt or tunic, wool hat or toque, wool gloves, extra sweater, scarf


2x period correct heavy wool blankets (German blankets are grey wool, American blankets are O.D. wool)


Thermal underwear. Period correct is great, but not required--we won't make you strip down to check


4x pair of thick wool socks


Period correct flashlight


Waterproof matches or period correct lighter


Period correct compass


Period correct hatchet or saw (appropriate entrenching tool is OK).


Toilet paper


Dry change of clothes. (extra dry boots is a good idea as well if you have them)


Personal first aid kit (does not have to be a period one but should include a large wound dressing, gauze and tape and be hidden unless needed)


Canteen


Mess kit with utinsils


Canvas pup tent shelter half or zelt (we most likely won't be setting tents up, but they can be wrapped around you while you are sleeping to stay dryer or used to cover a position)


We will make sure that there will be straw available to use as bedding and insulation. There is also plenty of evergreen boughs on the property that can be used to create a comfortable bed and shelter. If Mother Nature does not cooperate and the conditions are too hostile for sleeping outside, we will make arrangements to billet people inside the barn or some shelter on the property or have a canvas wall tent set up for that reason. We do not want people to be unnecessarily exposed to elements and know that there are certain limits that are unreasonable. But you should try your best to make sure you are well prepared for winter camping.


German uniform requirements:


Note: at this event the Germans will be portraying Volksgrenediers SS, Fallschirmjagers or Volkstrum


Volksgrenediers:


M36-M43 wool field uniform with infantry white piping on shoulder boards.
M43 field cap or M40 side cap
M35-M42 stalhelm (Heer splinter cover, camo netting or wire is ok. If snowy, whitewash or white linen cover is fine)
German low boots with gaiters, Jackboots, or winter felt boots
EM Belt with feldgrau painted Heer buckle or aluminum Heer EM buckle
Basic German field gear kit: Bread bag, shovel, canteen, zelt, ammo pouches for weapon, A frame, or knapsack. Y straps, 2 wool blankets, M31 mess kit, gas mask canister
German toque, wool gloves, wool scarf,
German wool V-neck or gray wool sweater or crewneck sweater. (a plain gray sweater will work)
German winter parka set in either splinter or tan and water camouflage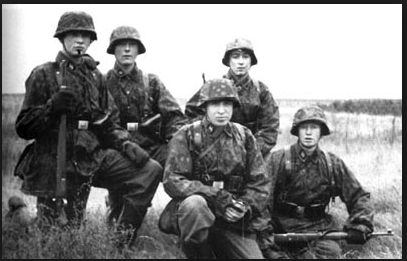 All of the above plus SS camouflage uniforms.


Luftwaffe forces:


M40 Fliegerbluse or M35 LW field tunic
Splinter B jump smock or OD green step in smock
LW Splinter B field smock
Basic German Field gear as listed above
German Low boots with Gaiters, Fallschirmjager jump boots, Jackboots, or wool felt winter boots
Winter Parka set in grey, splinter or tan and water pattern
Volkstrum:
Civilian clothing of the era
Volkstrum armband
German military items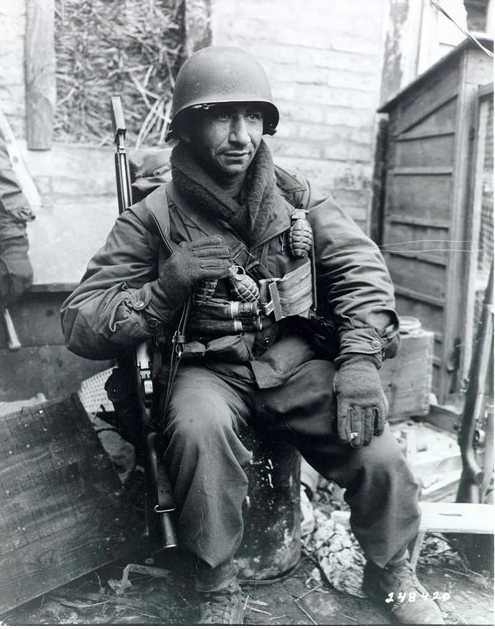 U.S Infantry requirements:


What we are looking for here is a basic late war U.S Infantry impression with the necessary winter gear. To portray the 104th Timberwolves or U.S. 1st Infantry Division. If all you have is a D-day Paratrooper impression please contact us, we can set you up to look more like regular infantry but its first come first serve so register early.


M41 field jacket or M43 field jacket
US web field gear and ammo pouches, e tool, canteen, haversack, musette bag, 2 wool blankets, and shelter half, canteen. mess kit
Rough out boots with gaiters or US two buckle combat boots, also shoe packs are appropriate for winter.
Wool hat, scarf and gloves


Weapons:


Only WW2 airsoft guns will be allowed. No FPS limits, but if you have a "hot" gun such as a sniper rifle with a heavy spring that fires in excess of 500 FPS your minimum engagement distance will be increased.


Exploding pea grenades, smoke grenades, or dummy grenades will be allowed


CO2 powered nerf firing Bazooka's and mortars allowed.


If you have any questions post below and we will quickly respond to any requests or comments.
Well, there it is in a nut shell! I hope you all can make it, we look forward to seeing you on the field!
JerryADK, Insterburger, Brownien