Post by Guinness on Nov 15, 2007 18:31:10 GMT -5
The M500SSB Replica Stainless Shotgun
Gas Powered, Full Metal, 8mm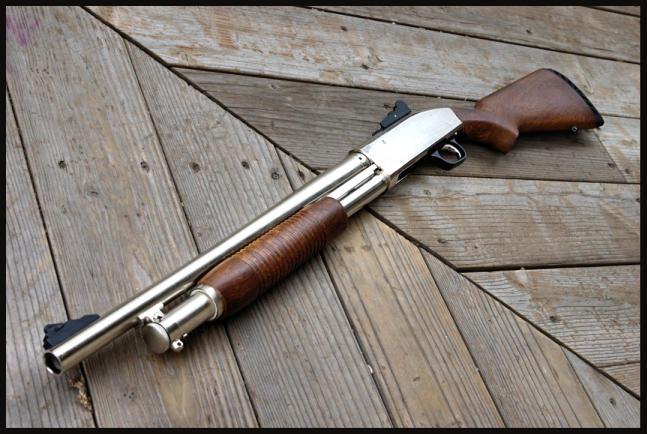 First impressions and a brief review of the Chinese clone of the Marushin M500SSB 8mm Shotgun Stainless Edition
by Guinness
Part I
Box and Packing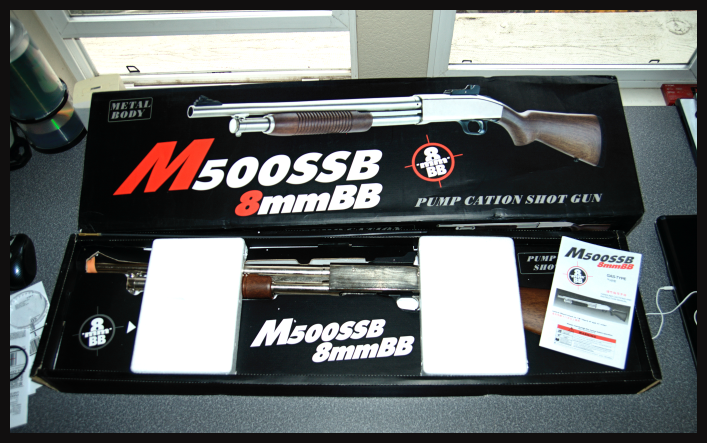 I received the new gun bright and early this morning from my good friends at Boomarms. I really can't say enough about Johnny and his crew, they go out of their way to take care of their customers. As usual, 2 day express shipping to my doorstep here in Colorado.
The package came in the standard green wrapping paper that screams "Airsoft Toy!" And it was very well packed and secured within the container as well.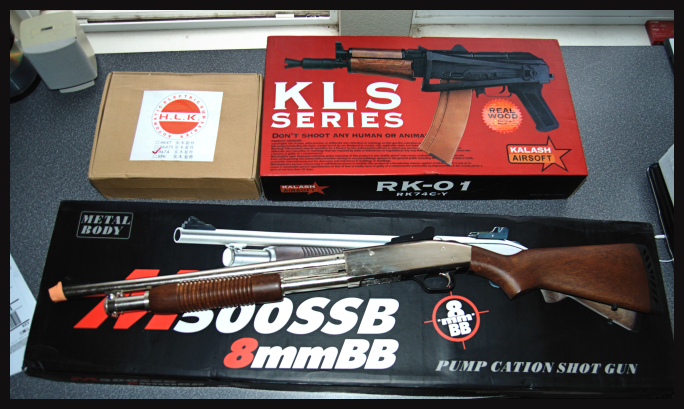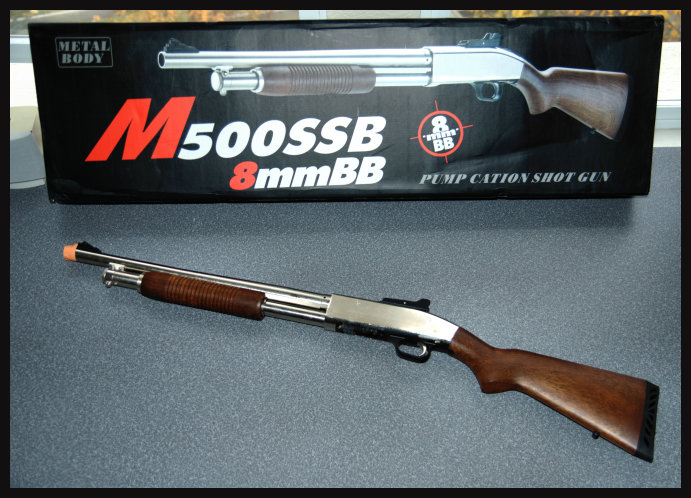 As I said, I love the guys at Boomarms all to pieces, yet this concerned me just a wee bit....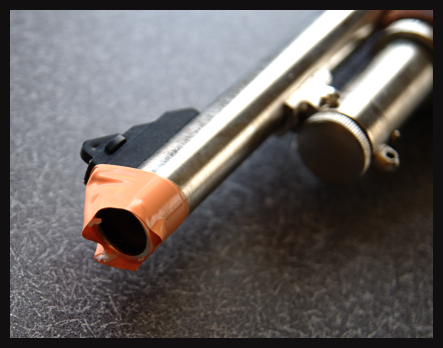 The collector in me loves not having to remove blaze orange (in that super-secret process that we shall not speak of here wink.gif ). Yet the Toy buyer in me was a bit in shock thinking "Wow, good thing I sent those Customs guys that batch of cookies....my gun could have been a early Christmas present" sad.gif
I have dispatched a note off to Boomarms kindly suggesting a bit more due diligence in preparation to ship. I know that he wants to get the products out as rapidly as possible, but it would be a big 'ol bummer if someones Toys were seized.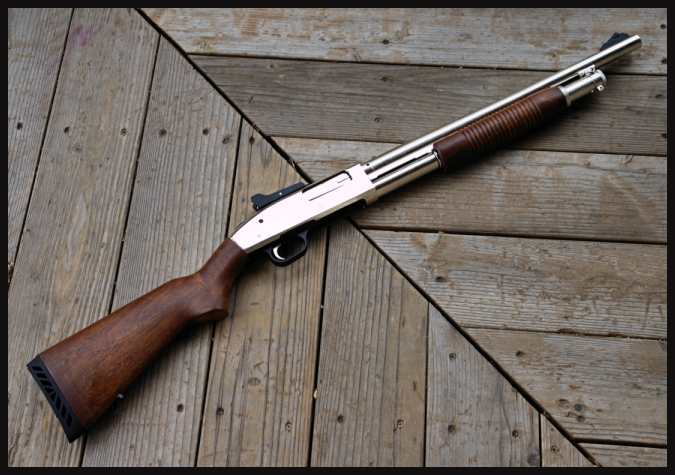 Part II
The Gun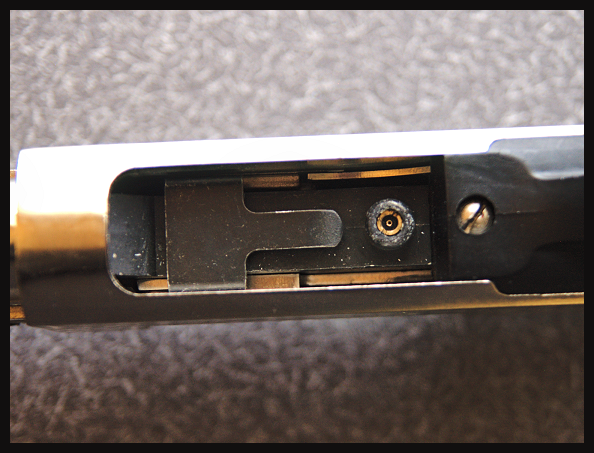 Shot of the gas reservoir. Trigger guard is black plastic.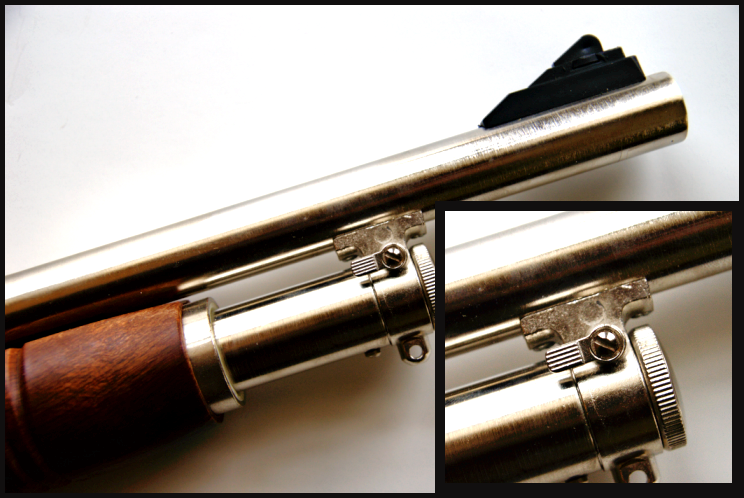 Detail showing magazine catch lever in 'closed' position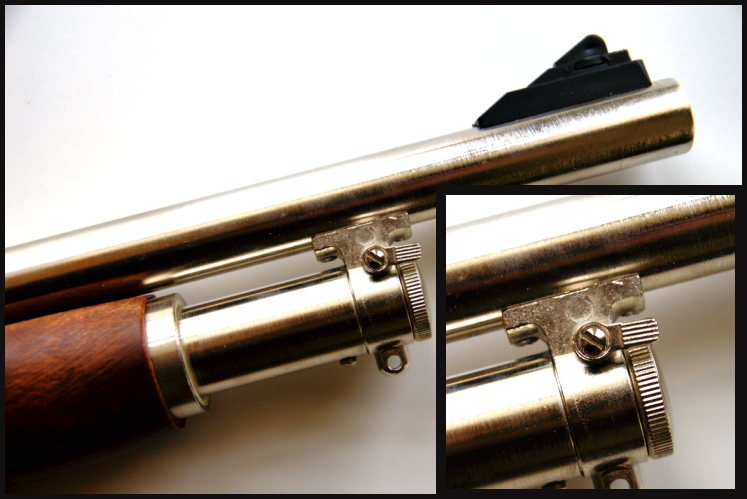 Detail showing the magazine lever in 'open' position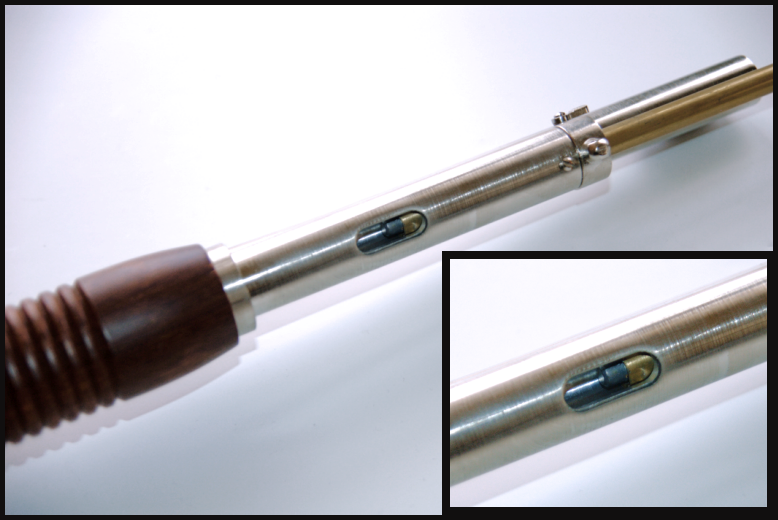 Detail photo showing BB magazine filler opening. Opens, loads, and operates exactly like the Marushin.
Part III
Feel, Fit and Finish
Being a clone of the Marushin M500, the shotgun is full metal and as heavy as you would expect. Easily as heavy, but not as long as my Marushin M1 Garand. I have handled the 'real deal' before, both a
real-steel
Mossberg M500, and the Marushin M500 this product is a clone of. The Clone is identical in balance and feel to the Marushin. However, it is in the finish department overall that we begin to see the difference between the more expensive Marushin shotgun and the Clone.
It's important to start off with a frame of reference, I paid $95 for the Clone M500 plus $45 express shipping- $140 USD. The Marushin retails for $325, plus shipping. Of course the Marushin includes real wood stock and front grip.
Overall, I am very happy with the clone. For the money I really believe it represents an incredible value.
That said, I would point out some of the areas that show why there is a $230 dollar difference.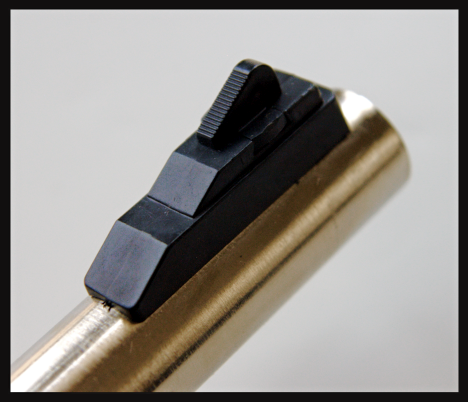 Closeup of front sight. Sight is plastic, notice excess flashing at rear base of sight.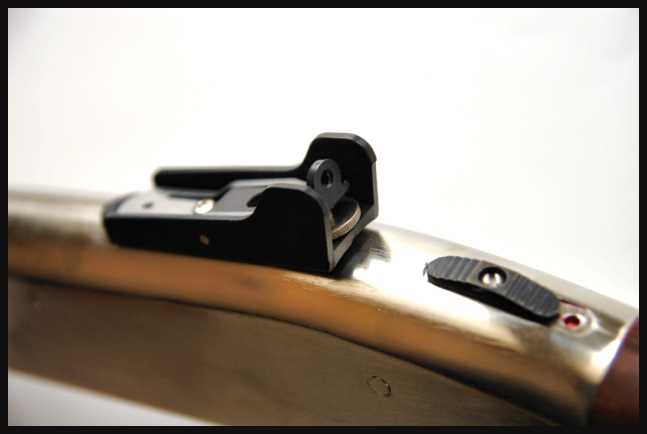 Rear sight and safety switch. Rear sight is also plastic, but has thumbscrew elevation adjustment.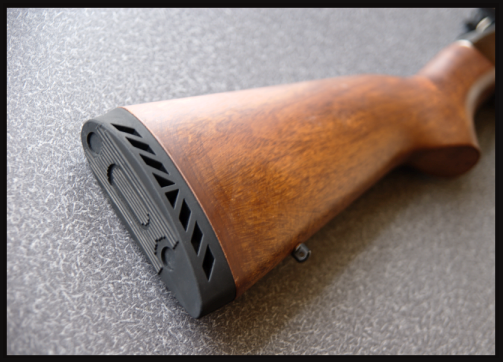 Rubber recoil pad is pretty nice actually.
Part IIIa
Faux Wood Stock Parts
Plastic glue-in cap on stock- not sure why it had to be built this way?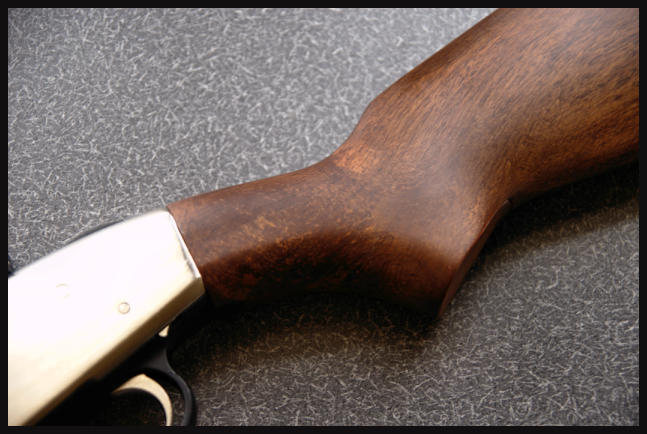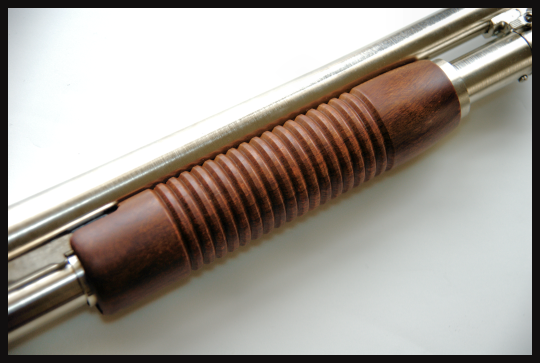 The wood isn't
bad...
The disappointing thing is, there are a few big old thumb prints in the paint- one one each side of the stock, and a less noticeable one on the forward pump-grip.
Good thing I'll be replacing these parts soon anyway

Here is another nagging little bit-
The screw is noticeably off-center compared to the sling eyelet. I will have another look at that and see if it can be sorted out easily.
Part IIIb
Metal Finish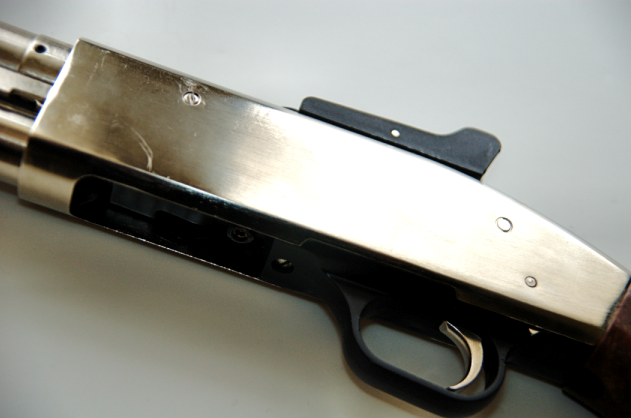 Don't get me wrong, the Stainless looks is very very sexy, however obviously scratches easily. These scratches were on the gun right out of the box. I've never seen metal scratch so easily actually. I believe even is this gun was painted black it would scratch very quickly.
Part IV Next...
[/b][/center]
Part IV
Operation and Shooting Tests
No Guinness Products Were Harmed During This Test!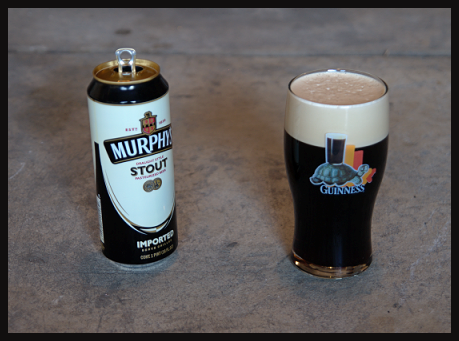 My test subject, an empty can of Murphy's Irish Stout next to a pint of real Guinness (of course

)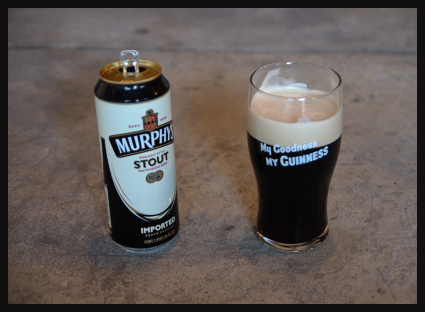 What's the rush? Always need to prepare for any serious testing! Right then.....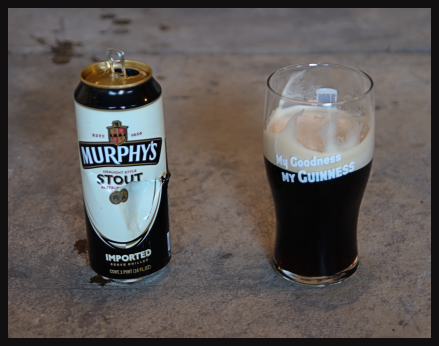 From 20 ft. 3 BB's right through side of can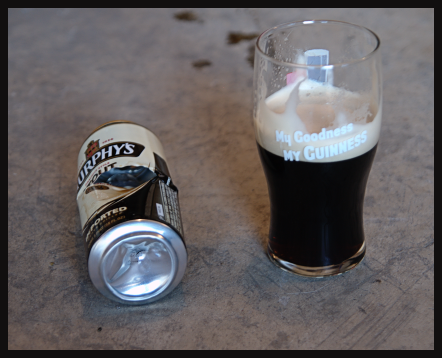 From 5 ft. 3 8mm BB's through bottom of can
No Guinness Products Harmed During This Test!
-The bb magazine tube holds 48 BB's
-The gun shoots 3 BB's at a time, I have not been able to confirm that holding in the 'action stop' lever near the trigger guard allows you to load up more bbs per shot.
-I'm averaging 10 or so shots per gas fillup
-Greengas and Propane ready!
No distance accuracy tests yet,
Its a Shotgun, not a Sniper rifle!
Part V
Conclusion
As stated earlier, overall I am very pleased with the gun. Very nice, solid feel (like Marushin). Very impressive power (also like Marushin). The only areas I feel could stand improvement is the fit and finish of the gun. If asked I would have recommended the clone manufacturers open with the black version instead of the Stainless due to the ease of scratching and marring the finish.
That said, I still really like the Stainless color anyway. I was skeptical at first but it is definitely growing on me. I'm going to look for some buffing or polishing cream and see what I can do about the scratches.
This makes my 4th 8mm weapon, so I have no complaints about the size of the round. This is my first clone 8mm however and I would say again that from the perspective of operation, function and use- the gun is a winner. It's really cosmetically that is suffers, and I believe I can do something about that.
I would recommend this weapon certainly for someone looking for a nice, sturdy and powerful
Full Metal
Shotgun platform. And the price is certainly a big reason to consider the purchase. Is it equal to the Marushin in appearance quality? no, but not far from it either.
Ratings
[/b]
Overall Quality 9/10
Operation 9/10
Appearance 7.5/10
Power 9/10
Value 9.99/10
Planned Improvements, Upgrades and Modifications
[/b]
Reportedly this will accept real-steel accessories, so there will be a vented handguard in its future. Then either a real wood stock and front grip
or
a pistol grip and real wood front grip.
Also, I was surprised that I actually like the ring rear sights, but I will either replace with real metal or remove and replace the front with the brass bb sight.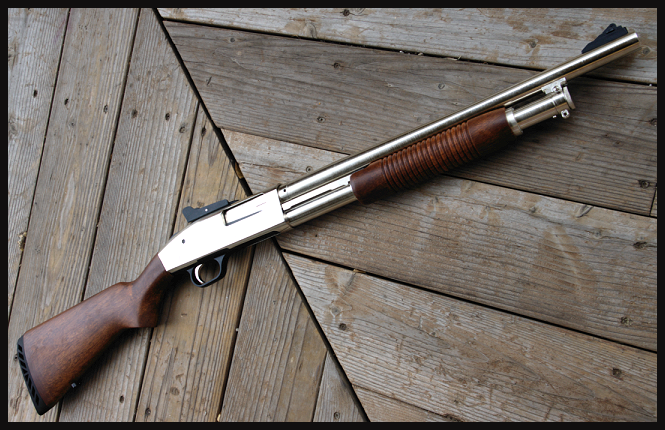 Slainte!
-Guinness