Post by Ersatzjack on Jun 23, 2008 11:32:23 GMT -5
----------- MINI AFTER ACTION -----------
So, I got back on Sunday morning about 2am and have recovered from the trip to Fargo, ND and Operation Overlord. This was sponsored by Northland Airsoft and was a WWII themed airsoft event. It was not a WW2AA event or one of the MOA events but a chance for the 3rd PzGr to train and travel.
A few comments. First off to start things on a positive note let me say that any day spent airsofting with Midwest Ostfront Association members is a plus for me. In addition, there was clear effort expended by our hosts, Northland Airsoft to set the mood for the event. I think they did what they could. There were numerous field fortifications built and field prep was pretty good. They were very friendly and welcomed us with open arms and as known beforehand only charged us 50% of the admission fee to bribe us into attending. (Psst! We would have showed anyhow.) They also overlooked the full seal goggles requirement. You might say they cast a blind eye on the subject. (heh-heh). That all being said, it was not one of our events. The immersion just wasn't there. We arrived three strong, myself, Garrick and Wolfgang and comprised the only participants in a field nearing 40-players that had any WWII uniforms at all. Everyone else was modern. There was a guy with a Tommygun but all others were the modern AEGs. We expected this to a degree but I was somewhat dissapointed that with all the advance planning that not one of their players donned any WWII gear. It's okay as we said that we wanted to jump into modern games to recruit but I don't think we'll get any of these players. A couple expressed interest but there is distance and the fact that I didn't see a leader out there that could build upon that. They are into modern airsoft, period.
Being the only three guys in WWII gear we had plenty of referee camera coverage. I think we each had a cameraman following us around. That was interesting. As I am so shy and reserved it might have restricted my naturally aggressive field posture somewhat. ;D I'm sure we'll show up in some of the pictures and movies they might post down the road. Wolfgang is going to watch their site and transfer anything of value. Wolfgang seemed worried if we had a good time and that is not a problem. Like I said, a chance to play and train with our unit is its own reward. We held up pretty good. The Mausers were competitive even with the modern rainstorm of bbs coming our way. I don't want to speak for Garrick but he seemed happy with his new acquistion and boasted numerous kills. Our MG42 worked for the beach landing scenario, then I switched to my Mauser and later in a woods fight I went back to the MG42 on the bipod. I plan on installing a new barrel (bigger inside diameter) and hop-up rubber. Wolfgang used his MP-40 most of the day but I think he pulled out his Mauser too. We did stage a nice Mauser stacked rifles picture that I hope we can add.
Organizers used a channeled attack plan with objectives along the way throughout the day. There were unlimited respawns and each side ran members back to a grocery clicker to register their deaths and then jumped back in. The Americans had more troops and twice as many full auto MGs (simulated crew served MGs) and were always capable of moving forward. I feel organizers botched the beach opening by allowing the Americans to run across the field and grab a bridge support (bunker) and that was what they all did. This negated all the field work put into the beaches because no americans wanted to slug it out up the beaches when they could fight from behind concrete like the Germans. I would have prefered that they have to assault up the beach and if they stalled the referees at some point could have called the battle and we'd have happily moved to the next stage. I think if you are going to set stuff up then you should use it. But nothing is perfect and so that was just my observation shared by some of us on the German team.
They didn't chrono and that didn't sit well with me as some of those AEG's outranged my Mausers and really made things lop-sided. I guess an organizer that had the chrono just didn't show so they had planned to chrono.
There was a break in the middle of the day to reload and refresh but then we pretty much fought to 6pm and ended it for some hotdogs and drinks. Garrick and I had a long drive and bowed out of that siesta to head home.
Lessons learned - If you want to have maximum fun you have to impose WWII requirements on events. If you just want to play airsoft and don't mind fighting at a disadvantage then jump into modern games. Other than the name of the event, "Overlord," this was a modern event. They did tell players to keep their guns on semi if not MG'ers but who can say if that rule was followed by all. Like I said, it seemed like a hail of enemy fire at all times. I will give the Americans kudos for conducting great attacks. They were an experienced bunch. Lots of suppressive fire and good movement. They did violate some rules such as extended movement into out of bounds areas, and firing under the walls at the beach assault when that was a no-no, but that can be forgiven in the big scheme of things considering they had to attack all day long. They were tired of getting hit. I think the final casuality count was 190+ Americans to 140+ Germans. But it really never mattered because life was cheap and it only mattered how fast you could regen. I like limited regens and breaks after each skirmish much more but that's because I'm old I guess. Oh, since this was a one day walk on event the cameradierie doesn't really occur and the enemy is pretty faceless. So when towards the end of the day the cheating started to become real obvious, some players obviously not calling their hits I think that was a natural result of the "its getting near the end and if I die now I don't get any more trigger time and I don't know these clowns anyway." Established units and encampments mean that people are worried about their field reputations and guard them. Massed "come one-come all" events that are single day shoots are less likely to operate in the same way.
Okay -that's my report. Overall, the pictures will follow down the road. I took a few below. The rainbow shot was a good omen to start the drive on. I liked the event even if my report seems critical. That's what an AAR is for. It was a nice dry run for NY. Wolfgang, Garrick, Alban and I will head out there for some real WW2 action in a few weeks.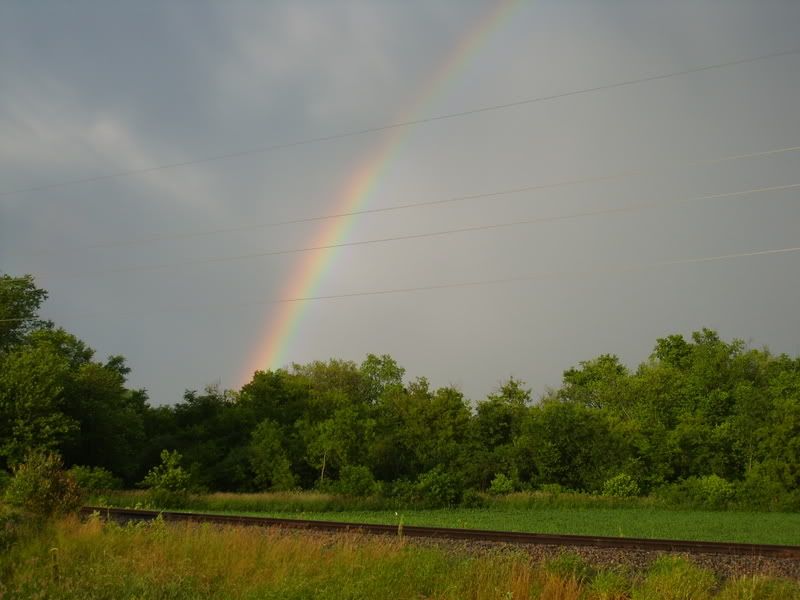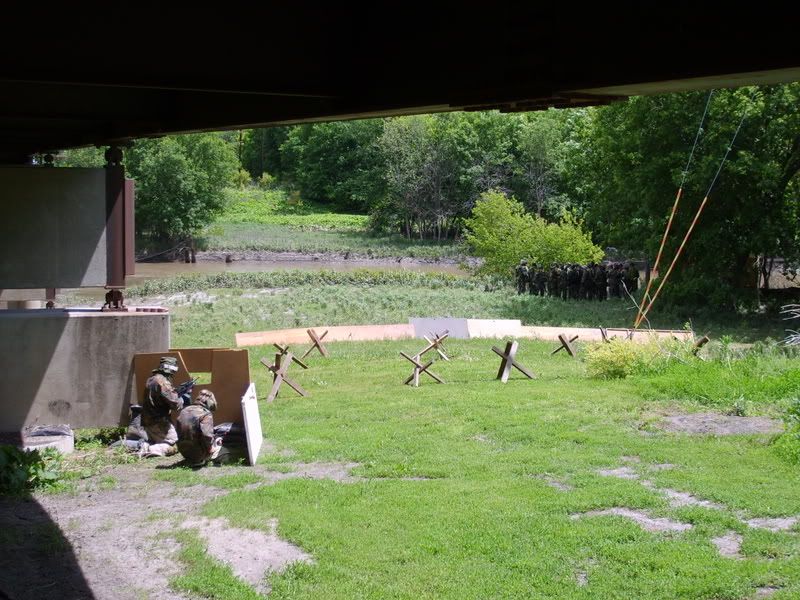 A view of the Red River and a cluster of Americans before the event kick off. They ran parallel to the river and jumped in front of the wall in front of our first bunker position and just rolled up our defenses. Good attack like I said but there was no beach assault per se.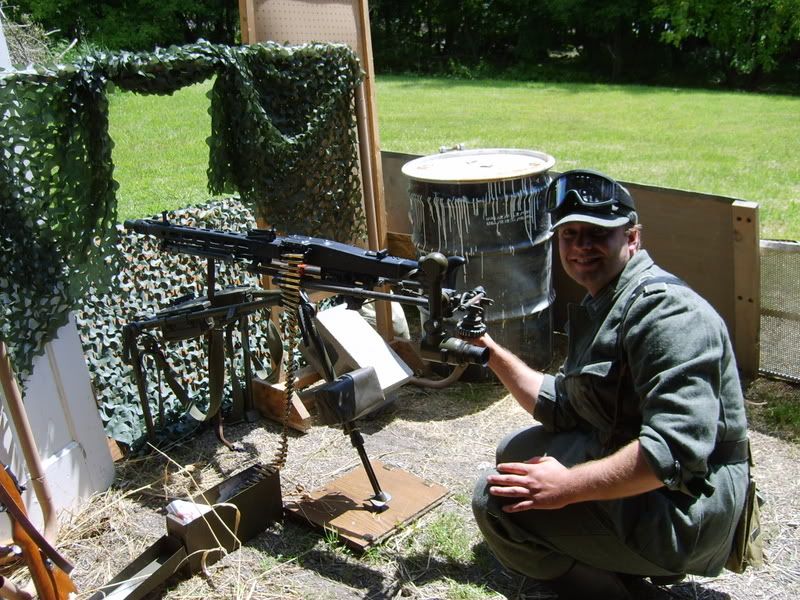 Garrick wondering how the Americans would attack. Yep - the tripod is backwards. It is used that way for airsoft and spun around for pictures. Can't be helped. I need the range of motion the backwards setup provides.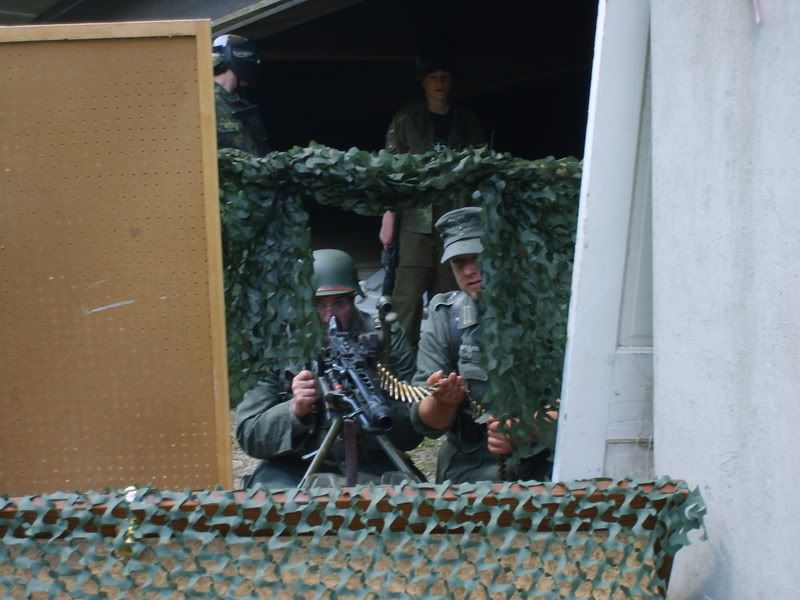 A nice staged shot if you overlook the pegboard. We just used what cover was handy. The players really liked the MG. It drew a lot of attention. But it was not any more effective than a $300 modern gun and argueably less effective. But I did mow down a few guys running to the bunkers. Thing was, they just kept coming. Ackk!!