Post by TommyGunner on Jul 30, 2008 9:12:31 GMT -5
Wow what a great event in every respect! I had a blast. Bill Sheets put on another greatr WW2 event, thsi time at a HUGE military museum in Auburn indiana. It was more of a living history display than anything else but the WW2 soldiers Vs the Civil war soldiers with a cannon was fun to watch lol.
This event was also the deubue event for B Co. 1st RGMNT, 1st BTLN, 1st USMC Div. We had one kick ass display if I do say so myself. We had 3 types of tents representing 4 different years and even errected a field made gp style tent. We had enough equipment on display to cover every year from 42-45 and had a total of 13 reall steel and airsoft weapons on display!
We recived alot of compliments, and cant wait to go back next year. There were three memebers that attened the event, Kyle and he had a great riflemens kit set up for Okinawa 45. He had a P-41 jacket, with Army HBT pants, a M1 garand ammo belt with P-41 suspenders, a canteen, a M42 1st aid pouch and a cammo helmet cover and carried and M1 Garand. Jeff was kitted out for a Shot gunner on Pelelui in 44, he carried an 1897 trench gun with a M6 gas mask bag as his ammo bag for the shot gun shells, he also carried a .45 revolver with the half moon clip ammo pouch, P-41 suspenders, P-41 jacket, P12 first aid pouch, M36 pistol belt and canteen, along with a cammo helmet cover. I carried two different kits through the day, the first was for a Sgt. on Guaddalcannl in 42, that consisted of either a pistol belt with a M1911 holster and 2 ammo pouches with 1936 suspenders, or a M1928 Thompson with 2 ammo pouches, M42 1st aid kit, canteens, P-41 suspenders and a P-41 jacket. My other kit was a BAR gunner for Guaddalcannal with thwe WW1/WW2 rebuilt BAR Belt, an M1918A1, two canteens and the M1910 1st aid pouch.
Alsmost all of the gear on display is original USMC or WW1 army gear.
Pics of B/1/1 in action
B/1/1 posing with captured enemy flag and rifle on Okinawa in 45
B/1/1 clearing a cave on Okinawa in 45
B/1/1 advancing off the beach head on Pelelui under the protection of a LVT in 44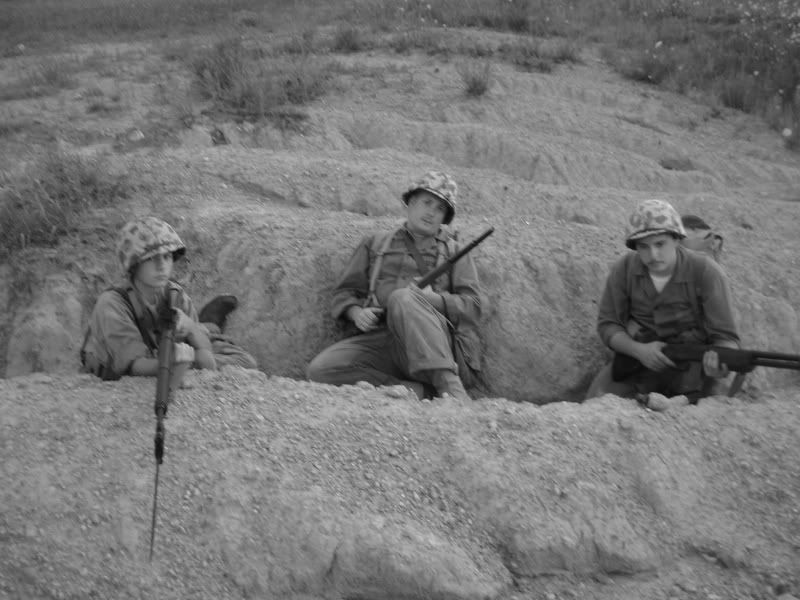 B/1/1 watching the line on Pelelui in 44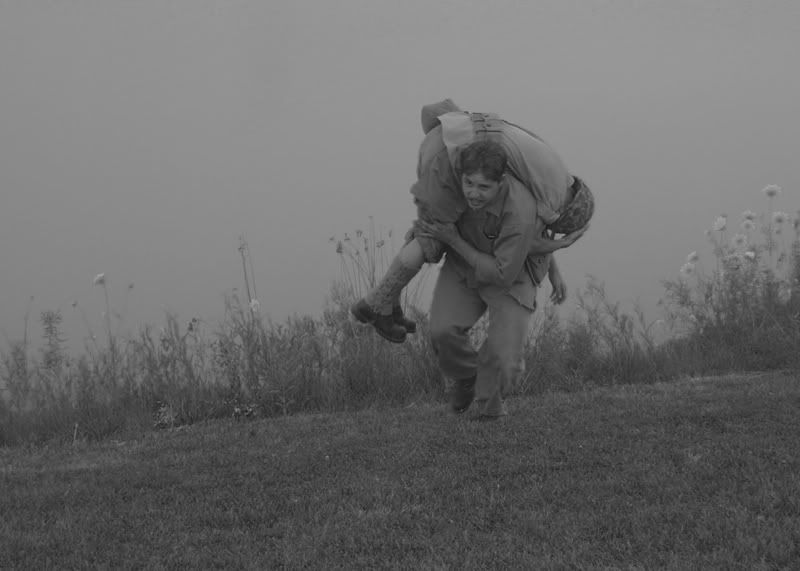 B/1/1 Never leaves a man behind!
B/1/1 Advances on a Jap position on Okinawa in 45
Here are some pics from our display: