Post by Ersatzjack on Feb 22, 2009 20:36:35 GMT -5
Well, first and foremost, thanks to all the participants who braved the travel and the weather to attend this event. I think it was the weather that made the event special for me. Snow showers and cold enough to experience the feeling of the East Front but not die trying.

I think our wound card system worked well too. But please feel free to differ if you feel so. I still heard a lot of "I'm hit shouts" (I'm guilty of that myself) but also saw some good theatrics out there. I enjoyed that the Kubel ran and didn't crap out. That's a good start for vehicle events (at least on the German side). The attendance was balanced and at 20-members was better than last year so the trend is positive and this despite the changed date. My folks commented again on how well behaved and nice everyone was. No complaints. You make it real easy on me and Steve when you guys are neat and considerate. Good show.
The skirmishes were fun and not too complicated and competitive and we managed four of them with a quickie thrown in at the end which for me was a very fun affair. The Russian team was dominant this day. They accomplished their missions both times they had to attack and the Germans won the second skirmish when they had to attack the buildings. It looks like the battling was favoring the bold. I can't tell you how impressed I was with the Russian attack on the third skirmish. Smoke was used to great effect. Then you fought uphill and just pushed us out of a very defensible position (or so I thought). Great leadership Troy. My favorite moment was the last battle. I had nice 60-yard shot at the Russians only hope for victory when "Partisan Paul" flanked solo to the Russian right and tried to steal a quick victory for his team with a stealthy though out-of-breath approach to the Russian objective, which I had stayed behind to guard. The snow for anyone who tried it was extremely difficult to move through unless you had a road or snow shoes and no one had snow shoes. My brother couldn't stop talking about his great attack (AKA Capt Spears run through the streets in BoB) and for him the event was serious fun.
Top it off with no injuries or negative incidents and I give this event 5-stars. Ha! Okay, I'm a little biased.
There was a dedicated video guy from the 110th Panzer Grenadier blank-fire unit named Mike and of course Cpl Mills (Alex and Tom seem to really like advising those communists) was there with his camera so we should be getting lots of good pics. Here is my meager offering.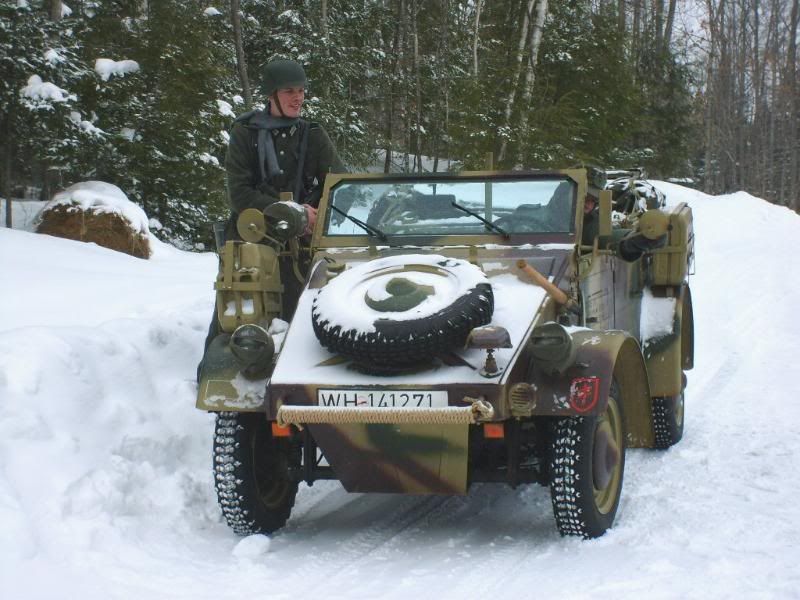 My favorite shot. The East Front is a tough place for vehicles.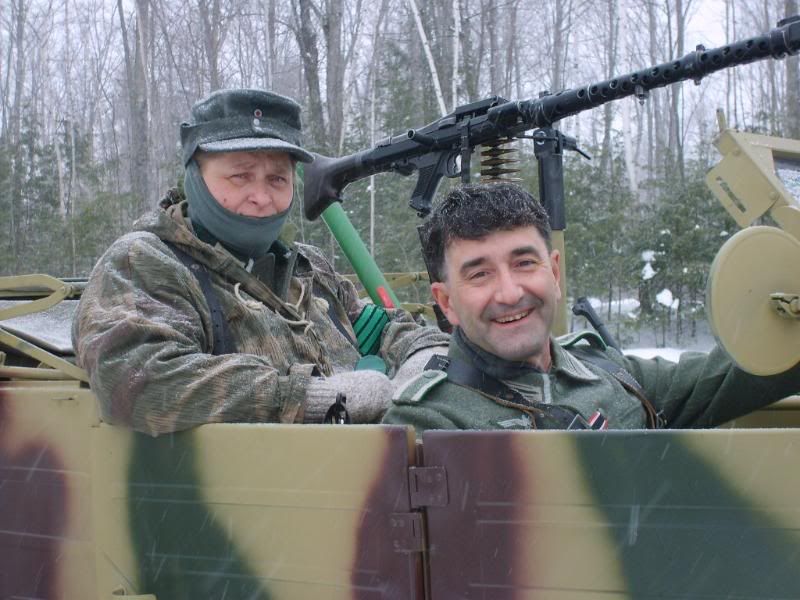 Steve likes this shot. See how relaxed and happy he looks. This must have been taken after the 4th skirmish.
Caught Wolfgang checking his wound out.

I'm toying with the idea of changing Franz's avatar. The caption would read, "Why is the top down, I'm F$*@ing freezing."