Post by Ersatzjack on Jun 21, 2009 13:37:35 GMT -5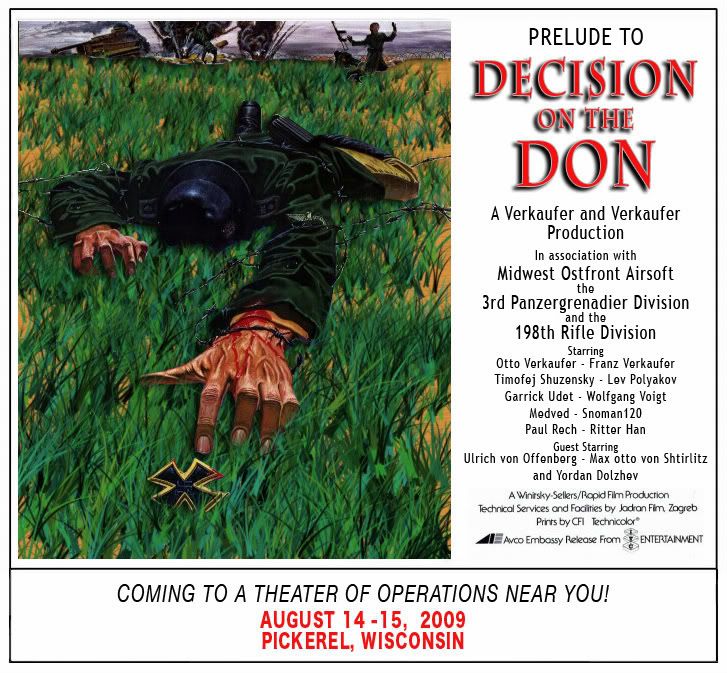 When - August 14, 15 with final cleanup/drive home day on 16 August 2009.
Where - 849 Forest Lane (not Forrest), Pickerel, WI
This is a WWII airsoft simulation. Impressions as WWII participants or suitable Partisan/Hiwi fighters are required. Bio-BB only. Those will be available at the game at $5/1000 - .20g. A limited number of .28g bios are available at the same price to bolt action rifles.

This is a free event with a donation box to help defray vehicle owner and porta-potty costs.
The time is the summer of 1942. The 3rd Motorized Division of the German Army is repositioned for some much needed rest and refit in the Southern Army Group sector west of Stalingrad. They are harried by probing forces of the 198th Russian Infantry Division. This will be a continuous event with total body count and skirmish objectives won determining the outcome.
The site is 70+ acres of rolling woods and roads. Electricity, water, sleeping arrangements are 5-minutes from the battle area.
Players may begin arriving at 2pm on Friday (or earlier if they PM me and get permission) and the battle begins on Saturday morning. Saturday night will be for eating, packing and for some departure.
Additional information to follow, including what new debuts are expected. Interested attendees PM me so I can add you to the list. I want name, team, impression type and weapons you'll be using.
Thanks to Sir Veilance for his artwork. I hope the final battle results don't come out as depicted in the poster.
See you all there. This is a genuine WW2AA/MOA event. Accept no imitators. ;D
REGISTRATION CLOSED
Axis Forces
3rd Panzer Grenadier Div
Garrick Udet, MP-40
Otto Verkaufer, K-98
Franz Verkaufer, MP-40
Wolfgang Voigt, MP-40
Paul Rech, MP-40
Ritter Han, K-98
Dieter Werner, K-98
Kurt Peiper, MKb-42
Karl Schroder, MP-40
6th SS Gebirgsjagers Div NORD
Ulrich von Offenberg, MKb-42 (with midcaps)
Max otto von Shtirlitz, K-98
Yordan Dolzhev, MP-40
Hans Schmidt, Mkb-42 (w/midcaps)
Soviet Forces
198th Infantry Division
F. G. Grifyenov, DT-28
Belka, PPsh-41
Morkova, MN-91/30
Boris, SVT-40 and "Nastasha" (BA-64)
Timofej Shuzensky, Thompson SMG
Snoman120, MP-40
Lev Polyakov, PPsh-41
Oleg Zhivetin, DP-28
Partisan
Josh, MP-40
Sir Veilance, (who knows - he's bringing several impressions and will balance teams one way or the other)
(P.S. - I know the MKb-42's are really MP-44's) It's only 1942 though.

Time for some of the rules to be announced.
EYE PROTECTION MUST BE WORN AT ALL TIMES ON THE FIELD DURING GAMEPLAY
Anyone witnessing a player without eye protection donned should not shoot at that player and yell a warning to others or halt play altogether so that the situation doesn't result in an eye injury.
Only goggles / eyewear that meet the following requirements will be allowed:
• Recommended impact standard for eye protection is ANSI z.87.1.
• Shooting glasses are allowed but they should fit close to the face and it is recommended that they be fitted with a head strap to keep them from falling off.
• Mesh goggles are allowed.
All minors under the age of 18 years old will be required to wear full-seal goggles. No shooting glasses for them. No exceptions.
Bottom line – protect your eyes but for the most part you decide the level of protection needed
OFF-FIELD or OUT OF THE PLAY AREA
Weapons should have their magazines out and be empty or a barrel block device attached. Fingers off triggers. This common error is very dangerous and will be viewed as a safety violation. Learn to carry your guns properly. Loading magazines is allowed. Load your weapons when you hit combat. Sidearms are not required to be mag free as long as they are holstered.
FPS LIMITS WILL BE STRICTLY ENFORCED.
All guns must be chronographed (hop-up off) prior to game time. Only 0.2g BBs allowed during chronograph. Metal BBs not allowed in the event. 8mm weapons only allowed if inspected and approved by event organizer. Players may also be chosen at random for handheld chronograph spot-checks. Especially if using gas weapons.
FPS Limits are:
>AEGs: 400 FPS w/ .20 gram BBs.
>Semi-Auto, Crew operated MG's and GBB 450 FPS w/.20 gram BBs.
>Single-Shot, Semi-Auto, or Bolt Action Sniper Rifles: 550 FPS with .20 gram BBs.
All guns will be chronographed prior to the beginning of the game using .20 gram BBs. You will be given 2 attempts, consisting of no more than 3 shots each, in which to chronograph at the appropriate FPS. If your gun is unable to chronograph legal after 2 attempts, you will not be able to use that weapon in the game.
Colored zip ties are not going to be used to identify guns since we are a small group but no cheating on these restrictions as you will be ejected.
SHOOTING SAFETY.
Players may only discharge their weapons at the target range (Big Plate area) or in combat.
NO BLIND SHOOTING - Players must sight down their weapon while they are shooting; no shooting around corners.
BANG KILL - Players may never shoot at another player who is closer than the minimum engagement distance of 10 feet. If an opponent is closer than 10 feet away, a player should shout "BANG KILL!" in order to notify the opponent he/she has been eliminated at extreme close range. You must have an open line of sight and be in control of the situation. In other words you have the drop on the opponent. No charging an area and yelling Bang Kill. A "bang kill" may not be performed through a barrier or through netting, you cannot kill more than one person at a time, you cannot use "BANG BANG BANG" to kill everyone in a room, and you cannot use it to rush into bunkers to get instant kills. A "BANG KILL" is used only as a courtesy kill and the ENTIRE phrase must be spoken... yelling "BANG" does not count.
While headshots count, players are asked not to intentionally target another player's head.
AVOID FIELD HAZARDS.
Players should avoid all field hazards such as fences, ruts, and vines. Guests should report any hazard to the field operator. Players may not construct anything that will hinder the movement or cause injury to other players. Players are allowed to construct roadblocks and lay mines at the approval of the teams beforehand. This is wild woods area and it is better to get hit by a BB then impale yourself. Be careful out there and don't let the thrill of the moment cause you to forget the hazards inherent in any natural setting. Players should not climb trees that would endanger them in a fall, or climb under a vehicle (ever) or on a vehicle (without vehicle's owner's permission).
NO UNAUTHORIZED EQUIPMENT.
Players are not allowed to bring onto the playing field any equipment deemed unsafe by the Event Organizer. Players on the field are not allowed to carry fighting knives or fix bayonets. Explosive or other pyrotechnic devices, real firearms, or other non-Airsoft related items such as smoke grenades should be okayed by the event organizer. That's right – real firearms will likely be on the field from time to time. They will be event organizer controlled and are for scaring a bear or wolf if spotted. This is pretty wild area. No one else is allowed to have a real weapon.
Rubber melee weapons, Nerf-launching RPGs, BB landmines, cold smoke grenades, BB grenades, or any other specialty weapons must be individually approved by the Event Organizer before use in the game.
ALCOHOL is ALLOWED for LEGAL USERS on FRIDAY NIGHT IN CAMP. DRUGS ARE NEVER ALLOWED ANYWHERE ON SITE AND IF FOUND YOU WILL BE TURNED IN.
Smoking is allowed. Field strip butts. Better yet, go period and use non-filter tipped cigarettes. Use common sense in dry conditions. Event organizers or others witnessing unsafe use of fire items report this please.
NO VERBAL ABUSE OR UNWANTED PHYSICAL CONTACT.
No name-calling, slurs against anyone's race, color, national origin, family members, teams or equipment will be tolerated. Guests wearing clothing with offensive wording on them will be asked to remove the garment. Be professional and immerse yourself in the time period. You'll enjoy it more.
Fighting will not be tolerated.
DISPUTES.
The Punitive Action Authority rules will be in effect to settle disputes for this event.
AGE REQUIREMENT.
All players must be sixteen years old or older to participate; players under sixteen must be personally pre-authorized by the field owner and event coordinator. Players under eighteen years old are required to have a Parental Waiver signed and dated by their parent or legal guardian.
NO EXCEPTIONS.
AMMUNITION AND RELOADS.
These may be scenario specific. Only biodegradable bbs are allowed except bolt action rifles may use heavier ammo of a non-biodegradable nature.
Single shot Panzerfausts are allowed one shot at a vehicle per attempt to kill. If successful, you may reload and use on respawned vehicle. If not, the tube must be brought back to the respawn point for reloading. AT-guns, Bazookas, mortars, and Panzerschreck weapons may be reloaded on the field.
HITS & DOWNING.
A player is downed if a BB strikes any part of his/her body, from the top of the head to the tips of the fingers to the bottoms of the feet, including any of equipment or gear worn. Richochets do not count as hits. A player is also downed by a "BANG KILL!" call directed at him/her from within ten feet.
When a player is downed by gunfire he will call out loudly "I'M HIT" or other clear indication. Make it theatrical. If the hit was not to the arms or legs, the player is dead and respawns. When killed or wounded players should immediately collapse where they stand and place a kill rag (red piece of cloth) on a visible area of his body or remove his headgear. If the player has a leg/arm wound he is considered wounded and he may call for a medic. A downed player may try to crawl to safe cover. If hit again downed players die and must respawn. Dead players should die in place and wait 30-seconds and then head back to respawn. Wounded players are revived if another healthy player reaches them and touches them. The two must stay together for 30-seconds before they are allowed to fight as a team. The rescuing player is allowed to fight off attackers until then. Wounded players cannot fight. Dead players cannot pass information. "The guy behind the bush over there shot me" is poor gamesmanship.
A player who is downed from behind with a rubber knife MUST immediately collapse SILENTLY, without crying out or otherwise attempting to attract the attention of his or her teammates.
Hits to a player's gun do not down a player. The weapon is still usable.
Airsoft is a game of HONOR and Sportsmanship. ALL players strive to exemplify fair play and call their hits, regardless of circumstance. In situations where a player isn't sure, you should give your opponent the benefit of the doubt and simply call yourself out. You should not have to wait long to get back into the game if you are hit, so please call your hits!
SNIPERS
Sniper weapons must be single or bolt action rifles (gas or spring) or could be a Semi-Auto AEG that is unable to fire full-auto.
Minimum Engagement Distance of 50 feet from your position.
A sniper rifle must fire between 400 FPS and 550 FPS with .20 BBs.
A sniper's secondary weapon must be firing under 400 FPS. This weapon must be used whenever your opponent is less than 50 feet from your position.
The Event Organizer and Referees are the authorities in determining weapon eligibility. Their decisions are final.
MOTORIZED VEHICLES & RPGs.
Automobile-based vehicles are confined to roads and parking areas. All vehicles are limited to speeds under 5mph while on the field of play. Players on foot must stay at least fifteen feet away from a moving vehicle, unless they are members of the vehicle's crew. Players on foot may approach a stationary vehicle. All players must follow any and all decisions or commands by the vehicles driver. Failure to do so will result in being removed from the event.
Gas-powered "RPGs" firing 2-inch diameter closed-cell foam (Nerf) rockets are used to simulate shoulder-fired anti-tank weapons. ONLY THOSE RPGs PERSONALLY APPROVED BY THE EVENT ORGANIZER MAY BE USED IN THE GAME. A hit by a rocket anywhere on a vehicle disables that vehicle and downs all that vehicle's occupants. Grenades or mines may be used to disable armor as well. Soft skinned vehicles are not targets. Gunners in armored cars are small arms targets. Drivers are not. A disabled vehicle must stop immediately, turn off its engine, and display a red flag to indicate its damaged status. It may then respawn at the rear. 15-minute wait.
GRENADE RULES
For this event, sonic grenades are making their debut. These are the only grenades allowed to test their effectiveness and we don't want two systems in play. Anyone within 10-ft of a grenade when it sounds is dead. If you are in hard cover, foxhole or armor or building and a grenade goes off near you but not inside the cover you live. If not, respawn. They are not used to displace intentionally in this game. They will of course but all people have to remember is if the sound and you are close you die. They may be thrown back as well but if they go off while airborne from a foxhole the person throwing the grenade dies. Make sure they land so you don't blow yourself up when throwing them. Grenades may be tossed into open topped vehicles but not while they are moving unless thrown from further than 15-feet away. Good Luck!
LEAVING PLAY.
If a player chooses to quit the game for any reason, he or she should don a Kill Rag and clear his or her weapon before leaving the field. Players are requested to inform a Referee or the Event Organizer that they have left the game before departing. We don't need to start a search party when you are home on the computer.
NIGHT GAME RULES (maybe?)
Players are expected to display patience and courtesy to all other players during night game action. Confusion can set in and rules and actions may need to be clearly communicated to other players so that the game may continue without incident.
All weapons rules apply, including the 10-foot "BANG KILL!" rule and the "knife kill from behind." Sniper weapons and RPGs are not allowed. Vehicles are not allowed.
Special thanks to Gryphon who provided the framework for these heavily modified Freefall rules.