Post by Guinness on Dec 18, 2005 0:05:30 GMT -5
1st, this isn't a review of the Marushin M1 Garand, but a "How-To" piece on re-staining the wood stock to a more eye-appealing shade. It's quite easy to do with a minimum of time and money. And it will GREATLY improve the uniqueness and value (IMHO) of this fantastic Airsoft Replica Battle Rifle.
Process Steps
[/b]
It took me hmmm like 3.5 hours all told-
Materials used:
-I used Minwax water-based stain (didn't want to deal with oil-based) >Vermont Maple< (2 bucks)
-Soft tee-shirt stain application rags (2 bucks at Lowes)
-1 inch soft foam angled paint brushes (a buck fitty)
-Sanding blocks: 1 rough grit, 1 medium, 1 fine (a couple bucks a piece)
-Linseed oil ( I think 5 bucks for a quart)
15 mins to disassemble
>break down as usual to 3 main groups
>remove top handguard just forward of reciever by removing black retaining clip.
>front handguard must stay on, complete disassembly of front end would be required, not really necessary to stain that piece.
>wrap reciever in plastic bag or something and tape it off to keep dust etc out- I sprayed silicone spray in there to keep everything moist.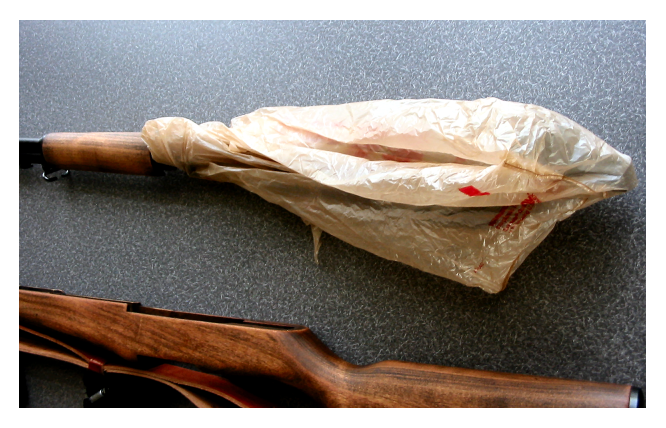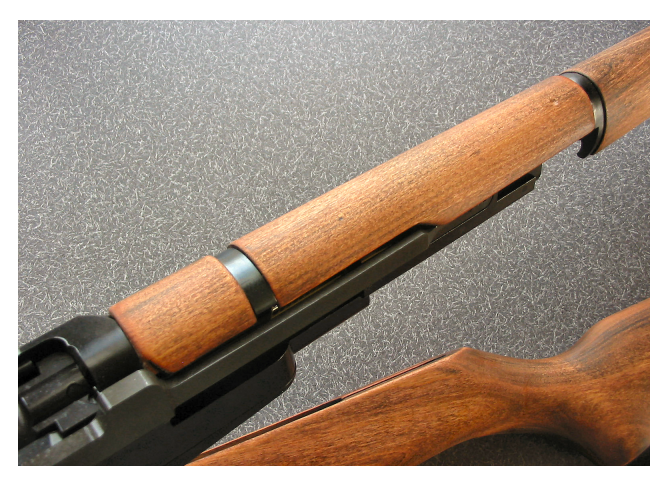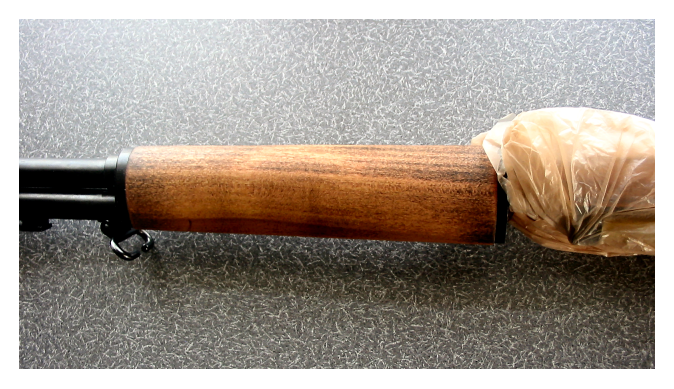 1.5 hours to sand
>You now have 3 pieces of wood- the main stock, the top hand guard, and the barrel/reciever group with the front handguard.
>I picked up 'sanding blocks' from Lowes in a rough, medium and fine grit- fit in your hands better than the paper and are reusable. plus they get in the curves and contours better.
>Sand in the direction of the grain, or lengthwise.
15 mins surface preparation
>the wood should be smooth as the fine grit will be the last sanding.
>I rubbed the wood down with a dry cloth, used dust off spray to remove dust, be sure to spray the inside and screw holes- then rubbed the wood down again with a *lightly* moistened rag.
1 hour stain application
>I used 1 inch foam paint brushes to apply the stain, make sure to stir the stain thouroughly!
>leave stain on 1-3 minutes, wipe off with tee-shirt rags
>I did 2 coats to darken.
finish up
>stain application raises grain in wood, makes the surface noticably rough- sand with fine grit block to smooth
>wipe down and use dust-off again to remove sanding dust
>apply
Liberal
amount of Linseed oil to all wood surfaces, this means A LOT
>let stand with oil treatment another couple of hours to soak in.
Re-assemble, admire your work, point at ceiling make *bang* noise.....

>obviously reapply silicone spray upon reassembly (like duhhh

)
>you will probably fill it with gas again here too make sure everything went back together correctly
Enjoy- its easy!
Before Photos
[/b][/i]
After Photos
[/b][/i]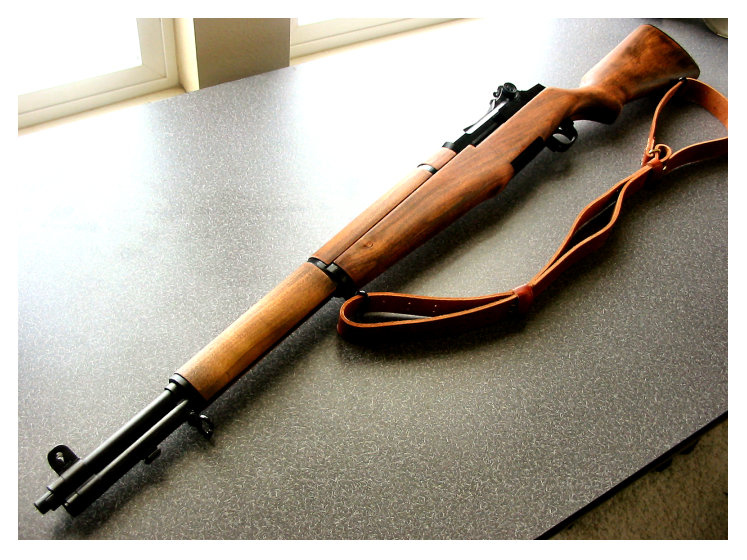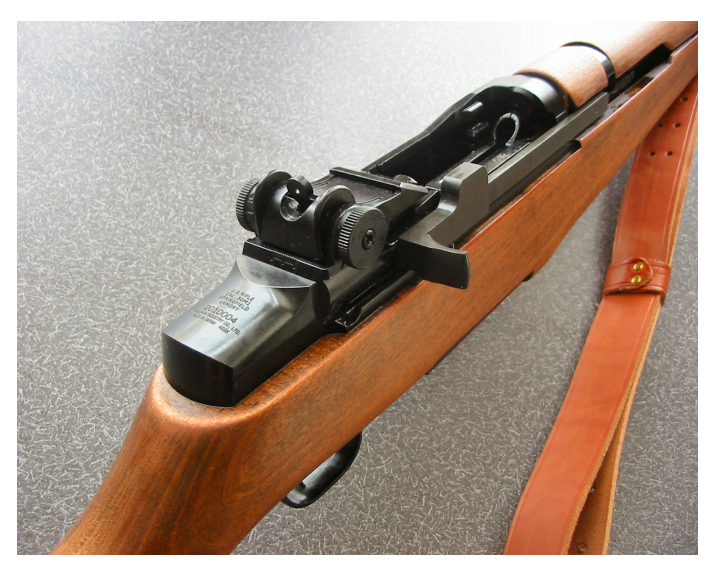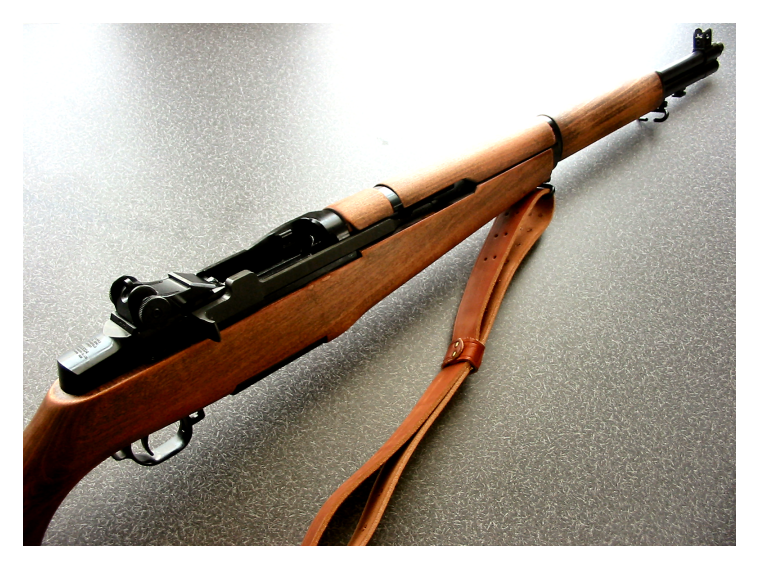 Like I said, It's easy and it really improves the look and even the 'feel' of your weapon! And with the many choices of stain colors out there, you can really 'customize' your M1 to your own liking. Do it! BTW, The 'process' pics used here were done
post
-production, so they show the wood color after I was finished, sorry for any confusion.
The only drawback, if there is one, is it make the black hardware standout a bit more- next project, PARKERIZING!!

-Guinness
(Thanks to AEX Airsoft Extreme for the Garand and to Marushin for producing an outstanding replica. As well thanks to my friends at Arnies Airsoft, WW2Airsoft Association and the Colorado Airsoft Group COASG)