PAK38
Apr 14, 2008 10:59:52 GMT -5
Post by Ersatzjack on Apr 14, 2008 10:59:52 GMT -5
Okay as I promised burt on these boards (at my insistence and not his) here is my report on his Pak38 build. burt operates airsoftcorner.com in New York State and I heartily recommend him for airsoft needs. He has been the linchpin go-to-guy for our unit the 3rd Panzergrenadiers.
At an event out in New York last year I traded him a Mauser I built for his prototype Pak38 gun. I had seen it working at the event belching out water balloons and was impressed with it's range and accuracy and this was before he modified it for breech loading.
The original looked like this: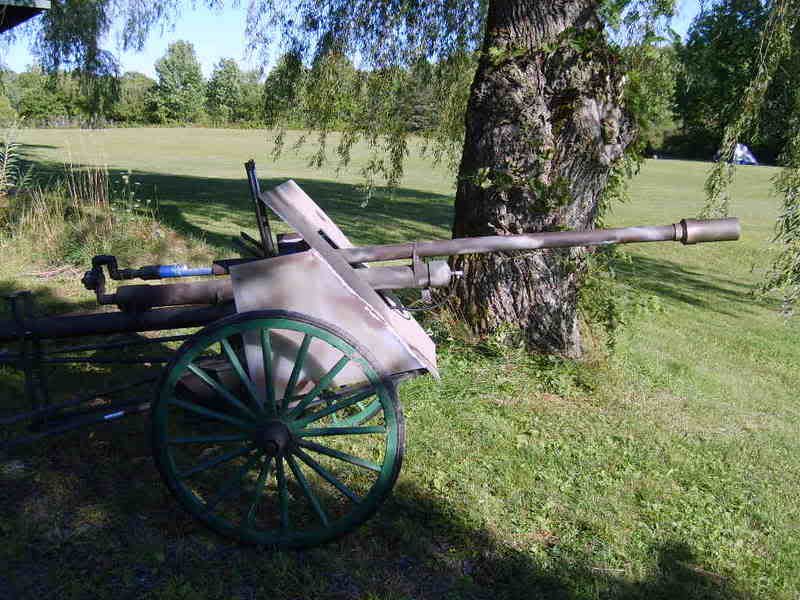 It was low on cosmetic appeal and high on function.
burt then modified it for breech load.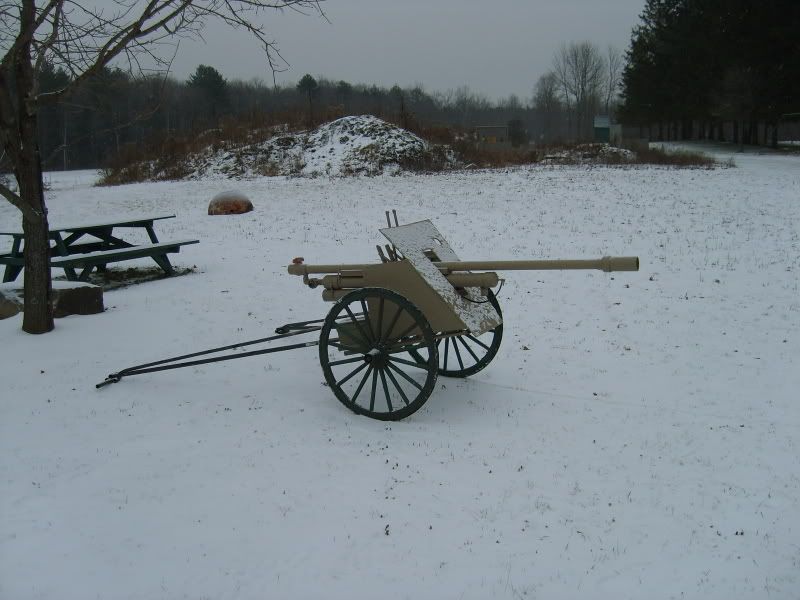 Then we drove it home with us and started the facelift to include it in our armory. I really like these things about it. 1) the thin wheels he found were in great shape and help its mobility. I've been looking at wheels at antique stores and he found a pair of beauties. The design of the frame is also ingenious. When positioned properly you can have one gunner control the elevation and traverse with ease and while the wheels have to move to traverse the shot they don't move much and they move easily enough so that the firing arc is about 35-degrees to the front before you are talking about spinning the carriage. This allows one guy to work his small arm and the other to shoot. Loading is easy enough but not automatic. The AP round is a highly effective Nerf pocket football. Have to keep your eyes peeled when firing these as they really move out. The anti-personnel round is a paper wrapped (that's the sabot) water balloon and it also works pretty well (better in dry hot weather than snowy mud however but what doesn't work better in those conditions.) We also experimented a bit with a corn kernel blast but are still tinkering with that. Recommended pressure is 60-PSI and you can operate it off a bicycle pump (not recommended) an air compressor (fixed positions) or as we have adapted it an air tank rig. This allows mobility and a movable piece of cover. Neat! Two man crew is what is used. The construction is all PVC, even the air chamber and so we watch that the pressure doesn't ever go over 100-psi. The bore is about 2-inches in diameter and so I call it a 50mm Pak.
Back to the cosmetic changes - First off, the welding on the gun left something to be desired. Remember, I said that it was a prototype and I'm not complaining since I bought it for a fair price but my future son-in-law helped me re-weld (he did it) it overall. Several tubes had broken off you see. burt had used electrical conduit piping for construction and this is thin and hard to weld. But it is strong enough if welded well and also decreases weight. It is holding together now and time will tell. The next step in the facelift was to repaint and reshape some of the armor shields to better approximate a Pak 38 and I added a drop down plate in front so that rolling it up to cover we'd have latitude for different heights of cover. I plan to add 9-foam peanut filled sandbags to the mix so that the gun can be easily emplaced. Hauling the real thing has lost its appeal.
The wheels were covered on one side only to limit weight and cost but still make the gun look more anti-tank and less artillery-like. Then I added the unit insignia and a net in the framework to hold odds and ends. The muzzle break was cut and kill rings added (had to have some of those) to finish off the look. The ammo boxes attached are US surplus and I just pretend otherwise. I like how it turned out. It is very fun and really adds to skirmishes. It was a very reasonable investment from my point of view but my theory is hobbies are money-pits and not businesses. I like it. I also know that burt is perfecting a new design and wants to improve on his offering and I'm sure he will. It was worth it for the design work and wheels alone. Here are some pics: