Post by Gerry on Dec 2, 2009 22:43:54 GMT -5
Halloween 2010
After it became clear, by March 1945, that the remaining German forces had no chance of stopping the Allied advance, Minister of Propaganda Joseph Goebbels seized upon the idea of Werewolf, and began to foster the notion, primarily through Nazi radio broadcasts, that Werewolf was a clandestine guerrilla organization comprising irregular German partisans, similar to the many insurgency groups which the Germans had encountered in the nations they occupied during the war. Another popular "myth" about Werewolf is that it was intended to continue fighting underground even after the surrender of the Nazi government and the German military.
In 1945 "national redoubt" was the English term used to describe the possibility that German dictator Adolf Hitler and armed forces of Nazi Germany (Wehrmacht) would make a last stand in the alpine areas of Austria, Bavaria and northern Italy in the closing months of World War II in Europe. In German this concept was called the Alpenfestung (Alpine Fortress).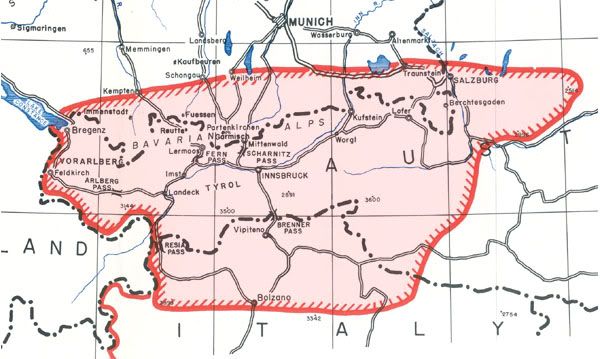 It is here where Nazi Scientists were striving to develop a special elixir to turn these "wehrwolves" into super soldiers.. soldiers that did not need to eat or sleep, that were fearless and brutal while being totally committed to the Nazi cause.
In the Spring of 1945 the Supreme Headquarters of the Allied Expeditionary force or SHAEF were receiving constant intelligence of the so called National Redoubt and die hard Nazi "Wehrwolves" So much so that they dispatched a commando force of 30 soldiers from all allied nations involved in the conflict.
12 days after being parachuted in, the commandos confirmed the existence of the Alpine Redoubt. As sabotage operations ensued and bombing squadrons were given coordinates of the site, the Alpine redoubt was subjected to relentless bombing raids that lasted 3 days. When the bombing ceased the commando force was ordered to move back to the area of the redoubt to confirm its destruction...................................



There are only 15 of them left....
Saturday October 30 4:00pm to noon Sunday October 31st 2010
Ground Zero Airsoft
This WW2AA event though science fiction based and a mostly fantasy scenario will still retain the authenticity standards required for a WW2AA sanctioned event and will consist of the following:

Allied Task force
Any western allied impression and a WWII airsoft weapon. This team will consist of 15 players maximum representing the remaining 15 soldiers of the original 30 man Commando force and will be by invite only.

Nazi "Wehrwolfs"
Any German Wehrmacht impression and a WWII airsoft weapon. This team will consist of up 15 players representing the only surviving members of the alpine redoubt evading and resisting being killed/captured by the Allied force or eaten by zombies.

Zombies
These will be your standard run of the mill slow roaming, brain eating & moaning zombie. This can consist of any of the above impressions or a period looking civilian impression and Zombie makeup or mask. This group will represent all infected Alpine redoubt inhabitants, the other 15 commandos and the surrounding townspeople the number of players for this entity will be unlimited.

Zombified super soldiers
These will be the "test" subjects of Nazi scientisits.... zombified, fast, hungry, Blood thirsty, fairly intelligent, scary and can use a weapon to a certain extent. This entity will consist of up to 10 players. This will require a correct Wehrmacht impression, correct zombie makeup or mask, foam axe, knife, 2X4, Bayonet, club, body part or WWII airsoft weapon.
WARNING
There will be minor physical contact at this event to simulate being mauled by zombies and you will have the living crap scared out of you!
Please send the following info to WW2WFAA@aol.com
Name:
Desired Impression
Address:
DOB/Age:
Weapon:
Email address:
Admission:

will include one raffle ticket
Additional raffle Tickets will be a available at 1 for $5 and 3 for $10. Raffle prizes will be supplied by Ground Zero Airsoft. Please purchase additional raffle tickets if possible to support this great field and shop. Additional prizes will be added as our attendance grows!
Raffle prizes will be determined on the weekend of the event
All players under the age of 14 must be accompanied by an adult who is playing.
All players under the age of 18 must have a parent/guardian sign their waiver. Please print and complete your Waiver prior to arrival. Field waiver available here:
www.humyo.com/F/3518913-175000657/NjJhZTEwNDAzZjBjNjVhNWI1OTA0YTBiMjQ1ZjkyZjA