Post by Ersatzjack on Dec 6, 2009 0:02:17 GMT -5
Well another well orchestrated Udo and Garrick production with the helpful cooperation of our host Travis.
I think all that made it to this one left with a smile on their face. First off, no injuries that I know of. That always makes for a good event. New players were present and maybe will catch the bug. I know one of the SS truppen was talking about getting an airsoft gun so maybe long term we'll pick one up.
The scenarios were always interesting and fun. Unlimited respawns but they threw in the twist that different weapon classes had to register more than one death. I liked that. But don't ask me who lost or won. I think the total dead will be reported by others. The twist was that riflemen registered one death, smg's two, MG'ers three, and killed commanders were five. But terrain held still played a part. I do hope that some results are posted. I do like to see the results.
Personally, I had a great day. Fun moments too numerous to re-tell here. But one sticks in my mind. I had gotten into the Soviet trenches and they launched an assault from the woods towards our trenches. It was a full out dash across the open grass into their trench and then they were going to work their way towards our guys. Well, I had the MG-42 purring like a kitten and killed about four of them before they made the trench (they didn't even see me as the fire was coming in at their side) and then while they were still a little disoriented going into the trench killed three more. It was super fun. Lots of grenade action and suppression fire and the night action with the tracer fire was very cool too. I died too. But hey, it happens. The weather was chilly but definitely nothing new to MOA. Pretty nice really. We debuted our new period camp stuff and two working (for the most part) crew served MGs and I think they gave good service. They'll only be even better next time. I am getting the hang of these AEG troublemakers.
I really enjoyed working as a team with Alban. When I would get hit he'd take over and vice-versa. He sure followed orders too. He held the right flank in the second daylight scenario for a lengthy time of no action and didn't abandon his post. He must have been dying to use the 42 offensively but held off. Way to go. Eventually I moved back to him and we decided on a flanking maneuver since the Russians had refused that flank. I'm super brave against refused flanks.

Here are my skimpy pics before my camera died. I sure hope there are some of the trenches. Travis has done a great job. WWI is what it felt like. Really. Super trench lines. We fought half our scenarios there and the other half in the woods, not counting our night action.
We needed flares for that and I know the organizers tried but flares would have totally changed the night game. But it is what it is and was still quite tasty.
February, is next. We'll iron out a date and get our announcement up soon. Get your gear ready. Seems like wear and tear is taking its toll a bit.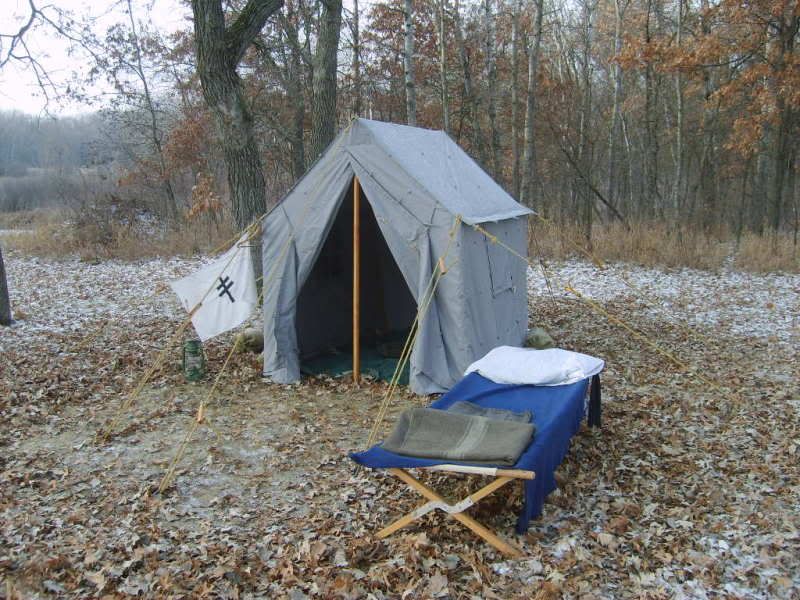 Our debut was the period camp we set up. I should have taken this before morning tear down. We had chairs too but they were at the campfire. In warmer weather it would make a nice home away from home. Hey, since we are motorized I felt it okay to move away from zelt tents.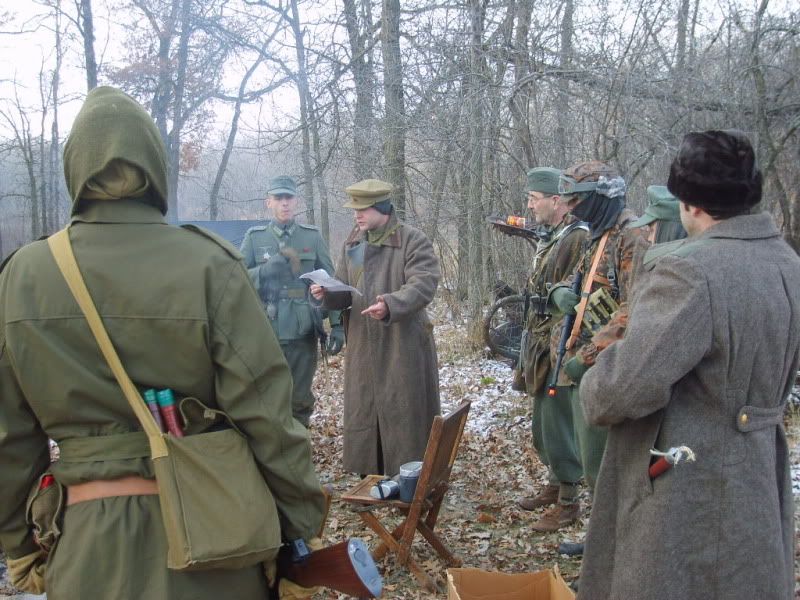 Don't know the final attendance but felt it was real good considering the 6th SS didn't make it, the WI Soviets had other plans at Troy's blankfire, and several of our regulars were fighting injuries or bad luck. Here Garrick lays down the law.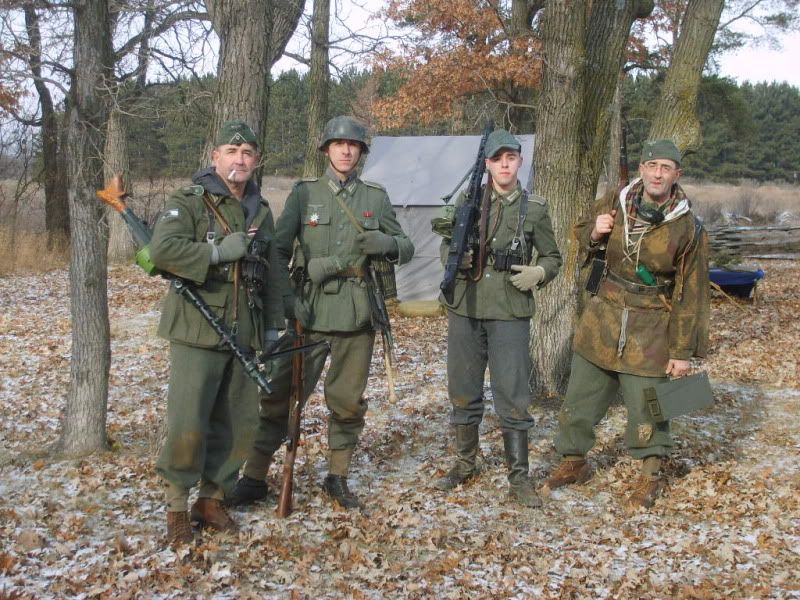 We had fun. Both sides liked the crew served weapons. As I promised, they were not overbuilt. Just built for lots of dependable fire. It was nice to finally get the MG-42 working reliably. I changed the feed and got rid of the Ultima paddle wheel. That made a big difference. The new feed is taking advantage of a biged designed auto mag fed from below. It is hard to install but it doesn't matter since it works and you reload the mag with the mag on the gun. The Viva will work even better with a couple more small fixes. It should be super reliable next outing (I know, famous last words) but I think I have a good handle on the situation.