Post by Ersatzjack on Jun 8, 2010 0:15:40 GMT -5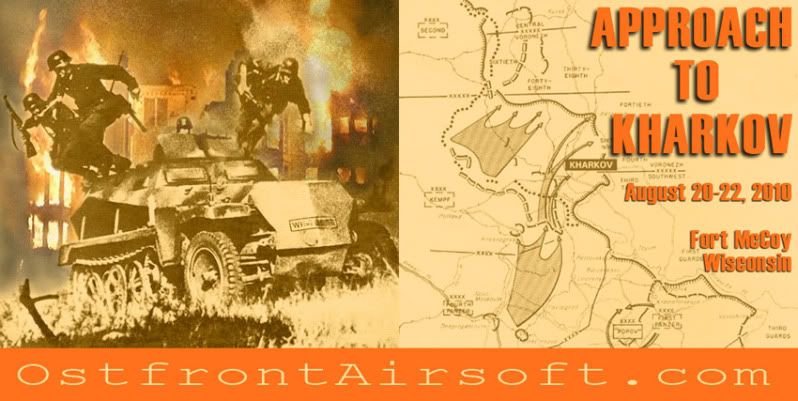 Fort McCoy, WI has approved our use of some of their land for an event on the August 21st weekend 2010. We now have a green light to hold a very well-behaved, bio-bb event there. If it goes off like clockwork maybe we can build it into a National Airsoft venue in coming years. For those that don't know, Fort McCoy, WI is located between Sparta and Tomah, WI and is an excellent Army training fort with huge potential for different maps and it has some really cool terrain that is quite hospitable. We have approximately 4-sq kilometers to play on and will have barracks (if we choose to) and porta-potty support in the field. There will still be a donation box with the proceeds going to vehicle owners and a charity on the base. We'll figure out some way of donating to one of their needy programs. The big hurdle has been cleared though and so this late summer MOA event will not occur at Crawford Lake but at Fort McCoy. I will keep everyone in the loop regarding specifics as I learn about them. I'm pretty happy to have the new map to fight on looming and if this works out well I can see lots of positives in the future. Different map areas and National recognition. BTW-the proposal did mention we would like to build this up over coming years so they know about that intention but we'll have to leave a good impression to be invited back. That means good housekeeping and being on our toes in the safety department. Better bring your compasses and more to come -

Current Roster
3rd Panzer Grenadiers
Garrick Udet
Otto Verkaufer
Franz Verkaufer
Kurt Peiper
Wolfgang Voigt
Paul Rech
Karl Schroder
Matt Coeppens (filming)
Sir Veillance
6th SS NORD
ULRICH VON OFFENBERG
JURGEN VON RICHTER
"NORD"
"NORD"
"NORD"
MAX OTTO VON SHTIRLITZ
"NORD"
6 other members
198th Infantry Division
Oleg Zhivetin
Boris (ba64)
F.G. Grifyenov
Vasili Koslov
Andre Pushkin
Timofej Shuzensky
Donn
Duncan
Iron Will
Kaleb
Josef
Zach
Morkova Dolshevinova
Partisans
Feodor
Ritter Hansky (or British)
2nd Ranger Bn
MSGT Tom
Other US
Zach Ingram
Bernard Sullivan
This is
private invitation
only although you can certainly ask to come. Just PM me but be warned, that I want our experienced folks with good impressions and attitudes on hand for this event, and not a bunch of newcomers that we know little about. But new folks vouched for by members in good standing and with adequate impression support will be welcomed. This will debut two pieces of MOA armor along with other debuts. Bottom line is that it is going to be a pretty neat event.
Anyway... this event requires a little more red tape but mostly on my end. We will be using
bio-bbs only
. Preferably I want to see sealed bags of G&G armament bbs (these are what we wrote the land use request with) or Goldenball or TSD bio bbs. If you show up thinking you are going to be shooting plastic I will turn you away. Don't waste your time. Forewarned is forearmed.
I also need to know early an EXACT headcount. Names and sex of players. So with limited exceptions, I will want to know who is coming by July 21st and that date could change. PM me with your plans to attend please before then.
That's all I have for now. But it is all good. Stay tuned.

More details later this month. Clear your calender.