Post by labrador on Apr 11, 2011 20:04:20 GMT -5
The night of April 8 was a sleepless night for most of us as people texted, emailed, called, cajoled, negotiated, tried to sleep, tried to pack and prepare best we could for our epic 2 day trip. Mcshine texted me at 1 AM that he hadn't slept yet. Perry texted me 15 minutes later that he was on the way to my place and so on...you get the idea. Well, the Van driven by the intrepid sir Lito arrived here at Samar avenue and bleary eyed, we tumbled into the van lugging our gear and weapons. Zuma brought another vehicle. By 345am we were off! We met with jnmodeler, blackdragon and their crew at a nlex gas station. The site of Perry and Medic in line for breakfast at 4 am in full uniform was precious. (Darn, why didn't i shoot that!). Hermie Landayan met us at the gas station and once again we were off. fitfully sleeping as best we could in the van. I awoke at around 630 AM to see the glow of the sun behind the zambales range when i caught sight of the pampanga and nueva ecija jeepers in convoy heading to the rally point. After seeing that, I couldn't go back to sleep.
We dressed up and prepared for the day at a roadside gas station and the full convoy was finally on its way to the araw ng kagitingan event at Mt Samat. Upon reaching the base of the dambana ng kagitingan shrine, we took up positions on the jeeps and slowly made our way up the winding road to the giant cross and memorial.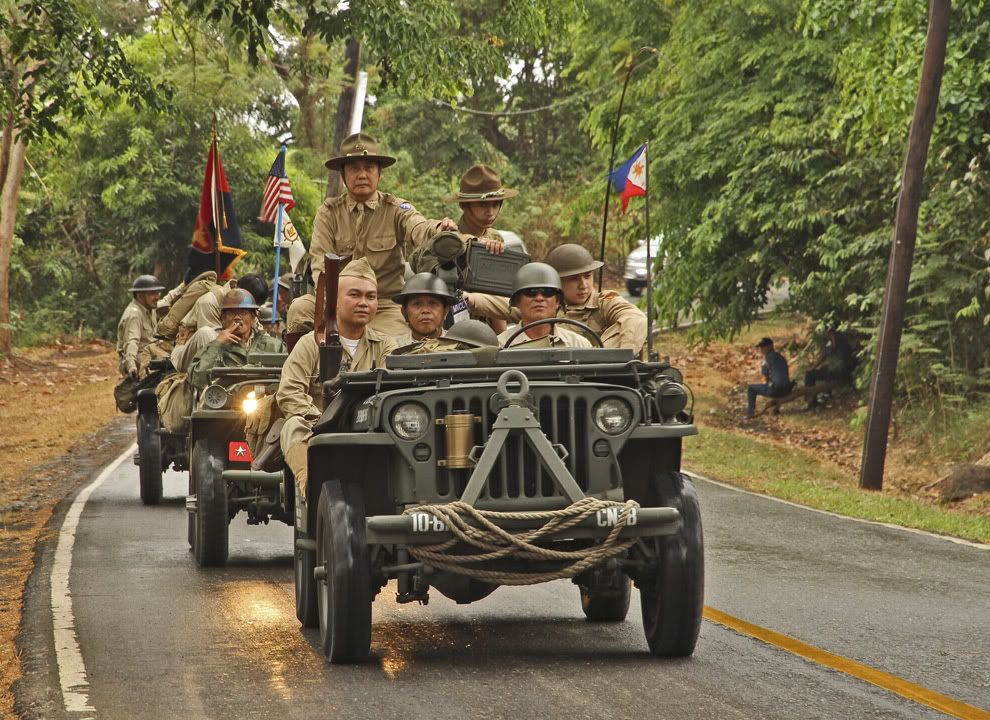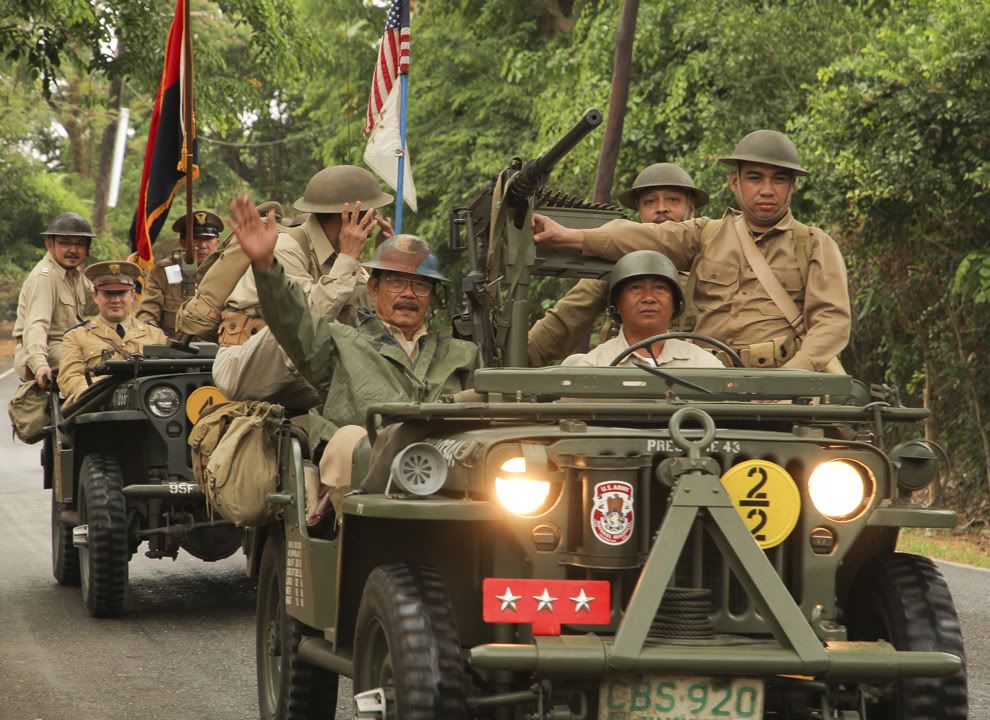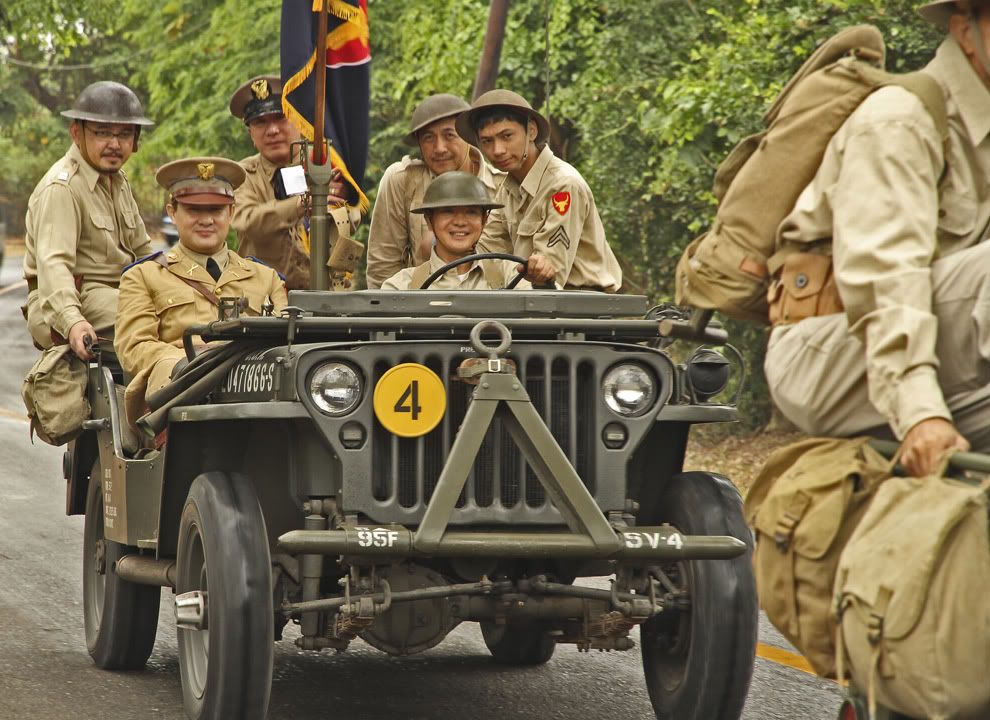 As we climbed higher, the mild morning weather gave way to a steady drizzle and mountain fog. I thought to myself: "Gee i thought this was a bataan event. It looks like the ardennes."
guy hilberio, hartmann and dogmeat on their mount: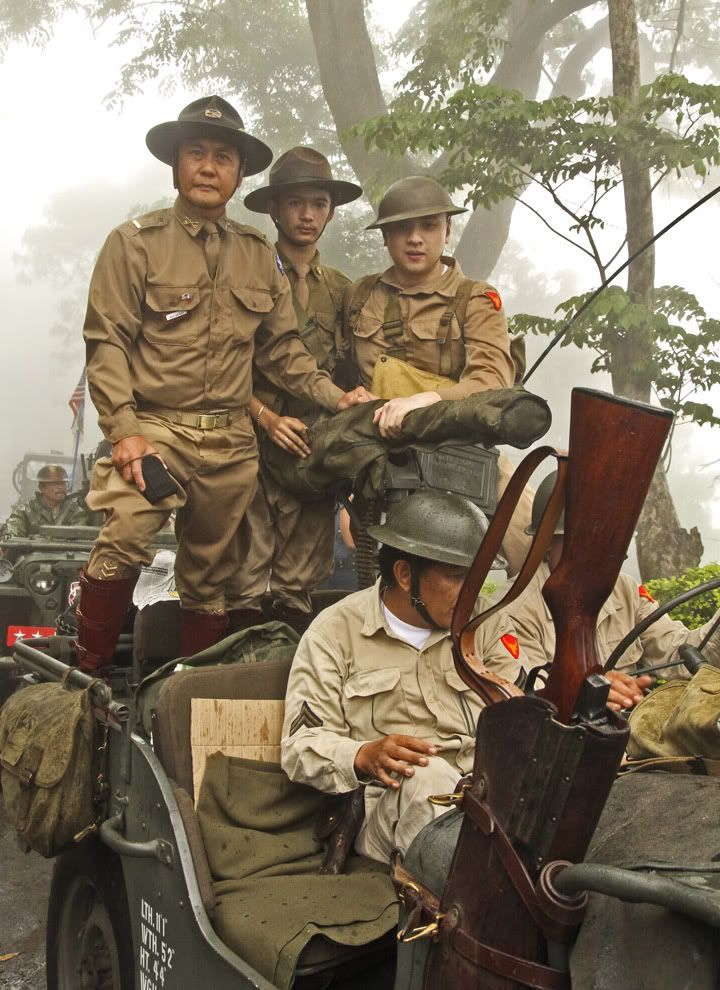 Romski with a 50 cal: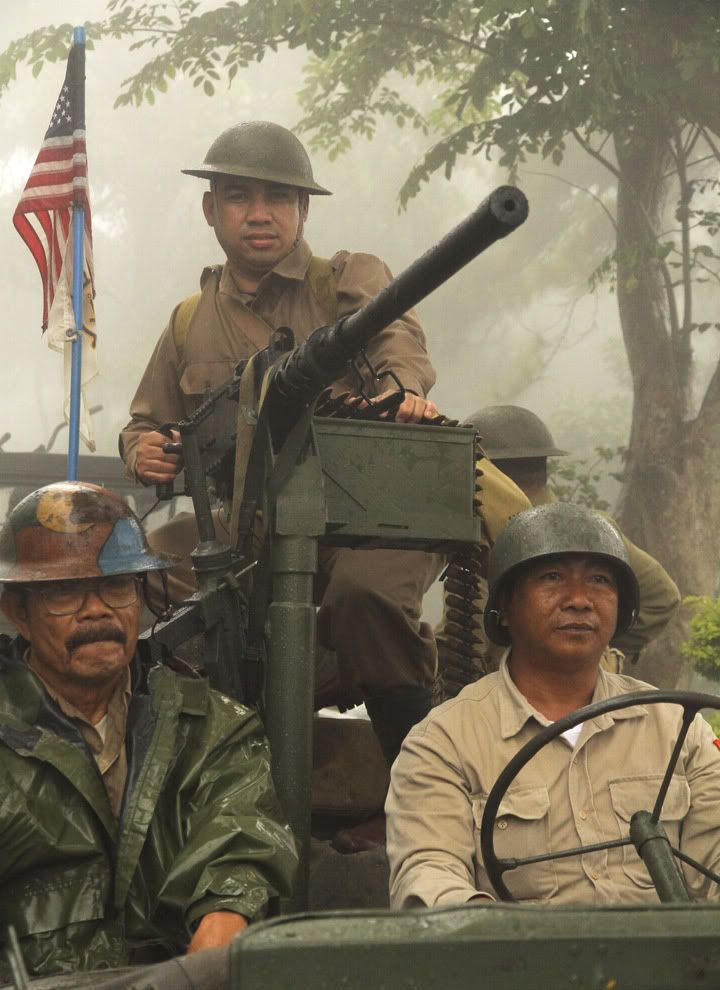 After a few stalls and halts the faithful jeeps got us up to the parking lot and we made our way to the event grounds as various local schools demonstrated folk dances to entertain the waiting crowds.
Perry looks on, contemplating his position in the fertility dance:
Perry and a bevy of highland lasses:
Emo Tad: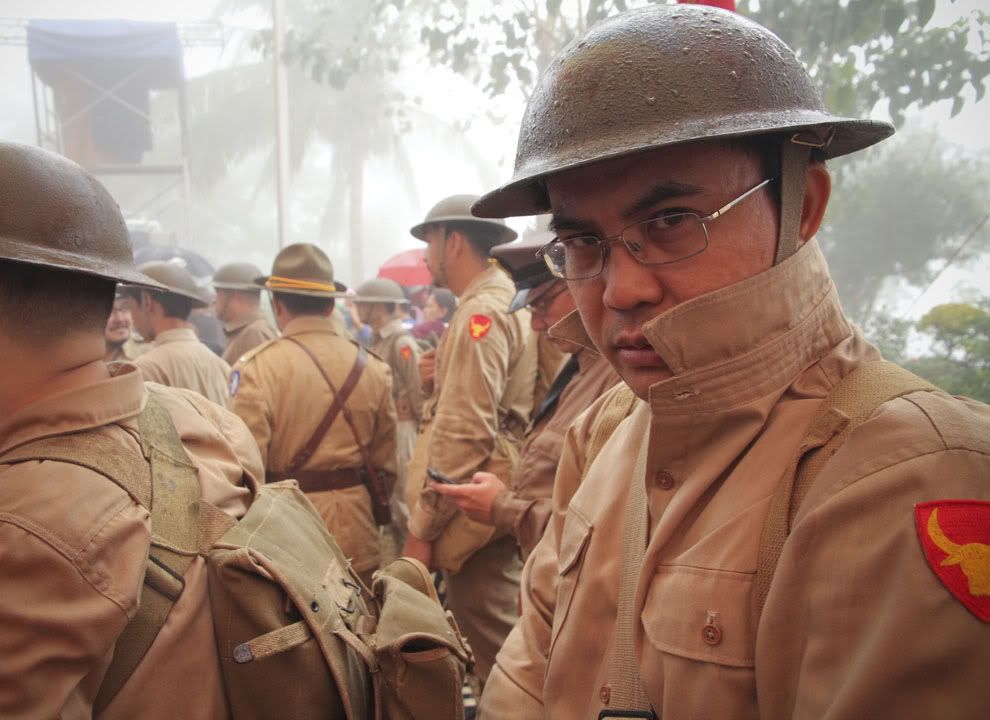 As the festivities went on we looked for a place where we could set up our formation and found ourselves at the base of the steps of the mt. samat shrine. Perfect! we were directly opposite the president's honor guard.
It took a little bit of time to get our formation in place with all of us either too rusty to remember our ROTC drill or to young to have ever experienced it. We eventually worked out a formation with the honor guard looking on, amused no doubt.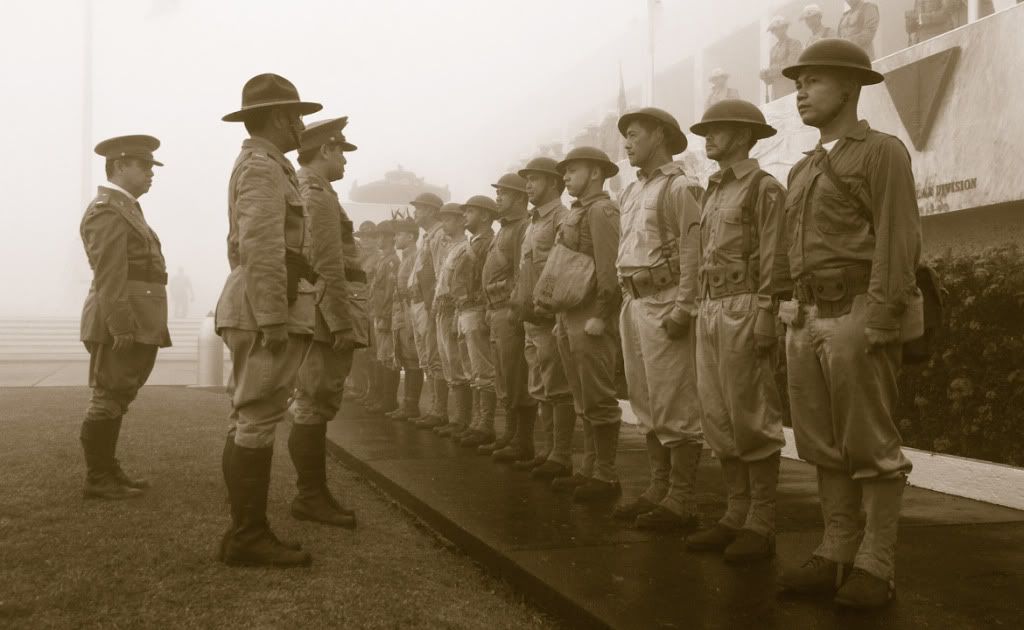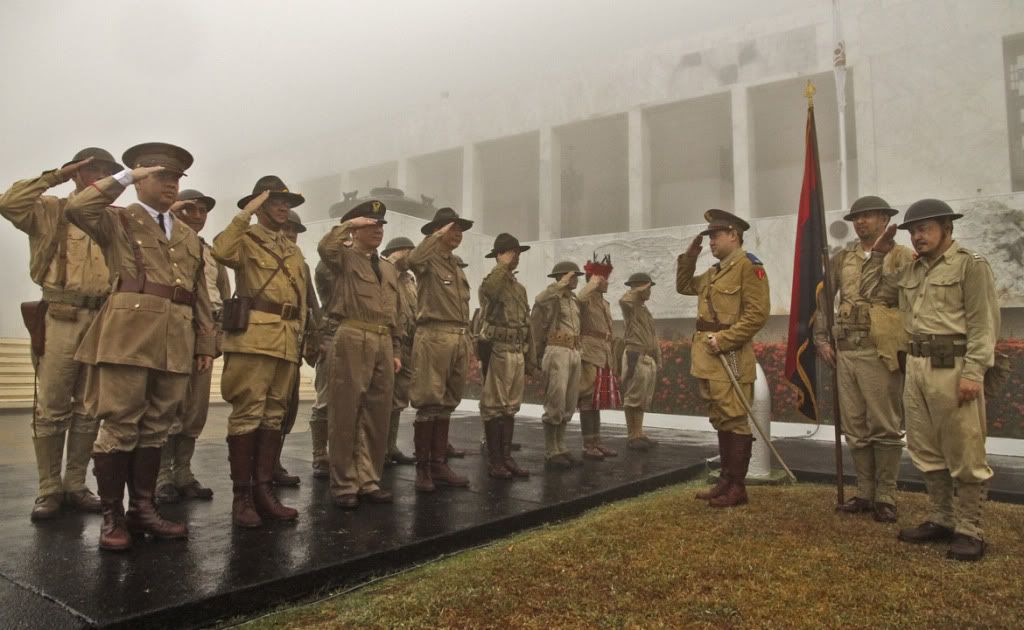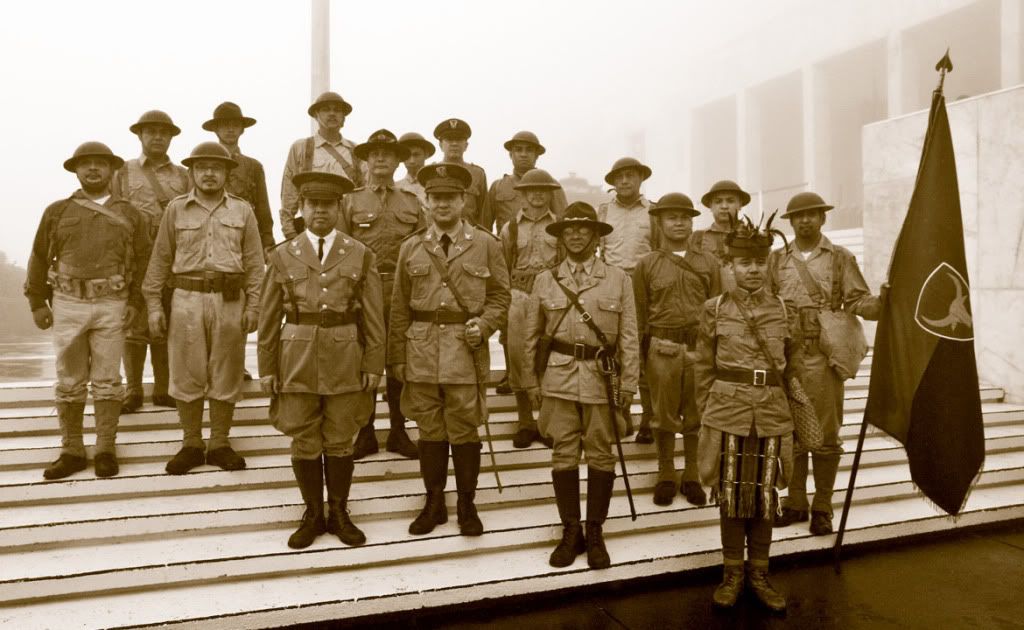 To our surprise, the honor guard commanders asked for some souveneir pics: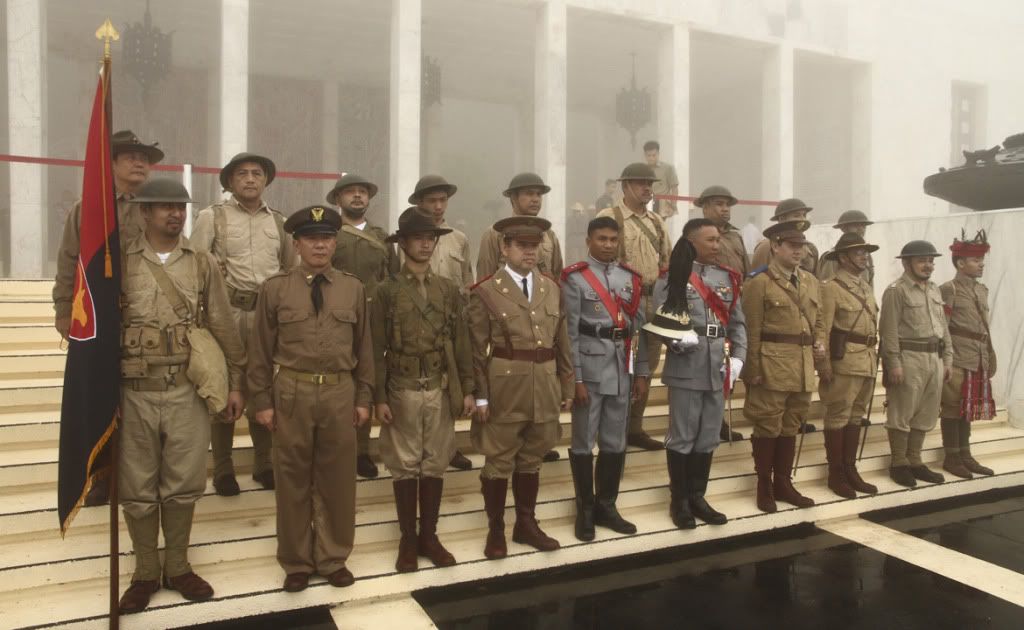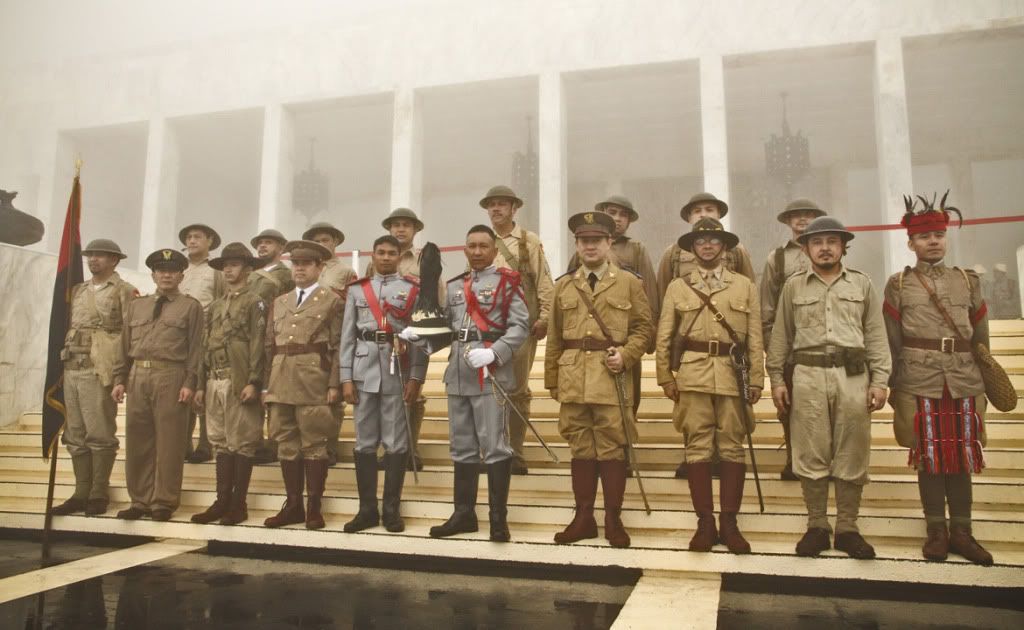 As we waited for the President to arrive, we received some welcome attention from a visiting team of US army men with the Pacific Command. They asked to have their pictures taken with us and a lot of chit chatting went on as one of them was a pinoy who's grandfather served with the Scouts: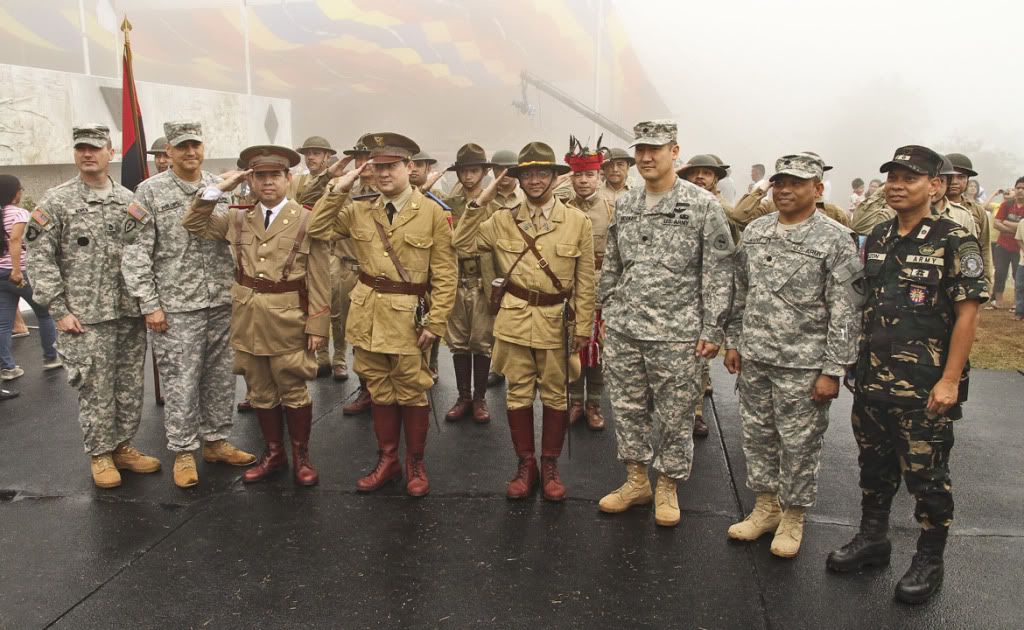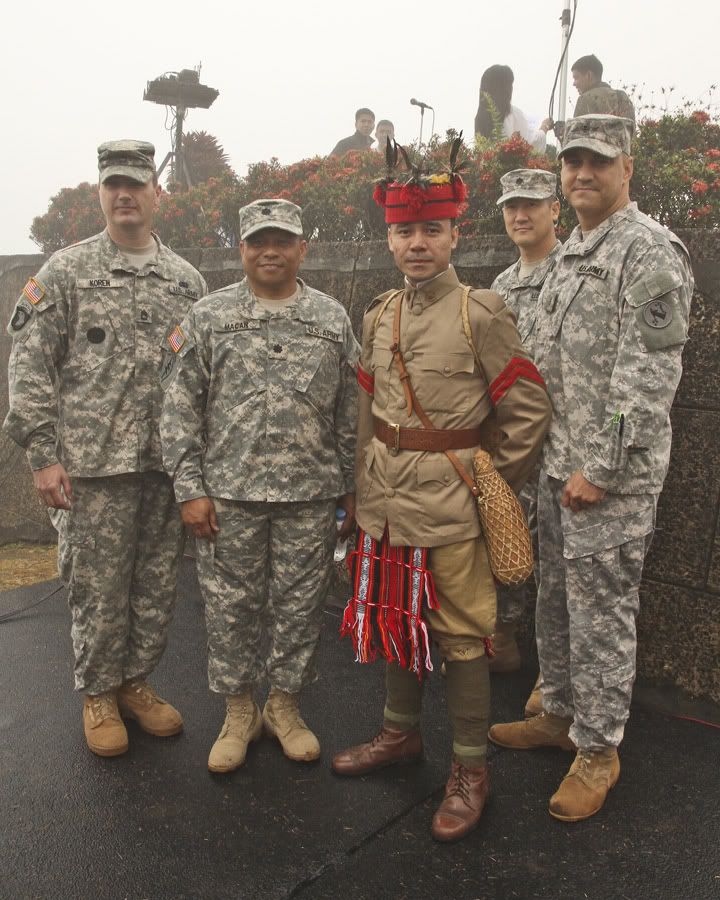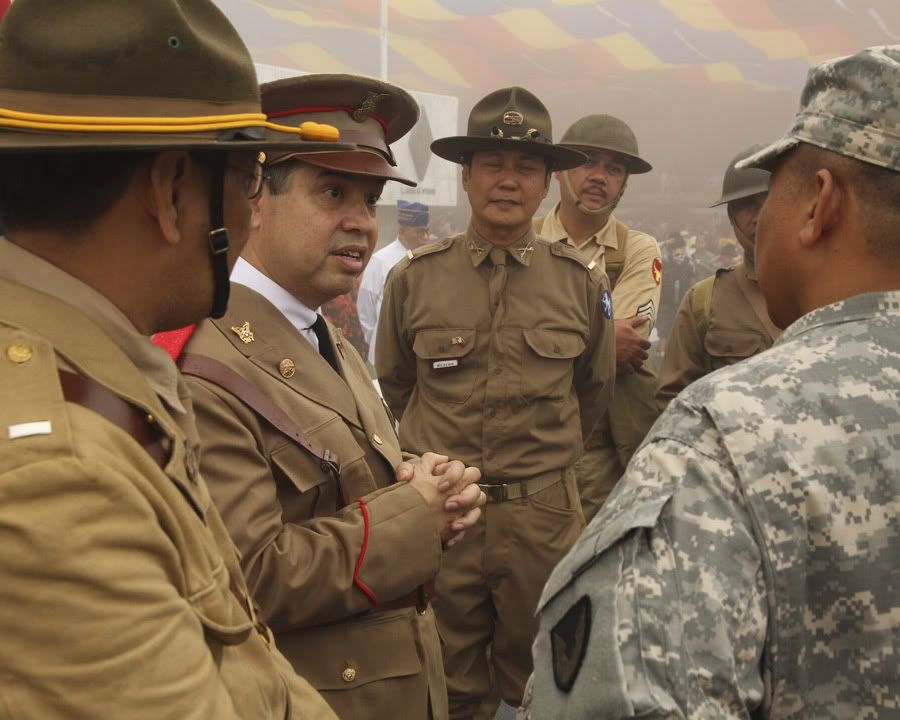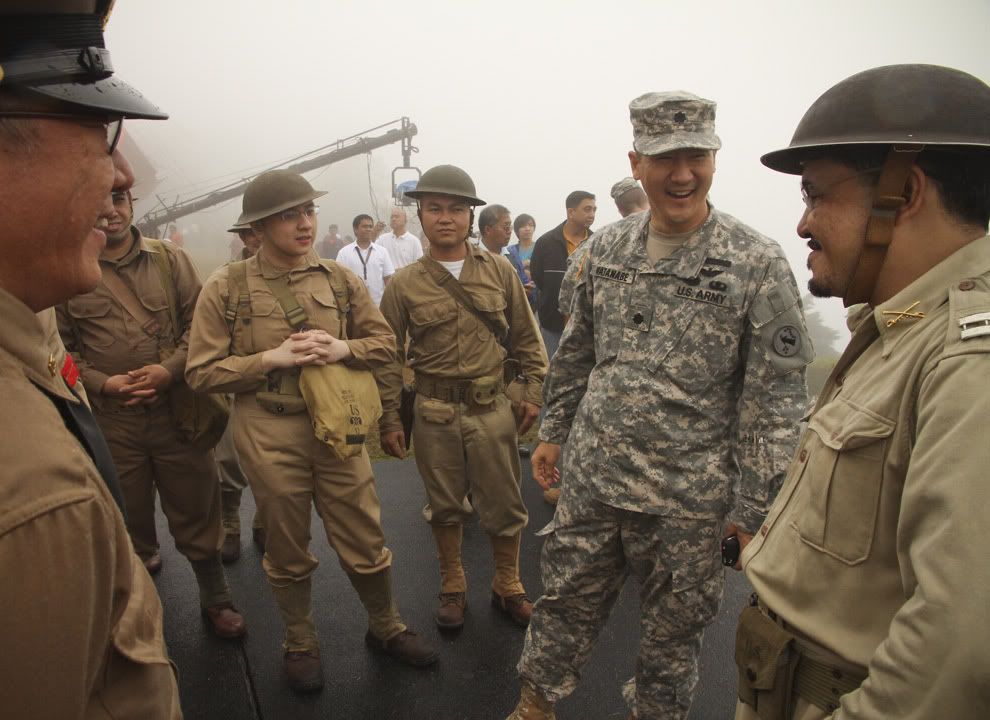 Hermie talked about his travails in military history collecting with a captain watanabe: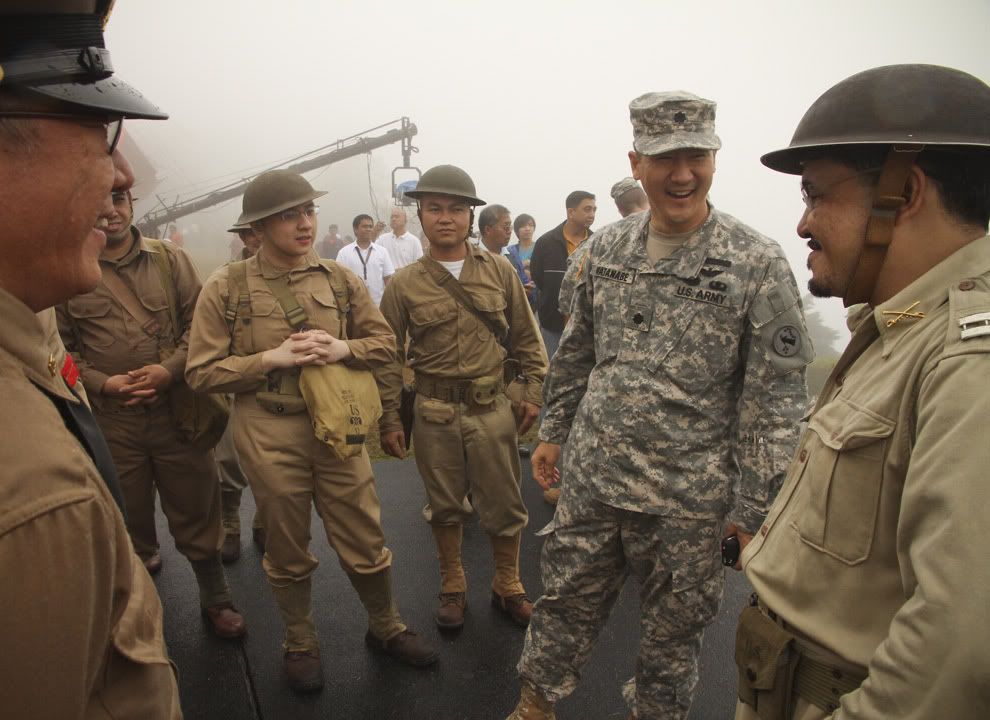 One of them pointed to our gas mask bags and said...in action, that's the first thing we throw away.
As we waited in formation a colonel in US Army dress uniform arrived (My guess was that he was the US military attache to the Philippines). He personally walked our line and thanked each one of the men assembled "for their service".
He also discussed details of the new dress uniform with Hermie: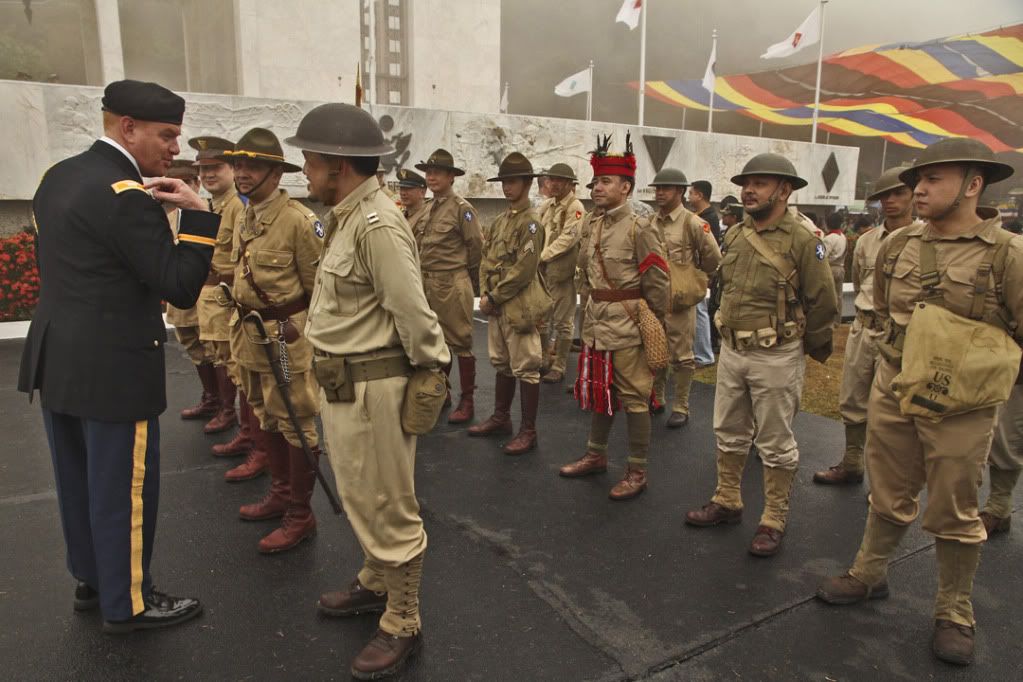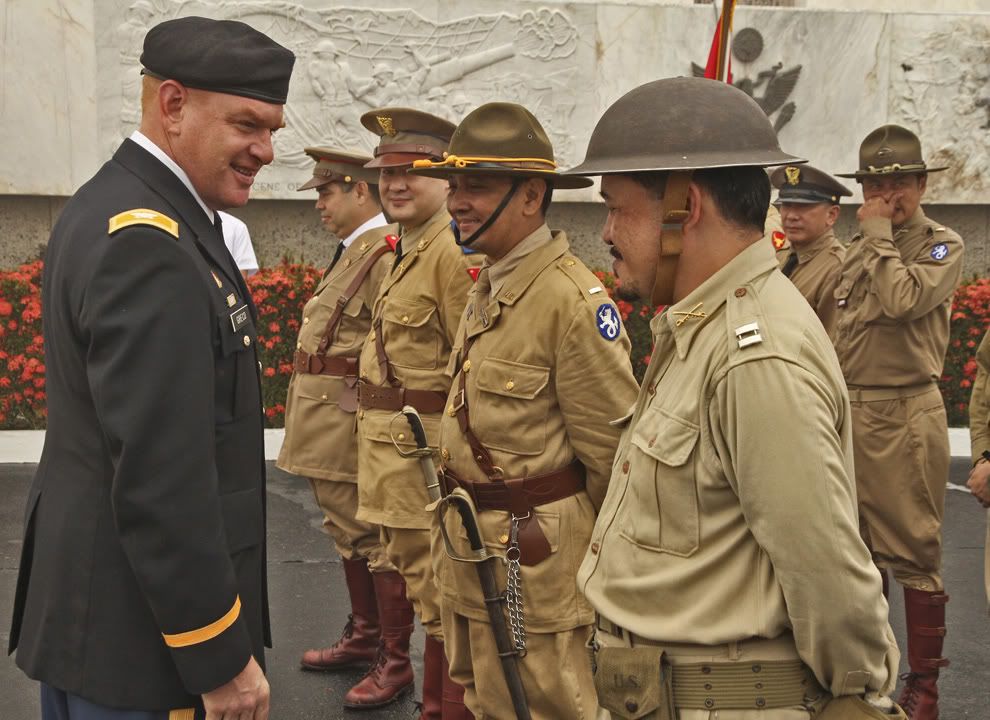 finally the President arrived and the ceremony was under way. I was shooting our guys at attention saluting when i thought to myself..."Hmmm, that sounds like kimigayo" I realized i was walking around while everyone else was standing at attention and rendering honors!!!!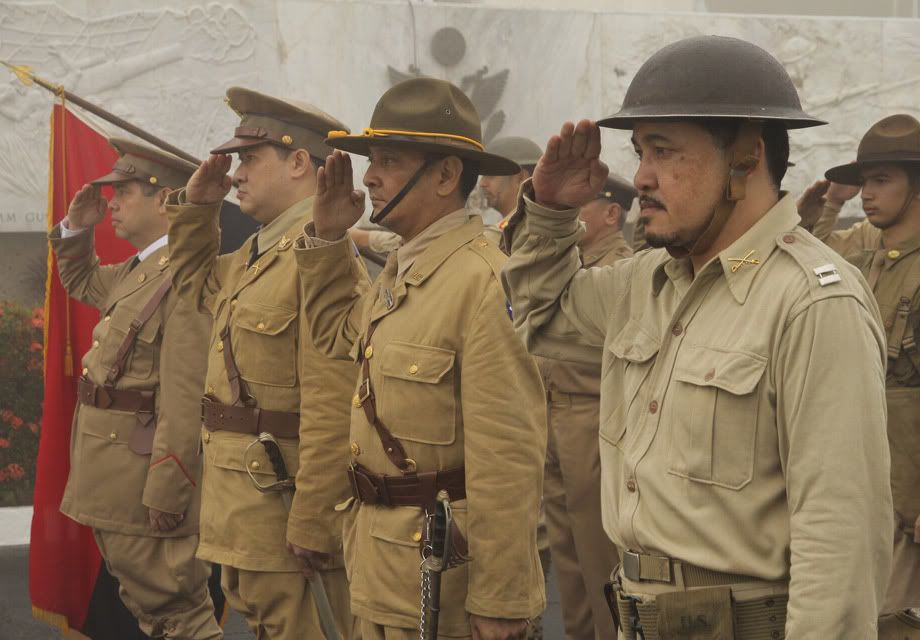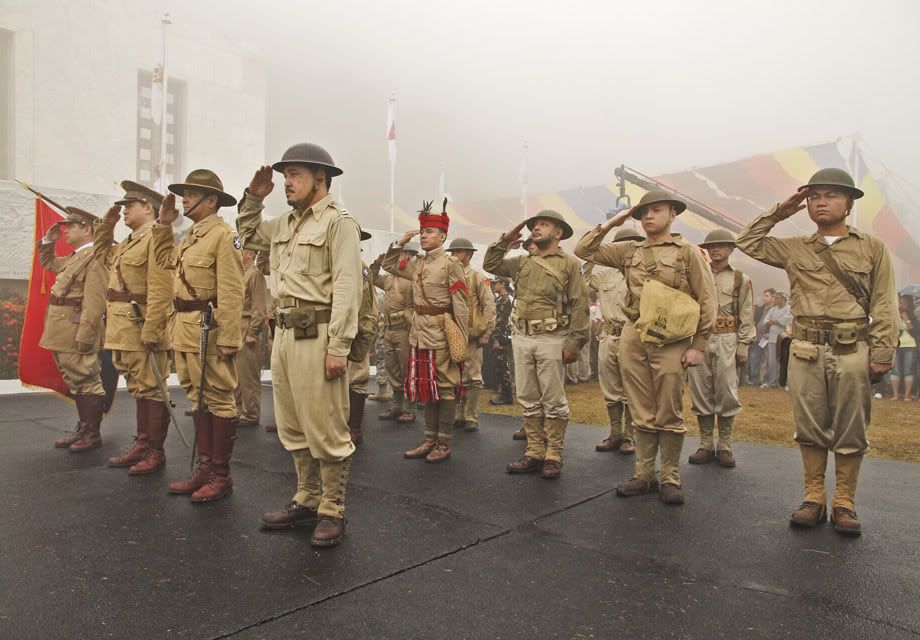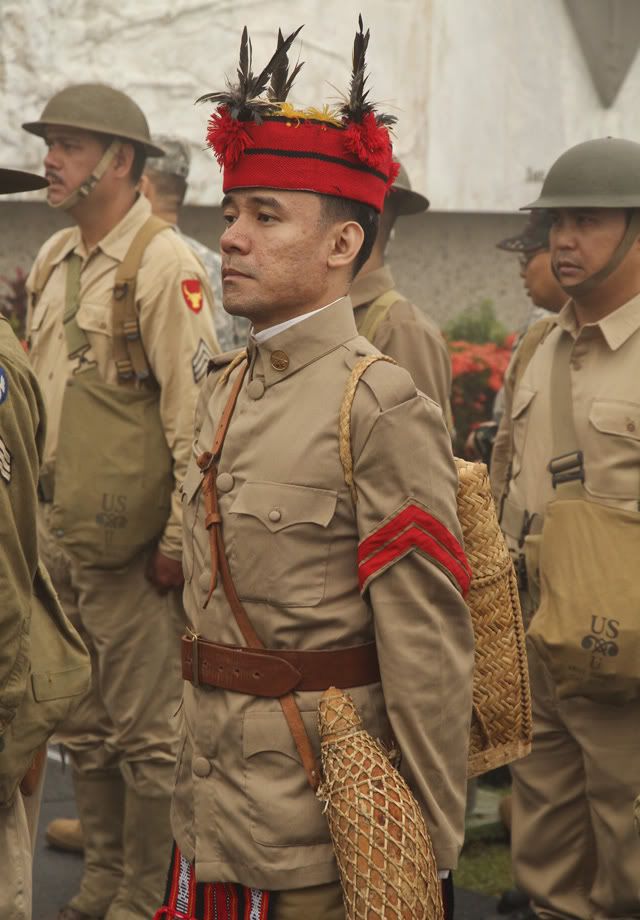 After the wreath laying, The president made his way to the stage: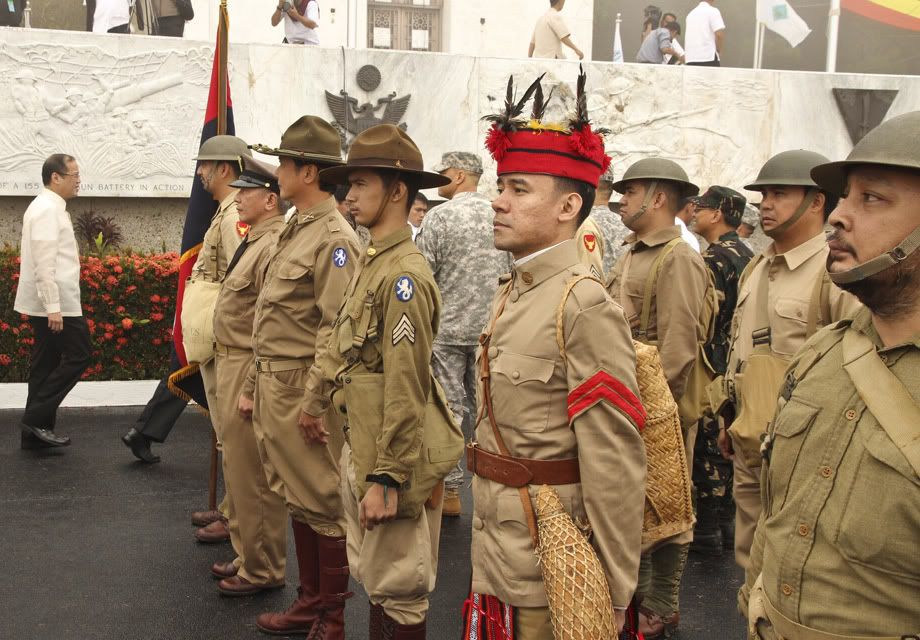 We were finally "off duty". We eventually broke formation as the bell tolled to honor the sacrifice made by the thousands who fought on that hallowed ground almost 70 years ago.
We then reverted to our role as "camera fodder" to the visitors and most especially the veterans who made the trip:
Scouts with scouts: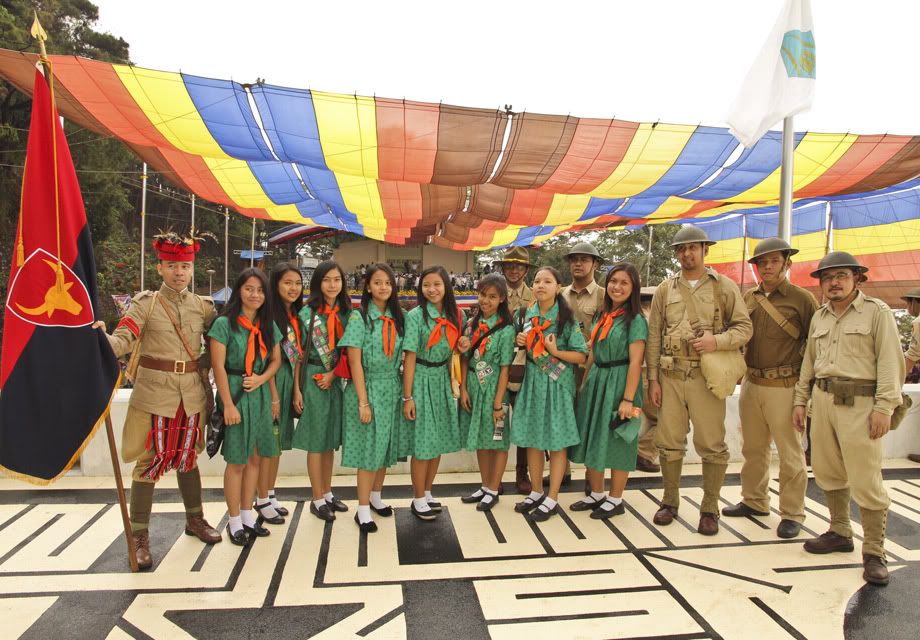 Visitors from new mexico: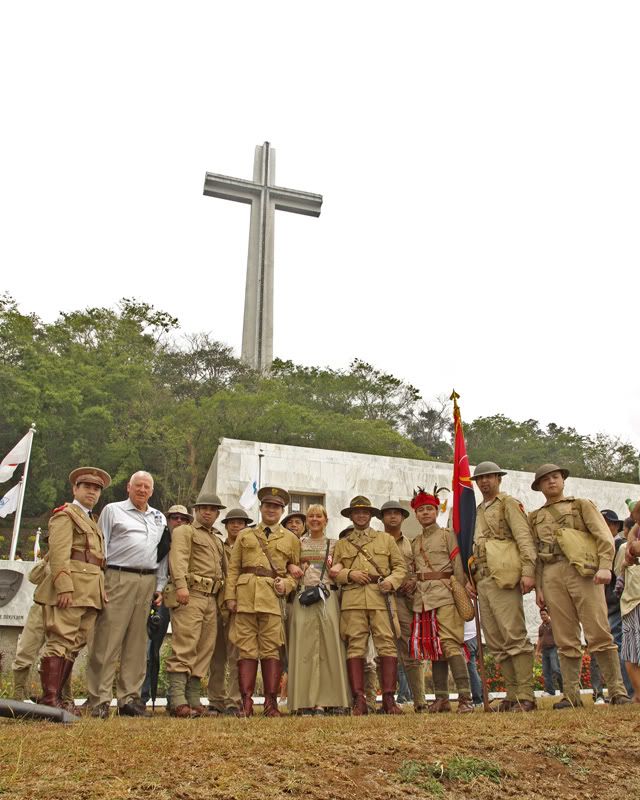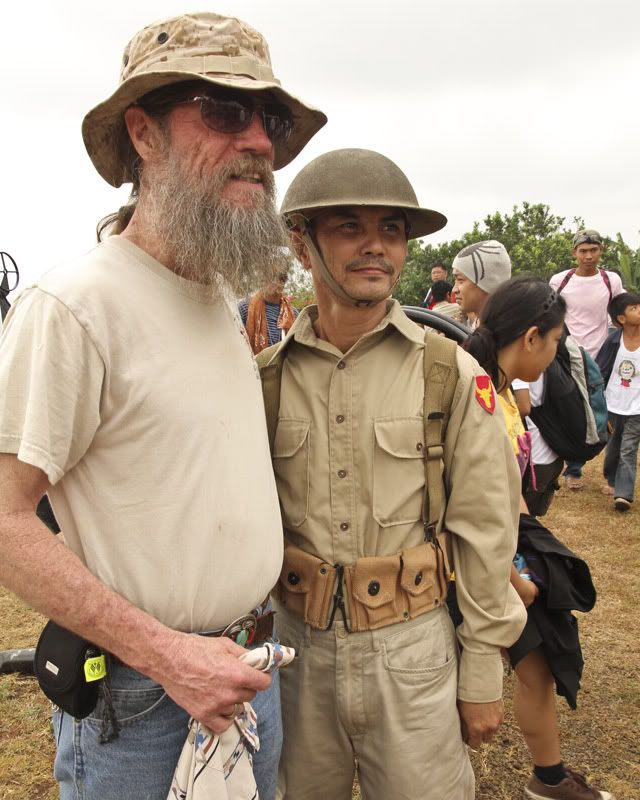 North and south represented:
With the guys who really mattered: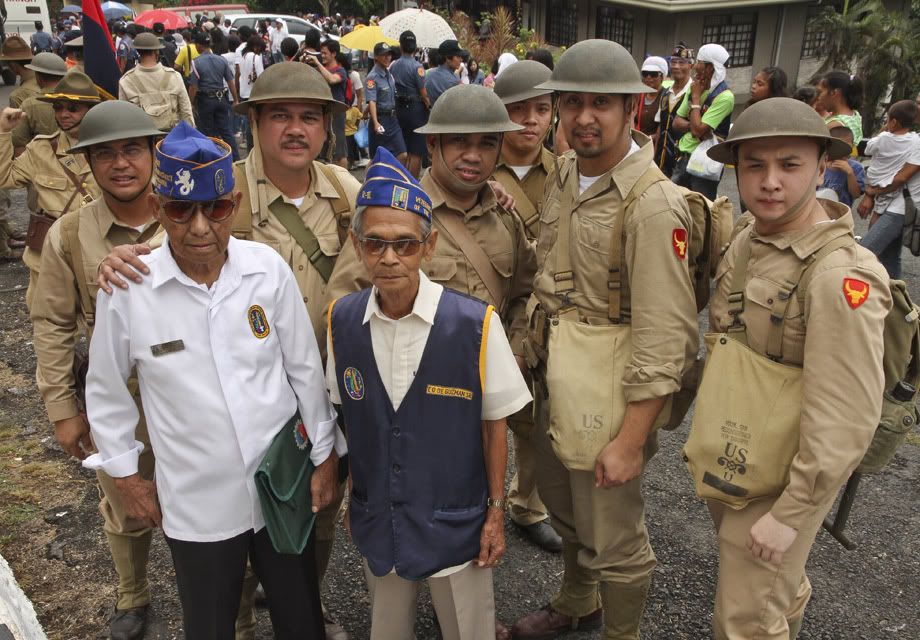 Veterans quickly identified their patches among us and posed for photos: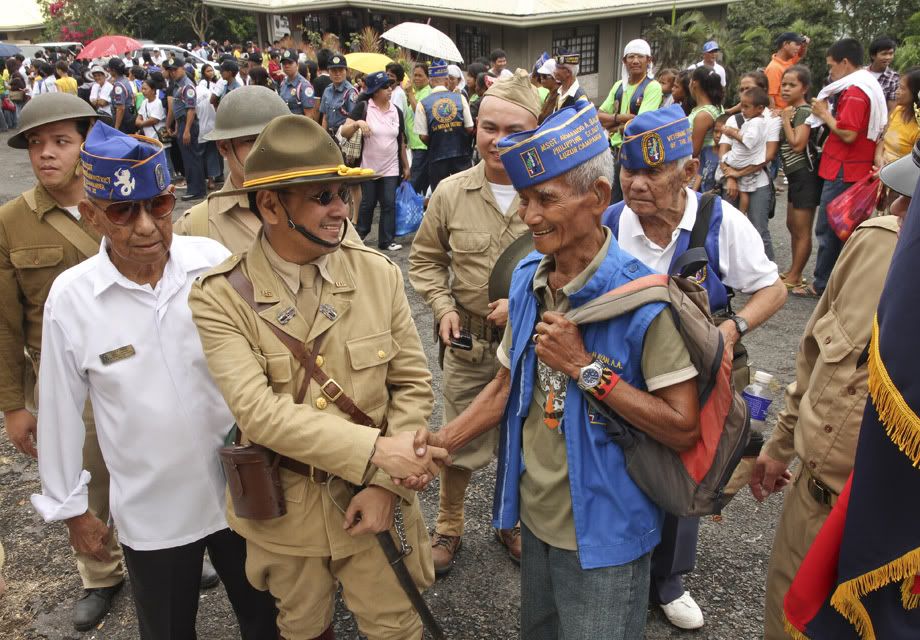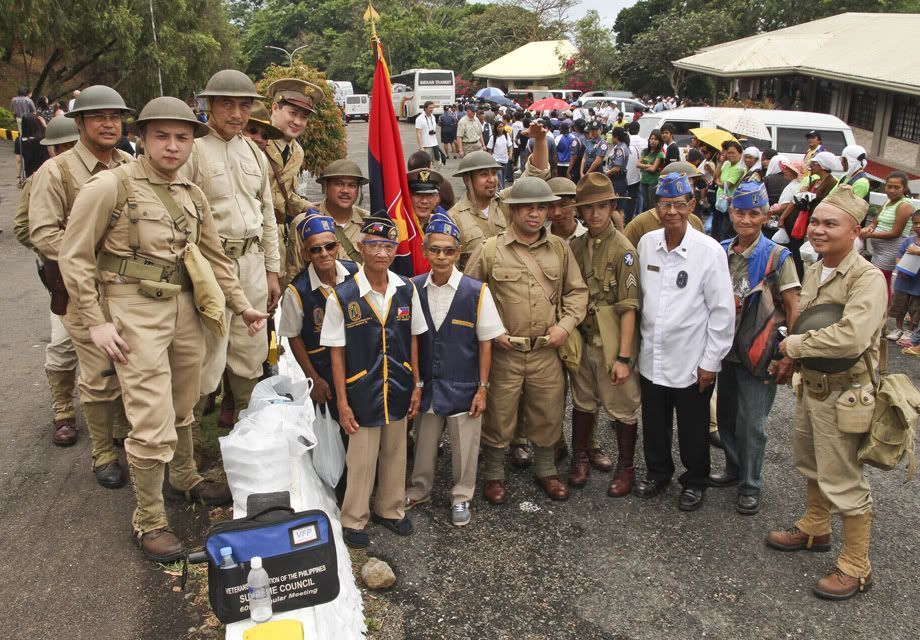 We shot a few "iconic" photos as the crowd thinned out:
Medic giving his 500 millionth salute of the day: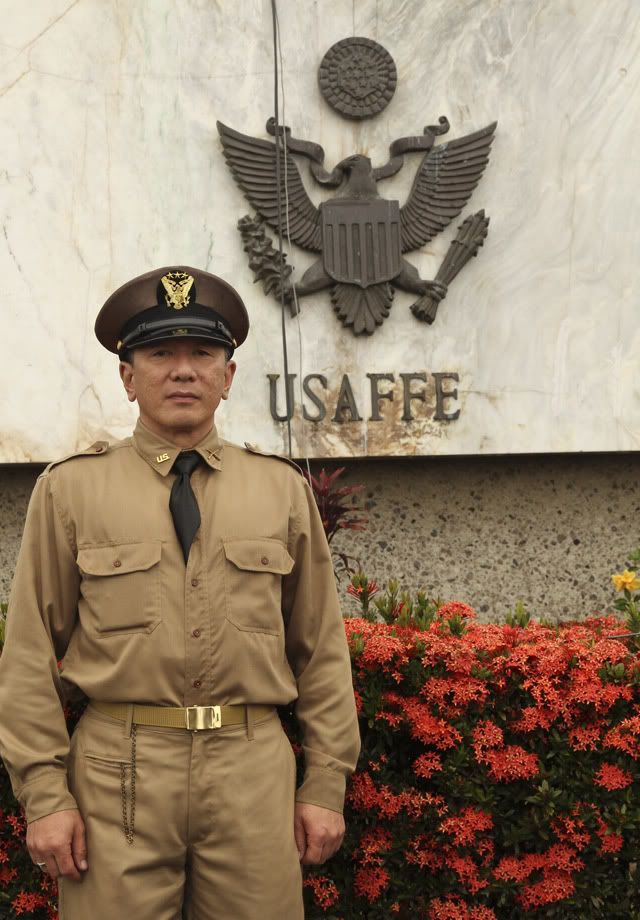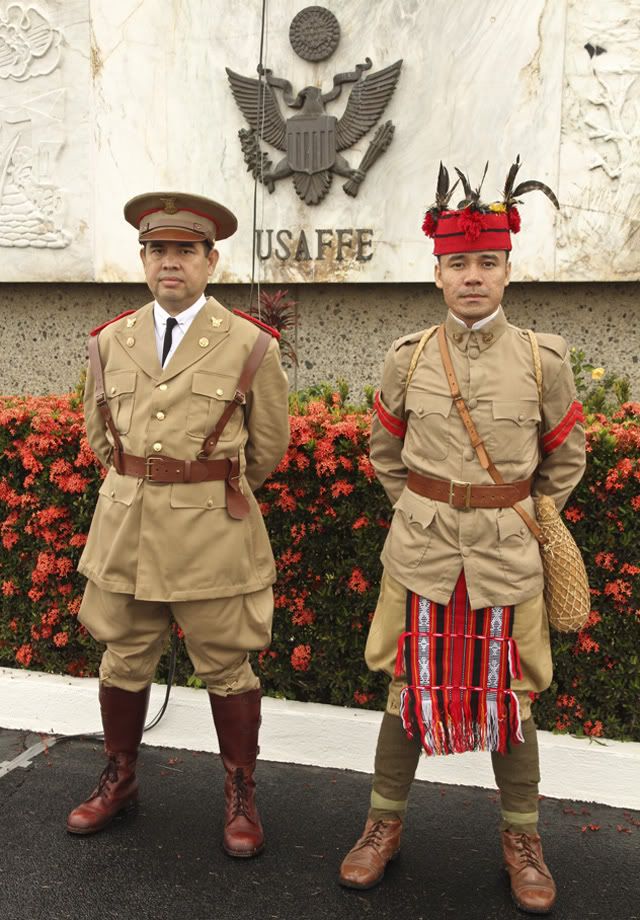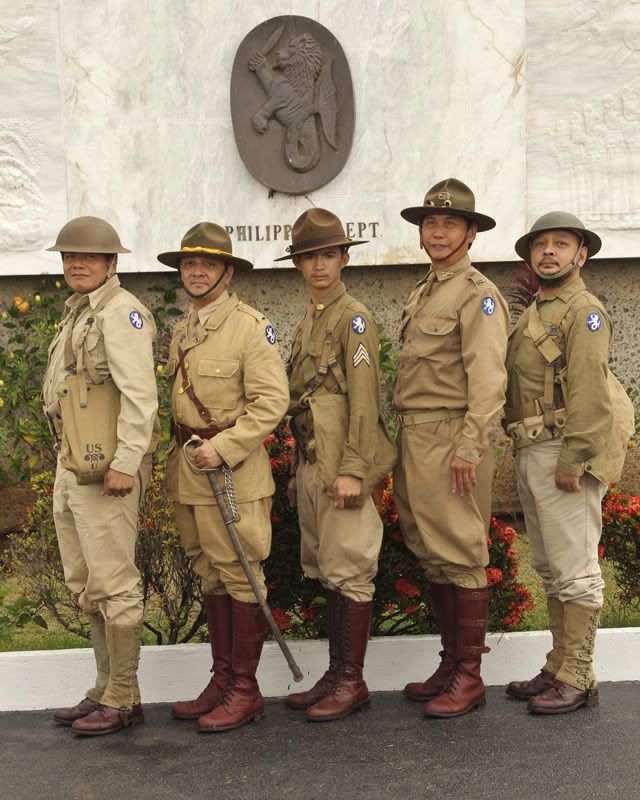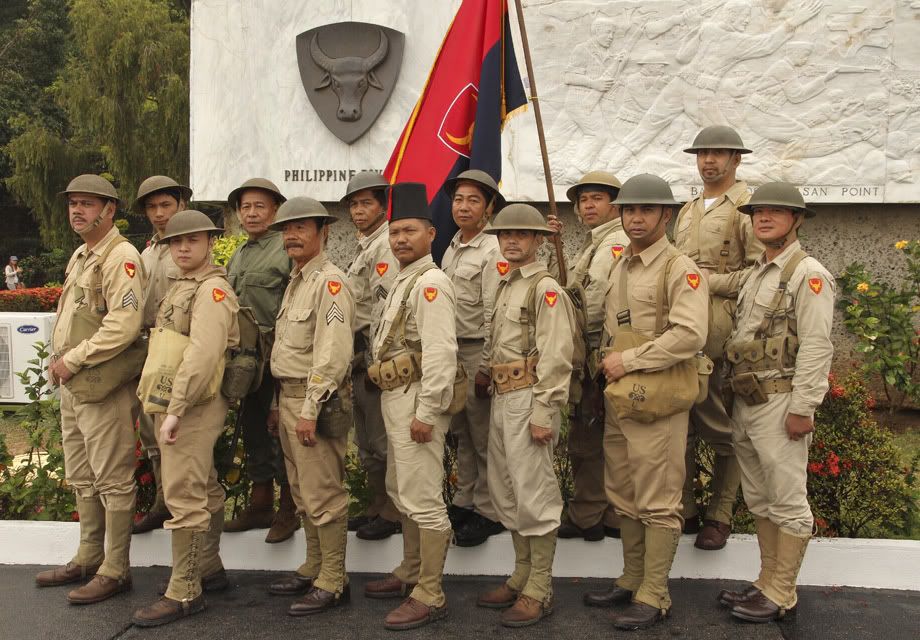 Followed by the customary group shot beneath the giant cross: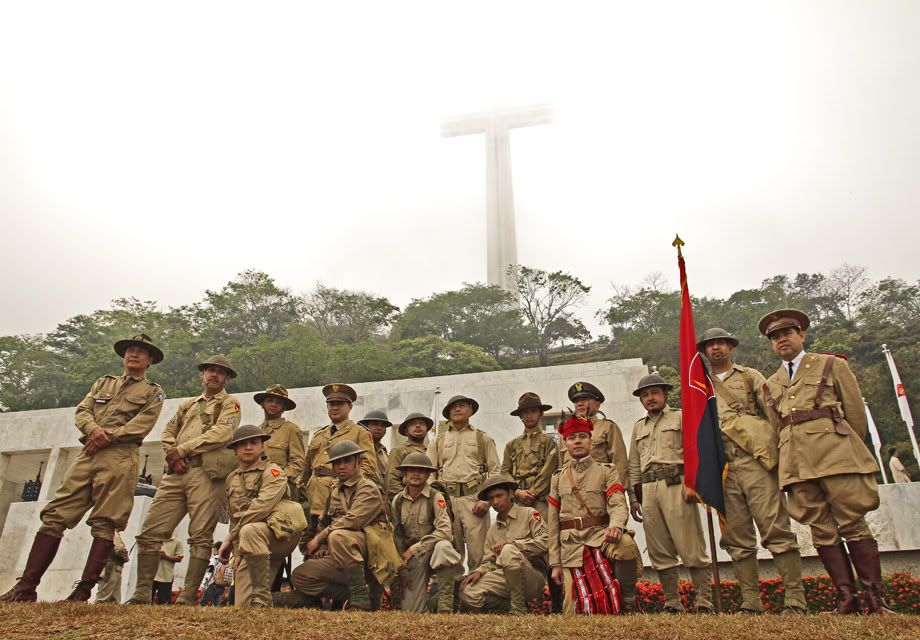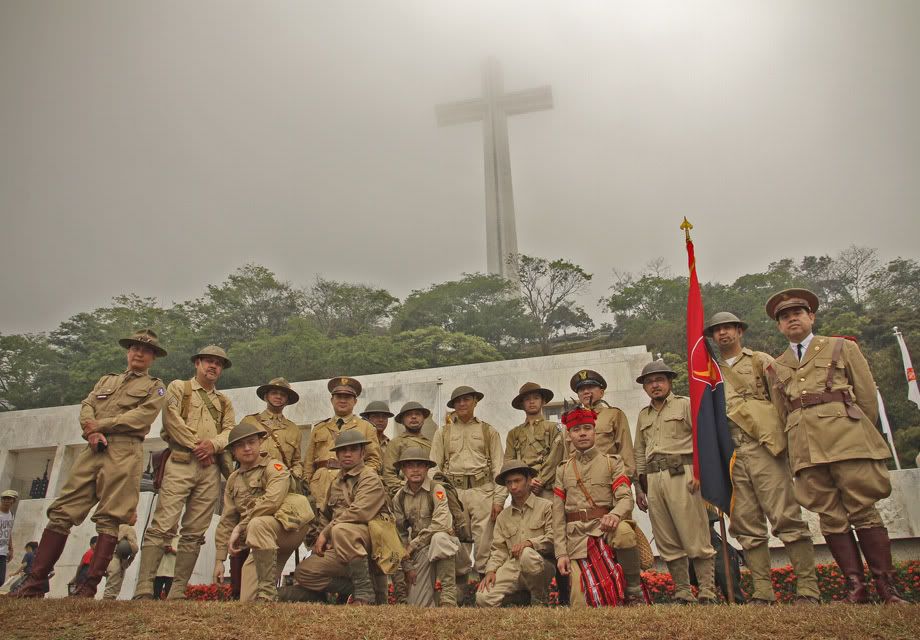 Perry the Highlander! there can only be one.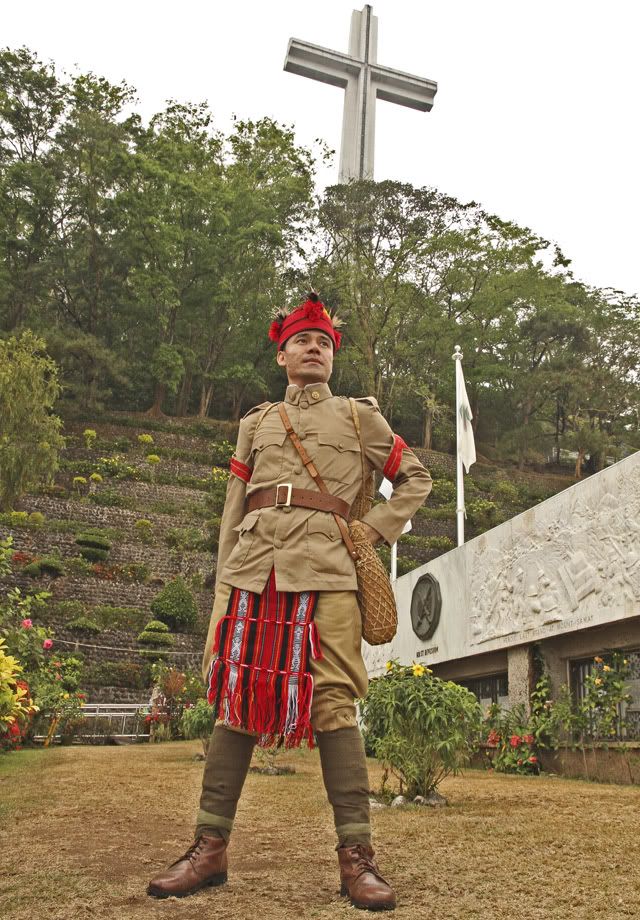 Mon trying out his airborne skillz: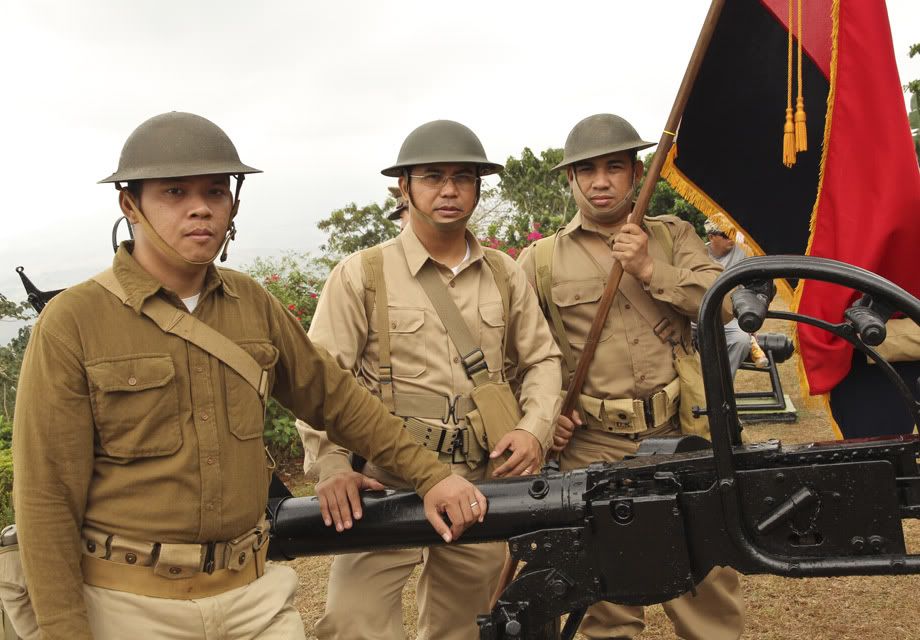 A few more serious photos at the monument: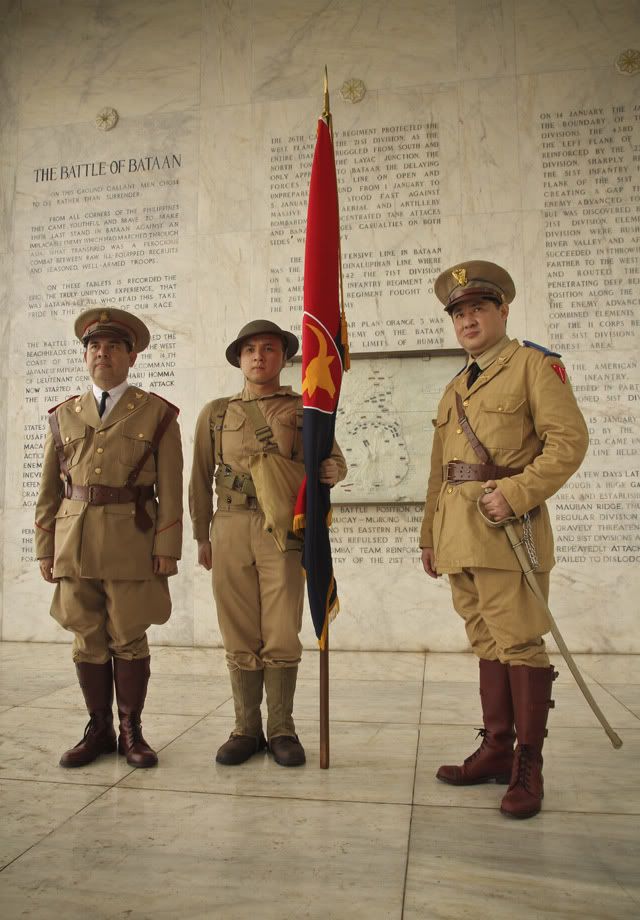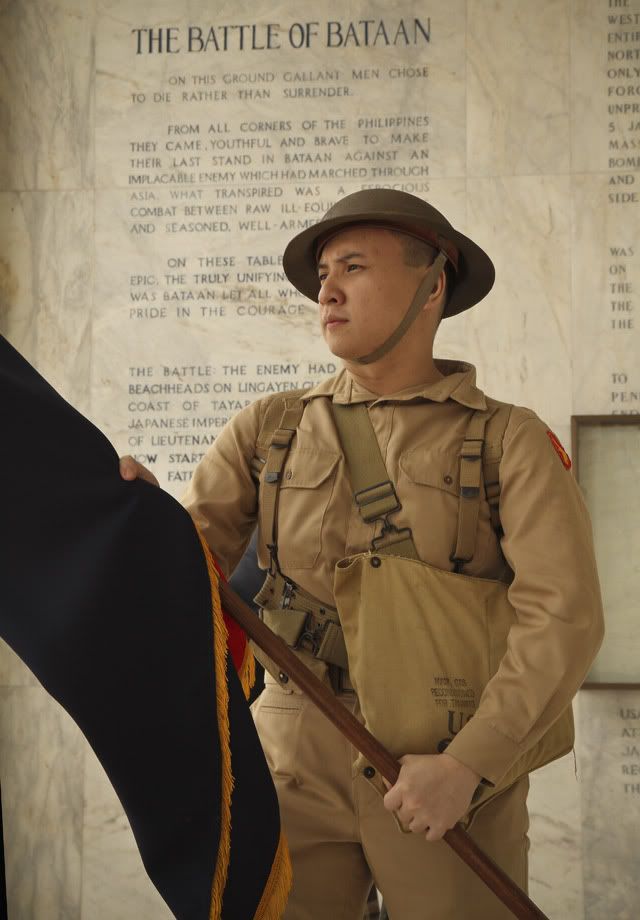 Brothers in arms: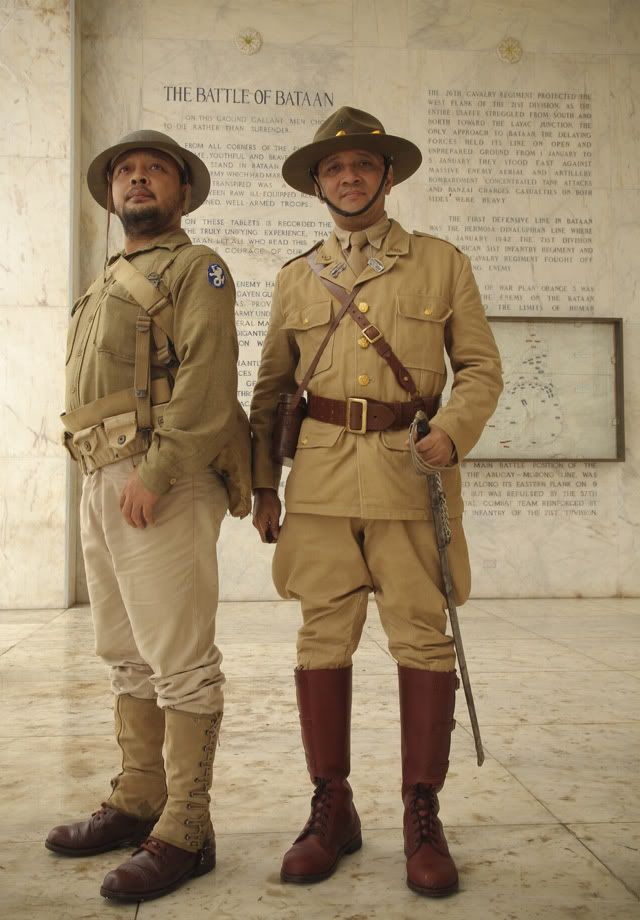 lest we forget: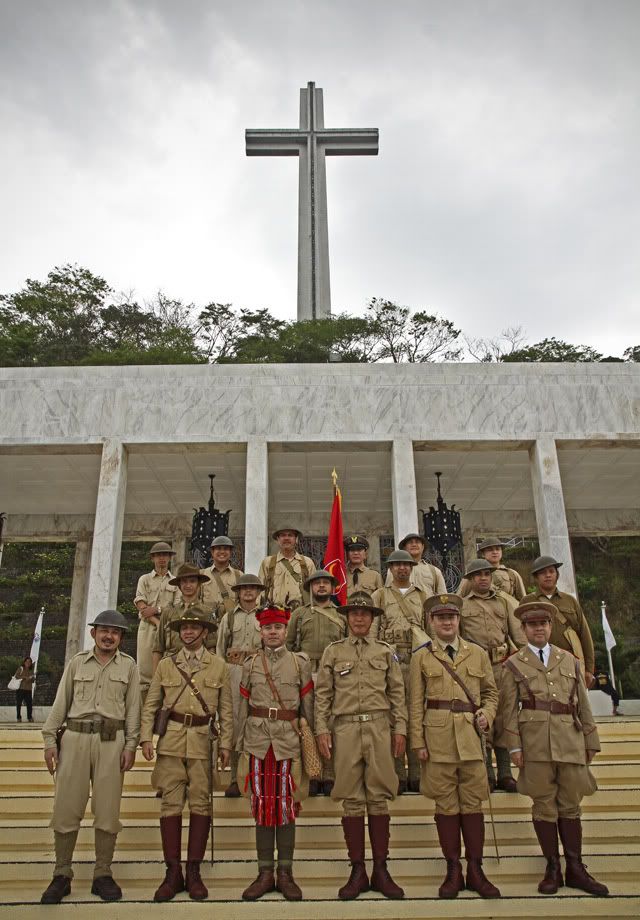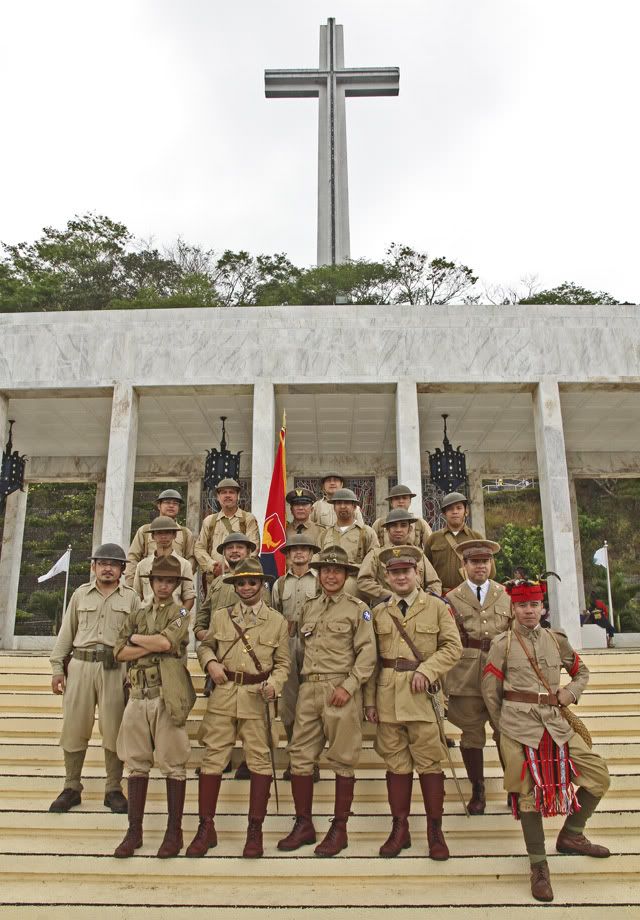 Outside was fellow pinoy history forum member Hershy Flores Masayon of Bataan who in his spare time as an OFW in Saudi Arabia painted 12 large format paintings commemorating the role of 12 towns of Bataan in the campaign of 1941-42.
with guy hilberio of the 26th cavalry: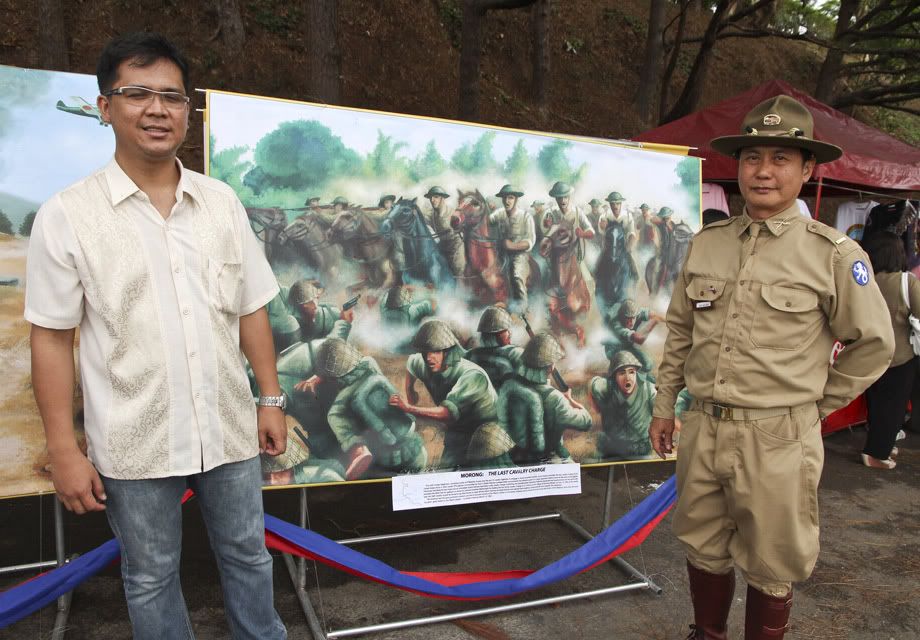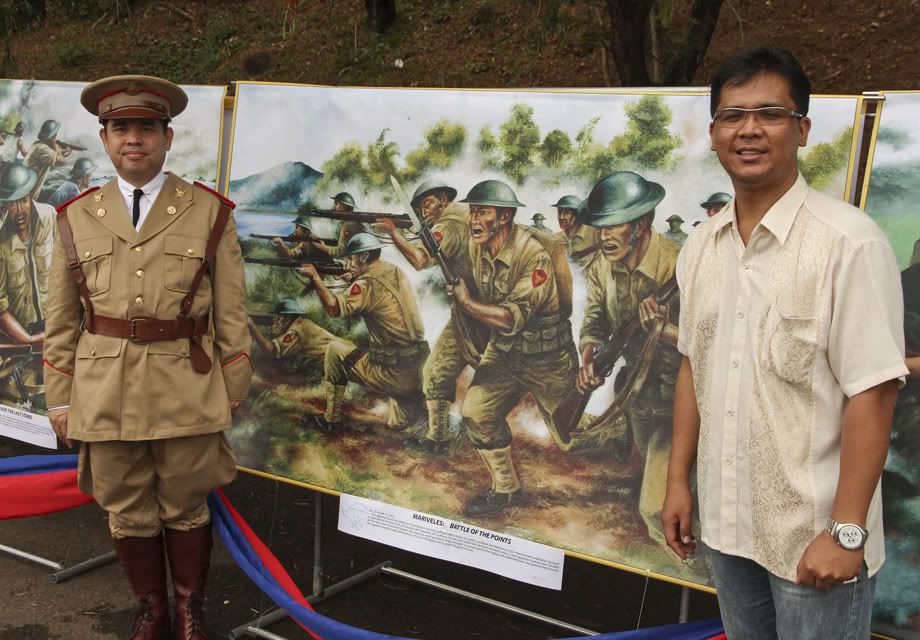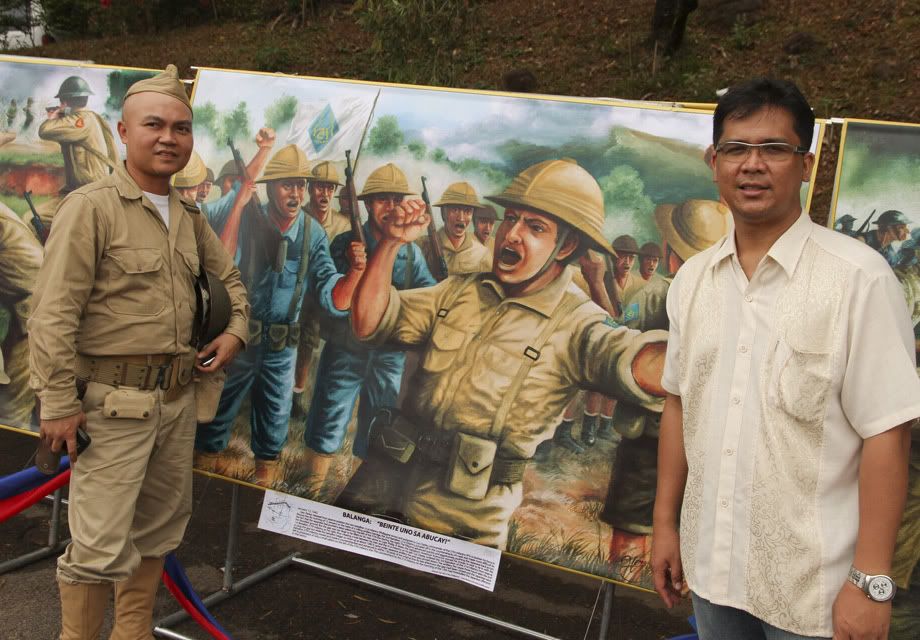 Needless to say, as the festivities died down, all were exhausted:
someone (i don't know whom, hehehe) had the bright idea of walking down the winding road to the parking lot. But at least we had our supplies accompanying us on the way down:
Needless to say, the plan fizzled out after around a kilometer and Lito ferried us to the parking lot. That, however was not the end of day 1. Faced with the reality that we would not be able to display japanese gear for a death march at capas, (much like dressing in allgemeine SS at Dachau) We decided to look for a battlefield to do an impromptu reenactment shoot...Next chapter...The battle of Capot hill!
hehe.