Post by Totez on Jun 20, 2011 2:12:37 GMT -5
Gamma (China Made) M1A1 Airsoft Bazooka
As seen at Redwolf Airsoft, Airsoft Panda, and many other airsoft retailers!
Below will be my first impressions of the Chinese made M1A1 Bazooka which I recently received from AirosftPanda.com.
Here is a stock photo of about what you get when you purchase one of these bazookas from Airsoft Panda. As you can see it comes in a strange forest green color (as has been noted by another member who purchased the similar Zeta Labs M9 Bazooka) as well as wood that seems to be two different types - a rose-colored wood grip and a much lighter wooden stock.
My bazooka looked about the same but it is obvious to me that Airsoft Panda picked one of their best of the batch items for their pictures as the wood grip and stock on mine were very much nicked and dinged upon arrival. Whether this is a product of shipping or direct-from-factory abuse I personally felt that it gave the wood character and looked very good when I refinished the wood to look more appealing as you will see below.
NOTE: If you are one of those kinds of folks that likes their item PRISTINE on arrival I would advise you to exorcise caution upon purchasing this Bazooka because it seems like it is unlikely to be perfect upon arrival as I said.
---------------------------------------------------------------------------------------
This is the final product I have after applying 2nd Bat.'s wood weathering process (minus the abusing of the wood, as it was thoughtfully pre-abused for me

.)
After applying his process several times to the wood grip and stock I was finally happy with how it looked and gave it a good spray down with a matte clear spray.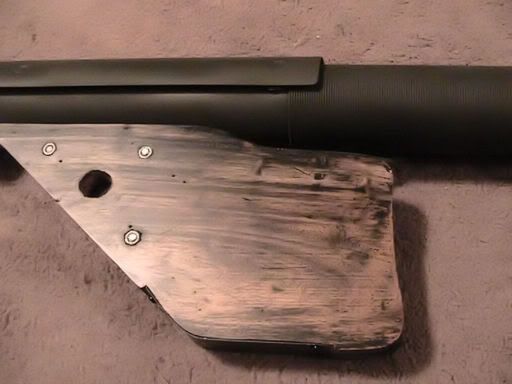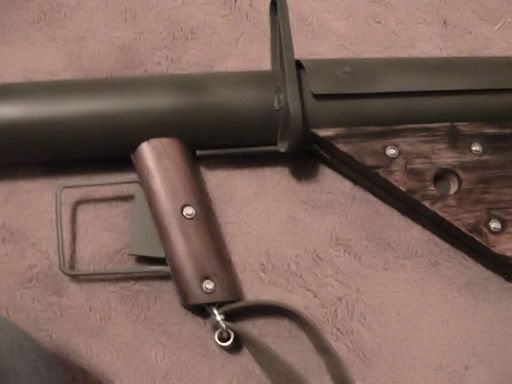 As I stated earlier in this post, the color they had painted the metal parts was a very light foresty green color which needed to be addressed as well as there was some sort of baked on orange fluorescent paint on the tip as per shipping regulations for model firearms and etc.
Luckily my neighbor and fellow reenactor has a Dodge Weapons Carrier with quality reproduction paint on it which I did my darndest to match. I achieved this by heading down to my local walmart and picked up a few cans of Krylon Green Hunting Camouflage spray paint. I applied three coats of paint and this brought the color close to what it should be. After allowing the paint to dry for 24 hours I sprayed the painted metal down with the same spray on matte clear that I used to finish the wood which gave the green just the right color upon drying.
I was very pleased with the results!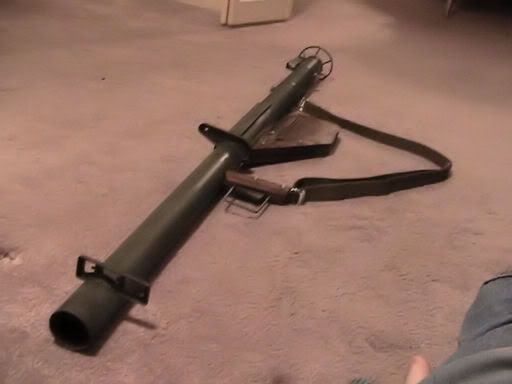 Out of the box (aside from the color and a lack of a red armed lightbulb in the stock) this is an extremely detailed and accurate reproduction of the M1A1 Bazooka. I was absolutely astonished at the attention to detail given to this product and with the minor work I did to repaint and refinish the wood you would be hard-pressed to tell this from the real McCoy! I took this to a living history event here in PA and I had Vets asking where I managed to get a hold of a Bazooka which really speaks volumes to the detail done by the company that makes this Bazooka and the ease with which one can accurately paint and refinish the thing to make it look like a battle-scarred bazooka veteran from back in the day on a shoe-string budget!
Some of the detail work done by Gamma, including the coils wrapped around the bazooka tube as well as electrical tubing and even a bit of wire on the bottom end under the two rear electric coils really is testament to the research done before production of this airsoft bazooka.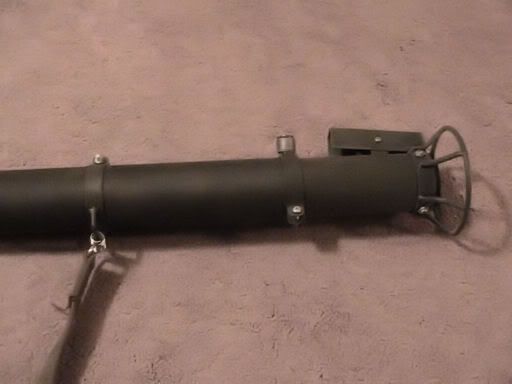 For use other than a display piece (in either airsoft or blankfire reenactments) a long black tube that houses any airsoft m203 grenade is slid in through the back of the bazooka as would a rocket into a real steal bazooka. I recommend using one of the S-Thunder shocker grenades or any grenades from S-Thunder as they can either be loaded with powder or a handful of BBs quickly and can use C02 if they have the right core in them. Not to mention they are half the price of most airsoft M203 grenades on the market and some of the best quality to boot.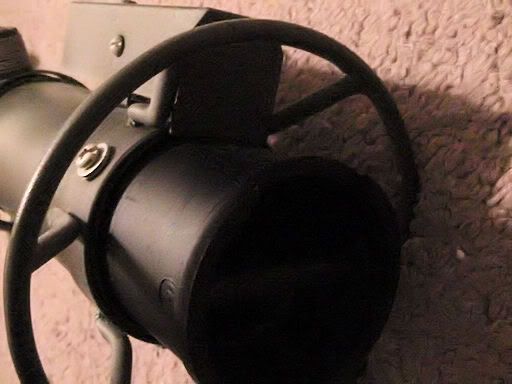 ---------------------------------------------------------------------------------------
In Conclusion:
Pros:
CHEAP price! Most repro Bazookas cost twice this or more.
Historically accurate in form and function (kinda)
Good for Airsoft and blankfire (with proper grenades)
Fun to work on and customize.
Cons:
You get what you pay for. May be a bit dinged and wood a bit nicked.
Does need work to be appropriate for reenactment use.
Final thoughts:
This is a great buy for someone on a budget who doesn't mind doing minor work to make this the perfect display or reenactment item. Out of the box, save for the paint, everything is dead on accurate and makes for a wonderful addition to GI kit for someone who has everything or who needs to pop a tank or etc!
More on the performance of the Bazooka is to come in a Part 2 of this review once I get to field test and fire it a lot.