Post by Ersatzjack on Oct 26, 2008 13:34:10 GMT -5
Wow - I'm tuckered out. This was another great event. I'm getting so spoiled. What can I say, thanks go out to everyone that had a hand in putting this together. To those who traveled great distances (Rekkon and Godo and the tank crew) I hope it was worth it. Thanks especially to the organizers, Troy and Gryphon. Troy (BA64) outdid himself again with relentless effort and it was visible in all the neatly painted signage for the camp area, for his armored car build and to the creation of a herd of pigs. See below.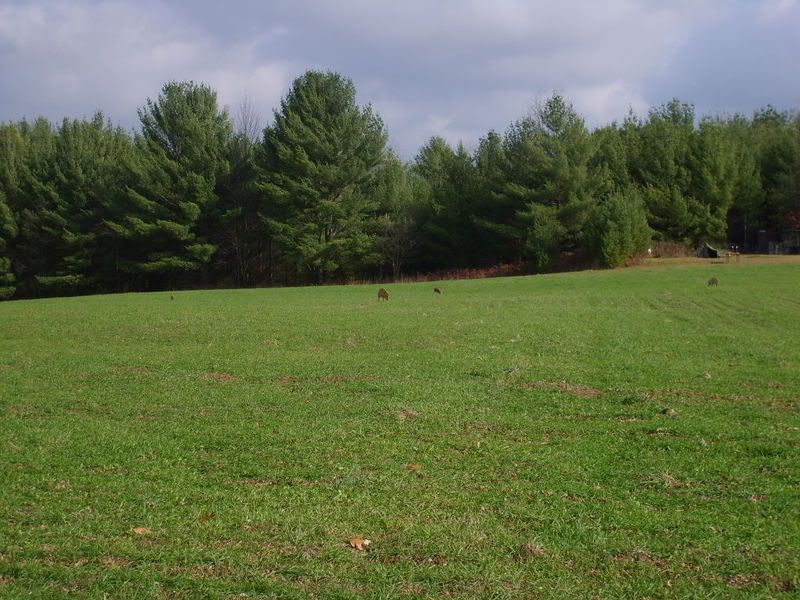 Will (Tank Commander) and Steve (Driver) and Matt (Gunner) made the long trip from Michigan to debut the metal tracks on their now famous U-tube Tiger and it operated well for most of the day. It did break down later but their tank is a learning platform and is still undergoing teething pains as they attempt to perfect it while on their shoestring budget. Ingenious design was on display and more than a couple of our mechanically inclined members were quite impressed. Later when the Tiger was kaput they fought on with pistols alone. Quite aggressive too I might add.
Neoptolemus was the lone known injury of the day (except for the normal bumps and bruises gathered while traversing raspberry thickets and forest territory.) He caught one in the forehead from a sniper well within the 100-ft min engagement distance. He didn't complaint but took it like a trooper but the offender lost his right to play the remainder of the day and became an observer. I liked this result as it showed that we do enforce the rules and play no favorites and that's what leads to building a great group of players. The offender will be welcomed back and given another chance to redeem himself at the next event.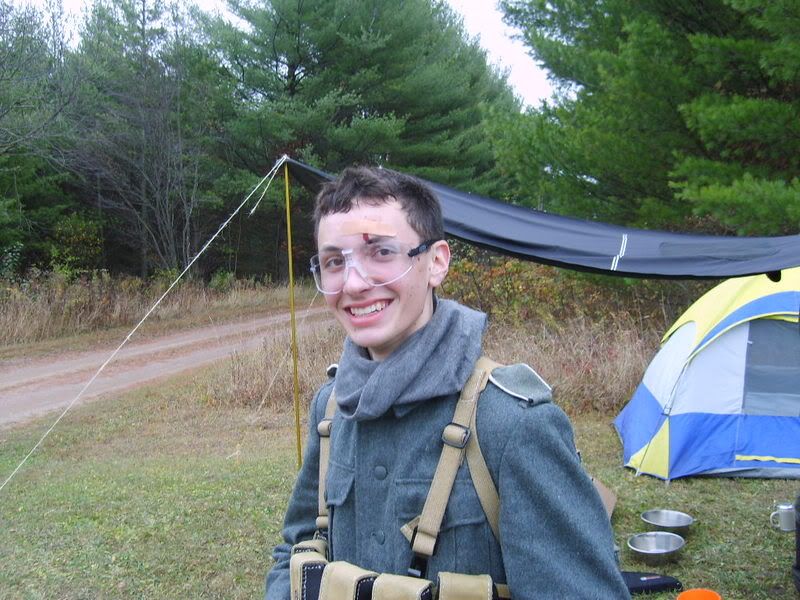 I really was excited to hear that Jason at Airsoft Battle Zone brought some modern airsoft gamers to watch and they evidently caught the bug. Great! They already have five members that look to become interested in doing a US team and together with the three US players already with MOA we might need to add a US web page to the site. The more the merrier. I hope they can even work out all getting together but if not, it wouldn't be a problem having different US units. I for one have been itching to have a West Front themed game.
That's it for my pictures because the rest are on a regular camera. But I did manage to take some videos during the second skirmish. See below:
German advance
s125.photobucket.com/albums....703.flv
Soviet advance
s125.photobucket.com/albums....705.flv
Smoke screen
s125.photobucket.com/albums....707.flv
The attack
s125.photobucket.com/albums....708.flv
In the third video you hear the tank shoot at the beginning of the tape. I'm talking, Duh... and you hear smack, smack which is the shot and the tree getting hit. In the 4th video, you hear the headlamp breaking on BA64's armored car. Will's tunic got caught on the regulator in the tank and spun up the pressure from 10PSI to 30PSI for that shot. Now we know what a nerf rocket looks like once it is de-constructed. No laughing matter really. Will felt bad about it, but Troy has a replacement headlamp at hand and Will vowed to design in a relief valve with the gun pressure system. Thank goodness no people got hit with that shot.
I had several highlights. All in skirmish one. I managed a panzerfaust hit (admittedly the second - but I think that still counts for a tank destruction badge, right? ;D) on the armored car advancing. The Tiger spun its turret in time before the AC could launch it's AT weapon and I fired a split second after that (thump.. thump). Way fun! I had acquired my position in a pistol charge on Morkova's sniper perch and after the AC retreated killed Ivan in another pistol charge around the barn corner. Then I proceeded to do my share of dying for the rest of the day. Still with no injuries except sore joints, I rate this event one of my favorites. Group shots and other great pictures I know will follow as Cpl Mills was taking pictures too.
Since AAR reports are supposed to look for areas of improvement I will just say that personally, I felt that the German team seemed a little less intimidating on this outing. For whatever reason, we seemed less effective. Leadership or is the enemy just getting better? Time will tell. Oh and I'm not lobbying for command here, although January voting is just right around the corner.

Looking forward to the next event. If nothing intercedes (other events) it will be in February in Pickerel and this year I plan to offer a flexible scheduling date so that if the forecast looks unbearable on one weekend we can switch to another. The event will be locked in stone however by Wednesday of whatever week is chosen so that folks can take off if desired. I figure we'll rely on the 5-day forecast for a more pleasing weather result. Well, we have some down time ahead to improve our impressions and language skills. (Language only if you are so inclined
)