Post by Ersatzjack on Apr 26, 2009 14:05:10 GMT -5
I enjoyed this event. Steve and I both had another great time.
I was really intrigued by the weather we had for this one. It was near perfect. I mean, the rain held off for us to all arrive and get unloaded and into our camps on Friday night and we even got in our ritual campfire. The electrical storm was eerie and certainly different. It seemed like an artillery barrage off in the distance. Then mother nature said, "time for bed" and the torrential downpour started and didn't let up till about 7am. I thought the event was ruined despite the wonderful sleep that the rainstorm brought on. But because of drought-like conditions, the water was soaked up by the ground and didn't affect the fox holes or bunker fortifications much at all. Then the day turned into 50-60-degree F overcast heaven. It was perfect for play.
As Iron Will described on MOA boards (and hopefully he will comment here as well), the Russians again ruled the day and won all three scenarios. They are tough competitors and under able leadership. Their arsenal keeps growing and this is why I am stepping away from German rifle production for awhile. I need to get some automatic weapons built to give us more bite. Besides, the real reason is I want our German squads to have historical accuracy and Gruppe tactics dictate LMG ownership. The Russians tested out their newest weapon, a nerf-mortar which took out the crew of the Pak38 in the first scenario and that was a surprise for us. We had no counter to it. We did get to see the first AGM MP-44 in action and its owner was much impressed and so was I as I asked to fire some rounds through it. It was left on semi-auto all day. My Shoei MP-44 also went semi all day and its user, Franz, really enjoyed himself with it. I finally have the bugs worked out of that rifle.
Troy really outdid himself again with field preparations and I hope folks who didn't donate had a good reason. He built respawn clocks and respawn chip boxes for each team, and his signage was out in force along with field props (a couple of old paintball tanks that provided cover and atmosphere) and barn preparations, etc. Thanks Troy.
On a personal note, my ring fingers on both hands are killing me today. It is from driving the Kubelwagen in the woods with manual steering. It was like my fingers did 2,000 pushups. Hopefully someone will post pics of how we buried it in mud. A few soldiers at the corners though and we were up and running again.
All-in-all a fun event. Looking forward now to Big Lake in June which really should be an exciting event.
i125.photobucket.com/albums/p42/Miker_10/Volkov09/S5000860.jpg
Garrick in full kit. Lots of weight. Looking good.
i125.photobucket.com/albums/p42/Miker_10/Volkov09/S5000858.jpg
Kubelwagen at HQ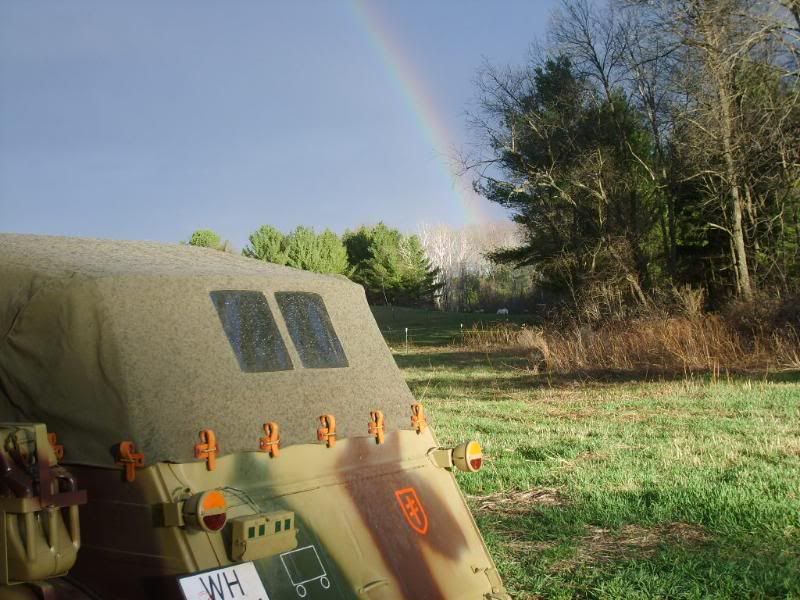 Better than a pot-of-gold at the end of a rainbow is a Kubelwagen.

i125.photobucket.com/albums/p42/Miker_10/Volkov09/S5000863.jpg
The barn and mingling with the enemy
i125.photobucket.com/albums/p42/Miker_10/Volkov09/S5000866.jpg
Political officer propaganda photo
i125.photobucket.com/albums/p42/Miker_10/Volkov09/S5000865.jpg
Another political officer demanded photo
Special thanks also to Paul Rech who delivered his hand-made shoulder board creations to members of the Zug and to Deitrich for his contribution of two excellent tow ropes for the ongoing vehicle builds. Well done. Now I have to step up with some MG support.