Post by ncthorn on Mar 18, 2007 20:16:11 GMT -5
After spending a great deal of time trying to peddle this 400fps USR on the classifieds of various airsoft websites I finally gave up. Id always wanted a K98 variant rife and since this USR was originally planned to be used in a similar conversion that i chickened out on, I figured what do i have to lose. I must say that 2nd Bat's amazing M1903 conversions helped to rekindle my inspiration.
Here is a pic of its original form: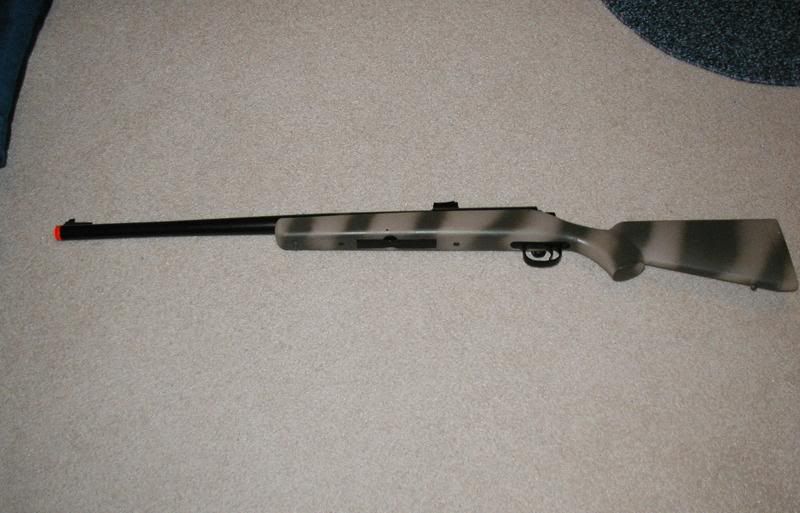 After spending time off and on planning for about two weeks I finally decided to take the plunge. One thing I learned right away was what a pain cosmoline can be as it is very messy and is tough to get out of small crevaces. The wood of the stock (walnut?) was also a major pain to try to dremel and i destroyed several bits in the process. The barrel was another place of difficulty as the hardened steel did not like being attacked by the dremel and in the end I was forced to use a piece of copper pipe as my barrel.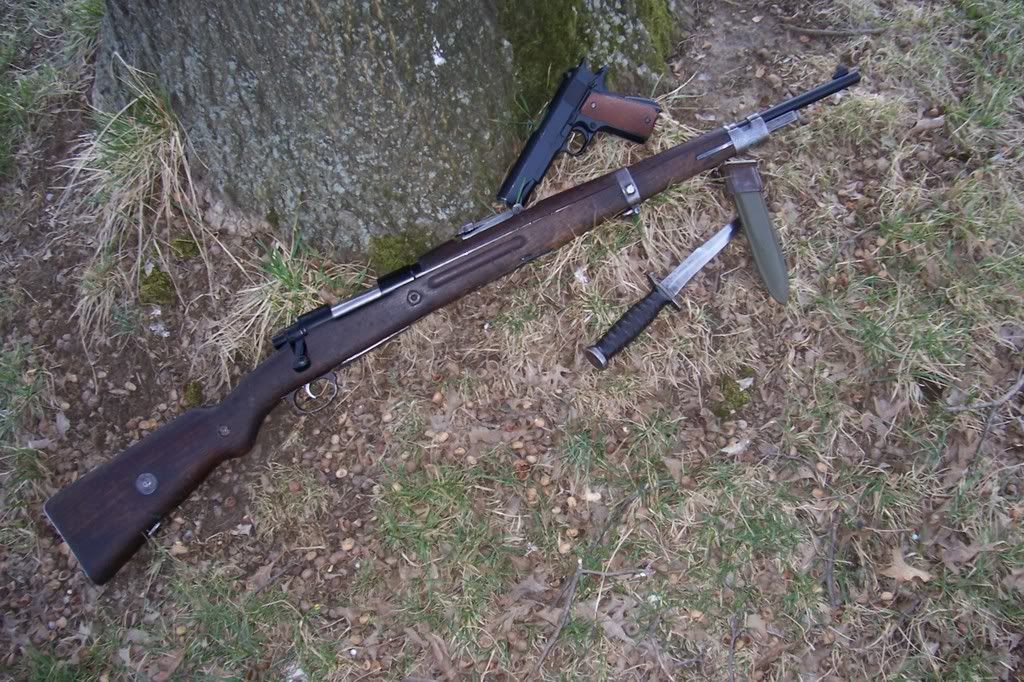 Above is a pic of the whole rifle along with a UHC M1911 springer and an authentic Imperial WWII Trench Knife made in 1943 and utilized by my grandfather in the Pacific. Notice the small crack between the upper hanguard and the stock, I plan to address this issue very soon.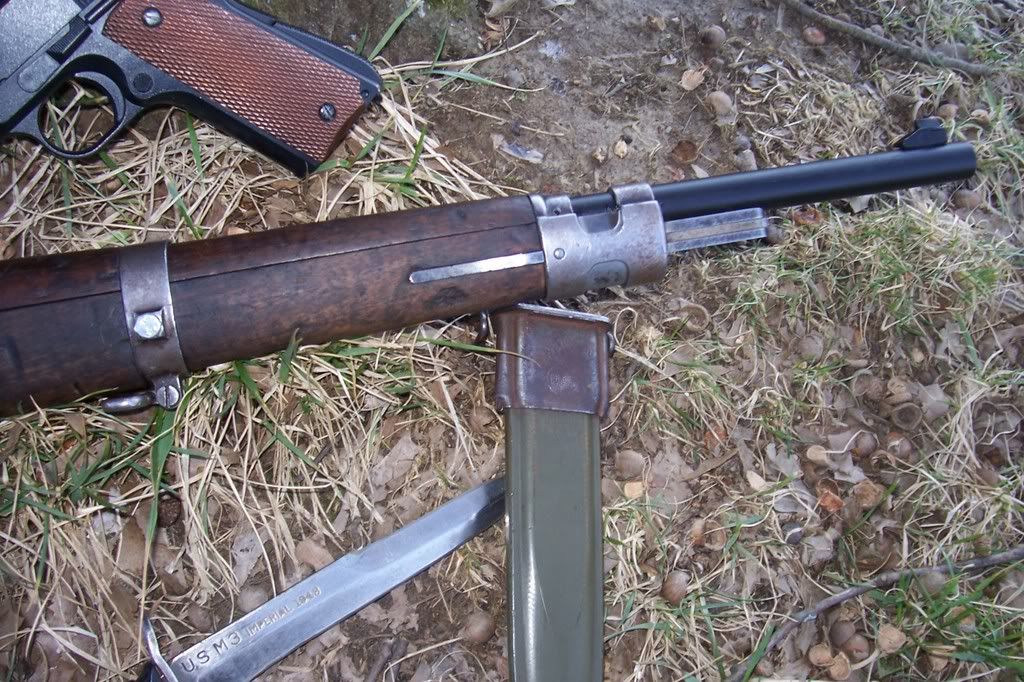 This picture shows the front section of the Vz.24 notice the original front sight which has been fastened to a new outer barrel. I realize the aesthetic issues created by the black barrel in combination with the silver stock hardware and I plan to repaint the barrel as soon as I obtain an appropriate color of paint. Also take note of the hole in the upper rear portion of the front barrel band, this will be used in combination with a screw to make sure the barrel stays put.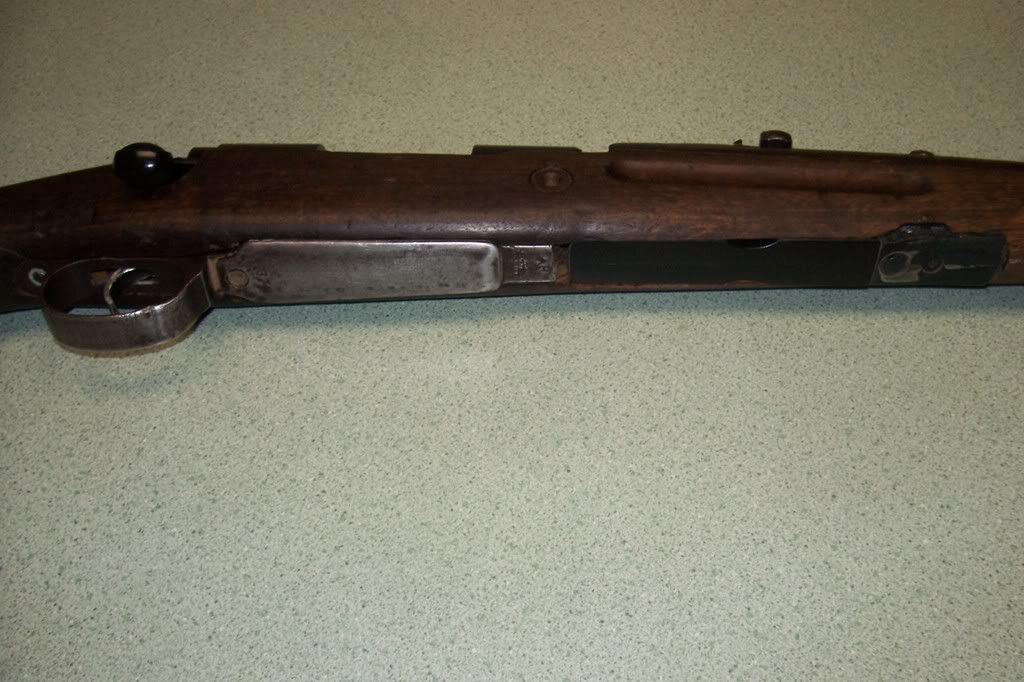 The above picture is of the bottom of the Vz.24 and depicts the magzine/magazine release. not much to say here.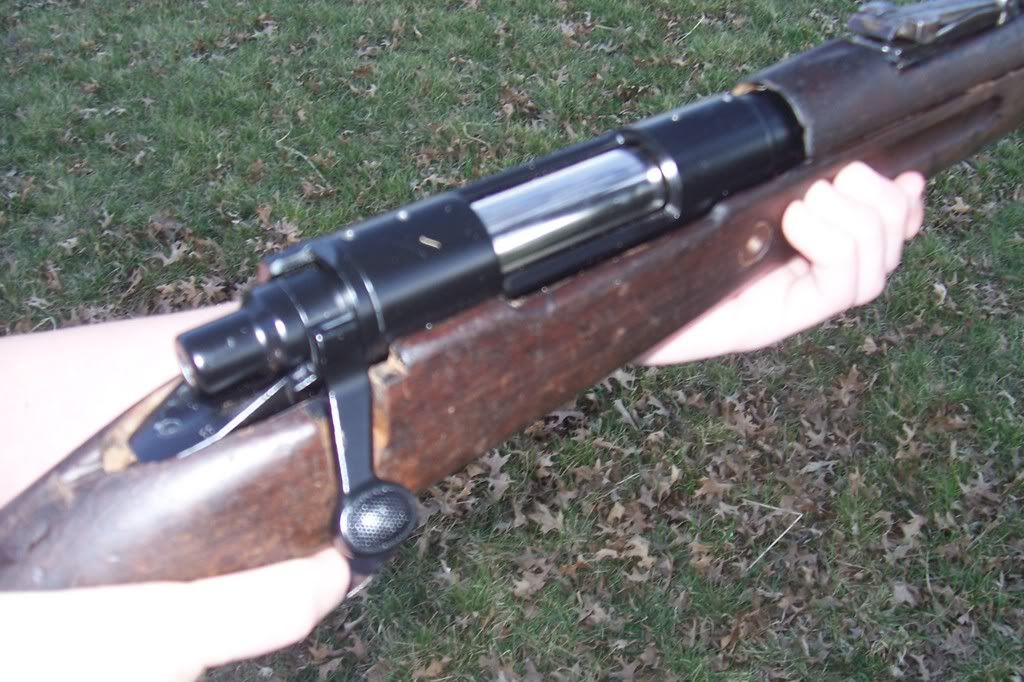 Here is a photo of the receiver, once again not a whole lot to say other than the fact that it is not crooked as it appears to be in the image.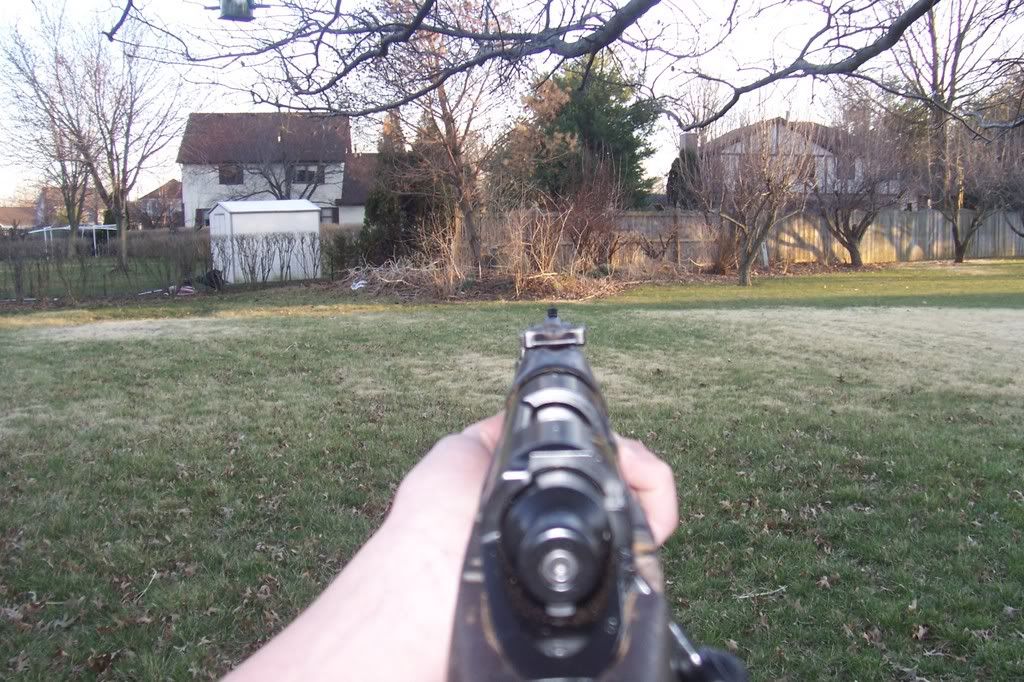 Lastly is a picture of the sights. No I am not trying to kill my neighbors!
While this was definitely not a super simple job, it was definitely worth the work put in. Pictures of 2nd Bat's Springfields were a great help in my project. Simple tools (dremel, drill, hand saw, super glue lol) were all that were used in the project. Seeing as how most airsoft K98 variants run very expensive, I see this as an excellent alternative. If anyone is looking for help on their own conversion, please PM me! I will have internal pics up sometime soon. Thanks for looking and questions/comments are appreciated! Ill leave you with a price run-down:
HFC USR-11: $80
M120 spring: $15
Vz.24 stock: $10 (ebay bargain!)
Vz.24 barrel: $7
Trigger Guard: $9
Floor Plate: $3
Copper pipe: $5
Misc. Screws and sandpaper: $5
Paint: $5
Total cost: $139 ;D