Post by gryphon on Mar 12, 2008 12:13:51 GMT -5
OK, so here is the problem: I have a number of players who are new to WW2 airsoft and want to attend our upcoming skirmish as Red Army in Neillsville on April 12, but none of them have airsoft weapons even remotely resembling WW2 Soviet-issue small arms. Unless we either A) ban them from playing or B) let them run around with burlap-wrapped A-4s and G36s, we need a bunch of Soviet-style loaner weapons FAST. I already have 6 $20 Mosin-Nagant carbines underway, but they are all spoken for already. While the carbines look GREAT and shoot reasonably well for what they are, they take a while to make. Since I'm pressed for time, I needed to come up with a very quick and inexpensive conversion if I was to have any hope of meeting the deadline. The solution? An incredibly simple and surprisingly good-looking conversion I have nicknamed the "PumPeDeh."
I started with the fullstock version of the same pump shottie I use for the carbines, but this time was aiming for something that would look vaguely like the Soviet PPD-40 "PePeDeh" submachinegun (the PPSh-41's predecessor.) The PePeDeh had a tubular receiver/barrel shroud, and was a couple of inches shorter than the PPSh-41 - like so:
Here's where I started, and where I arrived: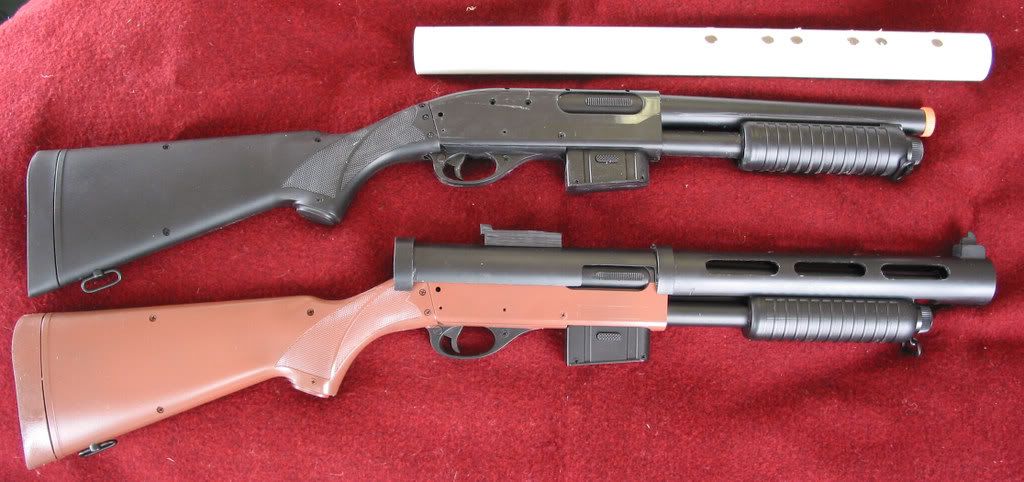 for comparison, here's a PumPeDeh next to one of my high-end PPSh-41 AEGS (sorry for the blur:)
Now, guys, be gentle, it's just the spray-painted prototype. I know this one ain't gonna win any authenticity prizes, BUT I believe I'll be able to make 3 to 4 of them IN A DAY at a materials cost of less than $20 a pop; the mags fit perfectly into Soviet-issue Mosin-Nagant belt pouches; and with a little faux woodgrain and some silver sponging/drybrushing, one of these could be made to look MUCH less "plastic-y." I will fill in the checkering and round off the bottom of the grip with body putty on the rest of the run. The "receiver" is just a 20-inch-long piece of 1 1/4" Sched 40 PVC cut to snugly slip-fit over the barrel and upper receiver of the plastic pump shottie, with cutouts for the hop-up adjuster and the barrel vents, PVC "reinforcing rings" cut from a connector and glued in place, and sights made from scrap wood (or aluminum sheet or epoxy clay) glued and screwed in place.
Anyway, I think these will make OK starter guns for up-and-coming Red Army airsoft impressions. Because you can just hold the trigger back and spray BBs as fast as you can pump the action, they should actually make decent SMG substitutes for CQB fighting. Since the Soviets preferred to fight close anyway, the range disadvantage shouldn't be that big a deal if you have enough Frontoviki in your blizhnii boi - as Comrade Stalin said, "Quantity has a Quality of it's own."
If you want me to make you one, I'm asking $75 for a completed PumpPeDeh; or $35 for the slip-on PVC receiver/barrel shroud by itself, complete with vent cutouts and black "plastic paint" primer coat - shipping included in the continental USA.