Post by Ersatzjack on Aug 22, 2010 20:04:47 GMT -5
Whew! Finally home and resting. This event I will grant you was not the best MOA offering to date but was more of an experiment on tapping the huge potential of Fort McCoy for hosting future events. I would classify this as a learning experience for Steve and I and rank it as an 80-percent event.
The biggest pro was that we learned things to avoid for the next one. I will not spread out the play area so much in a future attempt. I will delegate some of the responsibilities. I mean I didn't even know until Sunday morning that we were responsible for cleaning the barracks. (Thanks ba64 and Rekkon for lagging behind and helping with that chore). I know I should have known this but it had never been mentioned. I think I also wasted $150 on porta-potty expenses since there were three on site (I had paid for one) and along with those was an open and working brick and mortar latrine. Duh! Regarding expenses, the donations were generous and covered expenses and left enough for some gas money for vehicle owners and a $100 donation to the fort. I just have to find a way to make it and will check with their public affairs department for a worthy cause. So thanks to all that contributed. We learned that in the next event here if approved in the future we will need to compress the play area and keep objectives closer to the roads. On the other hand, Oleg pointed out that this event felt more like the real thing (how would he know I wonder?) than any other as we fumbled through the rough terrain in search of objectives out of earshot often times of any of our comrades. I used the sound of traffic on Hwy 16 more than once in the day to get my bearings in those hills and woods. We did see after lunch that the initial and too ambitious plan for the day was not going to be realized and altered course by moving play to the oak savanna (a term I learned from Gryphon) where more breezes and open playing area heightened everyone's spirits. The weather could have been better but we were blessed with cloud cover to protect from what would have been blistering heat otherwise. Still, one look at Andre below shows the tale.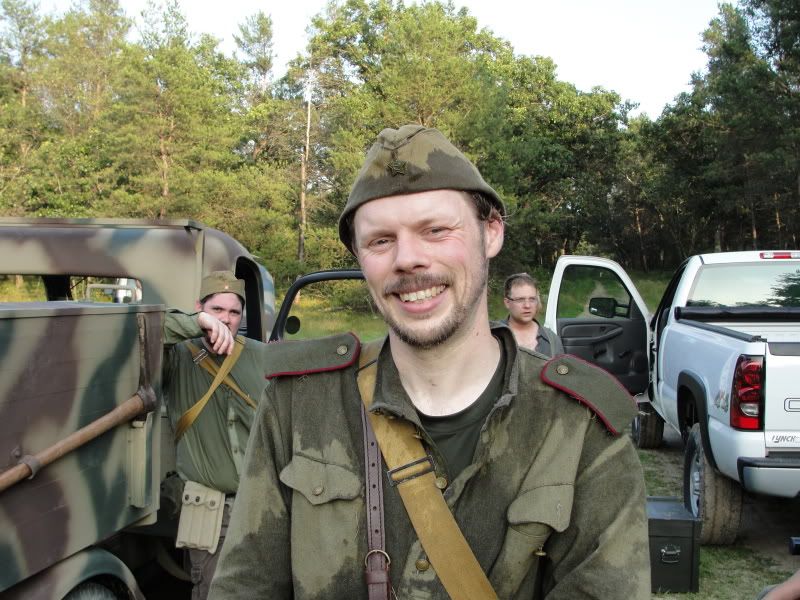 We didn't play on Sunday which had been announced as a possibility because of member attrition and the news that we had more housekeeping chores than I had planned. With field inspection and barracks inspection and a reduced number of players to compete I thought it better to call it an event. No one was hurt or lost (at least permanently) and that is also always a big plus. There was only one mild disagreement that I witnessed over hit calling and I think the two players worked it out on the field. A very clean day of play considering the weather and number of new players.
A big plus was that 6th SS from the Illinois area showed up in force. Eleven Germans including some newly converted Chicago area Americans bolstered German team numbers just when needed due to cancellations and missing members with schedule conflicts. We were 27 strong and 23 stayed the night in the barracks. This is promising and finally breaks the ice with Chicago area players who were all welcomed happily. Ulrich von Offenberg was the organizer behind this influx of energetic and very convincing looking Germans.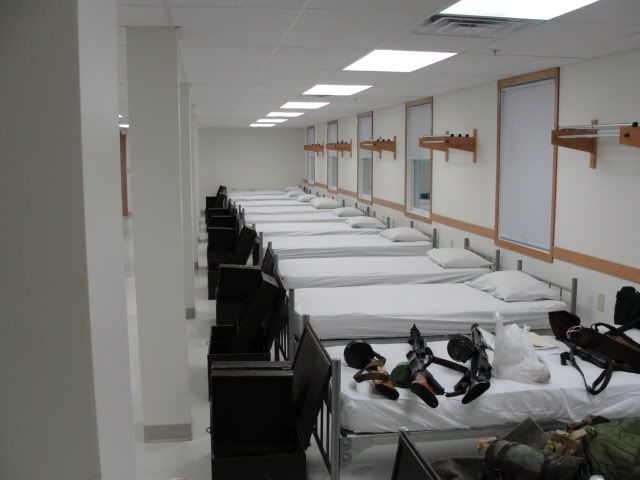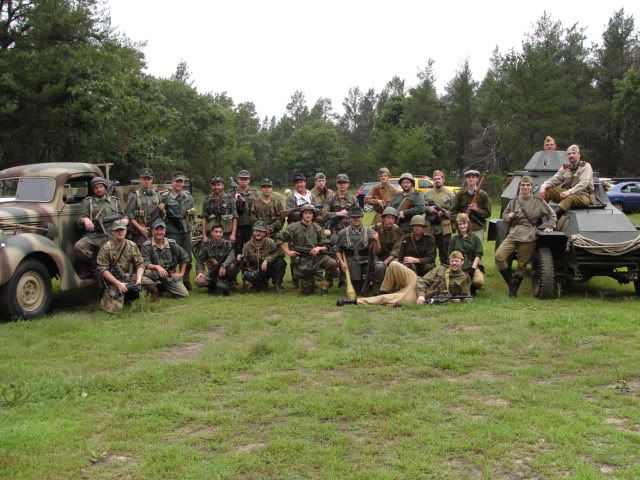 The barracks was a big big plus. Showers and a pizza or burger down the block at McCoys on Saturday night awaited those who toughed out the day. It was heaven. I think I really like getting exhausted so that I can rejuvenate myself just to experience the contrasts. Fun!
The heat gave Natasha a challenge and she stopped cooperating in the final hour of the event but was of little value in that battle due to terrain considerations and I was pleased that Rusty's first MOA battle in it's new color scheme was a rousing success. Ran like a champ and was a huge morale builder to folks as a vehicle to carry bodies and gear and supplies including a great tow vehicle for the AT gun. That was a first. We managed to tow the gun at 30-MPH going up one main road. It was nice.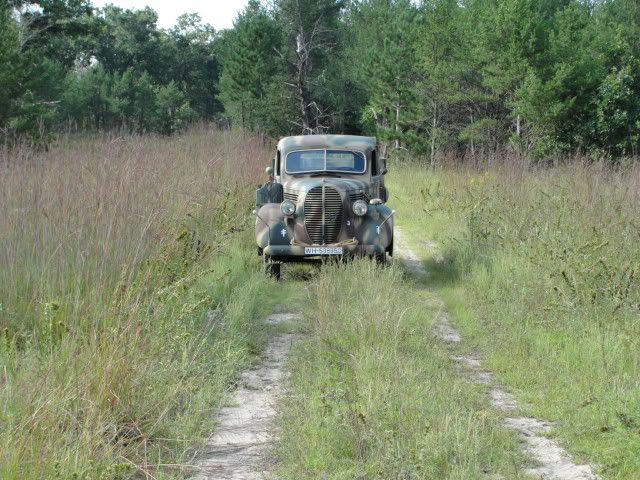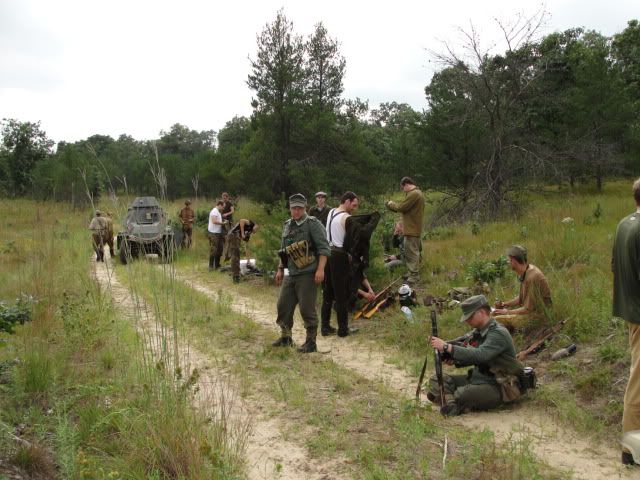 Finally, I think I saw a sparkle in the eye of many a new player and hope to see them at future events. The morale, and level of play was top notch.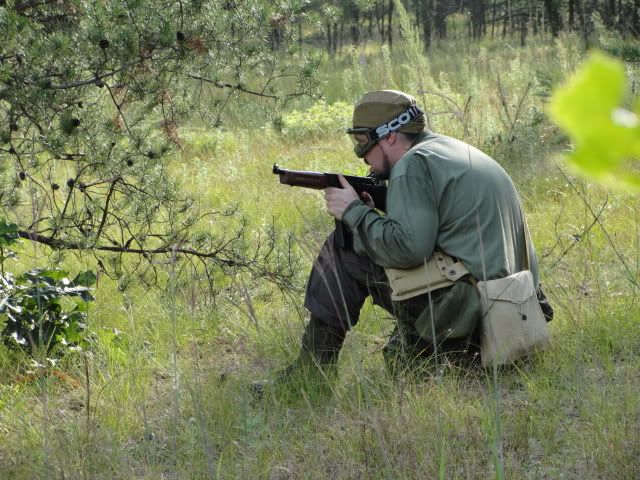 Just to explain the style of the game. It was originally set up as either side had the ability to attack towards the opponents base while defending their own. There were five serial points spread out linearly on the play area over a vast distance and there were only two objectives in play during any point in the skirmish. If you lost yours then the stakes would be moved one set of objectives closer to your final Alamo objective. Lose that one and its' game over. Well we got stuck on the first two objectives. The Russians found the German base but could not take it and the Germans could not find the Russian base and I went looking myself and had placed it hours earlier with the help of some of the best minds in MOA and still had trouble finding it. Later on Saturday night, I went to retrieve the objectives with Duncan and his Jeep and still had trouble and no one was left in the woods to shoot at me. So lesson learned there. Either keep them closer to the roads or attach Christmas tree lights. Seriously though I accept the blame for biting off more than I could chew in terms of spreading the battle area to too large a space. Next time we'll compact the area of operations.
Okay then - I hope to see you all at Neillsville in October. Thanks to all those who ventured out into the August heat and next year I am thinking that scenario design and field layout will be excellent. I did get the lay of the land by Sunday late morning. We missed some really good sites back by Maynard Pass but we'll look into that for next time. We will be staying away from Cole's Peak though.

I did have a great time even with the problems and hope everyone else enjoyed the event too.