Post by 2nd Bat on Jun 17, 2009 15:24:53 GMT -5
First make note that I am abundantly aware of the infidelities and compromises. Secondly, these are certainly not for sale. Way too much time involved in making them. I simply thought that the effort might encourage others to create weapons for their own use that look better than what is currently available at affordable prices.
I took some M14 AEGs and cosmetically tweaked them to resemble BARs. I say resemble because they are by no means exact. Essentially you cut down the stock, shape the rear butt stock area and add layers of dyna glass and bondo along with a lower gas tube to create the fat handguard and BAR receiver group.
Sculpt and paint and you have a pseudo BAR for a lot less than a VFC. (It's of course no where near as awesome ) I figure total cost of materials is roughly $180.00 but they require a good 20 to 30 hours to build and it's pretty tedious and messy. I had planned to build three in time for Jump to Destiny to use as rentals but didn't get the base M14s soon enough.


The one shown hasn't had the rear or front sights added. Note, I use the butt plate flap from the M14 which I file flat and cut down slightly. It looks fairly correct and works great.
I also use the front site and flash suppressor from an M14 but I place a site hood over and cover the slotted flash suppressor with an appropriate sized tube. This gives roughly five more inches in length which as you can see is required when compared to a Garand. It's still not quite as long as a BAR. (Neither is a Buick come to think of it.)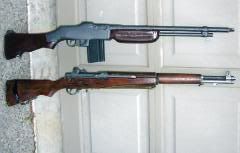 The receiver group is slightly thicker than a BAR but not uncomfortably so IMO. The gun is quite heavy. (10 1/2 pounds), still well below the weight of an actual BAR. It is solid and should prove durable. I use normal M14 magazines which I have a good 70 of. They don't look quite right (Not as long or fat but not horrible in my opinion.)
The M14 mag release is tucked underneath the fake BAR mag release mechanism. The M14 safety can be removed or left functional. It is hidden when not engaged. I removed the selector switch and the guns only shoot on fully auto. I am going to build perhaps two more again for use as rental guns at local events. I may or may not add a bipod. I've done two BARs previously which were even more crude than these.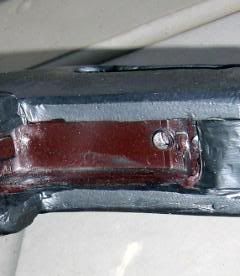 They shoot at 340 to 360 FPS with 20 Gram BBs I added a tightbore barrel otherwise they are stock Chinese clones. I think they will handle field use just fine although will no doubt require cosmetic touch up after each event. I'll get additional pictures after I've added the sights.
They are by no means museum quality replicas cosmetically but should work well at events and I think are more desireable than un modified M14s or burlap wrapped AK 47s. Certainly at 10 feet when carried by a guy in a good impression they look pretty good. There is no doubt what it depicts.

I will also add slings and a few more minor details.
I still have a few sold orders on Garands pending. I am completely caught up on all but the ones waiting on real wood stocks. My supplier of custom wood stocks skipped out and I'm awaiting replacement stocks from another supplier. I don't want those patiently waiting for their Garands to think I have taken time away from their builds.